Western's New Sustainability Website is Live!
Western's New Sustainability Website is Live!
February 13, 2013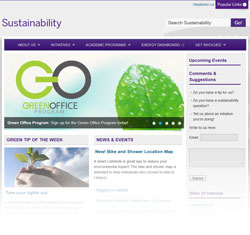 Western relaunches its Sustainability Website with new features and enhancements promoting engagement.
The site will allow members of the Western community and beyond to learn about on-campus initiatives, determine how to reduce one's environmental impact, read about Western's sustainability accomplishments, and find out how to get involved on campus and within the community.
In conjunction with the launch of Creating a Sustainable Western Experience, the University's first ever sustainability strategy, the new website has been created to compliment and further Western's sustainability efforts. Staff, students and faculty will begin to see a cultural shift at Western, one that aims to see sustainability embedded in everyday life on campus. This website is just one of many initiatives and changes that are to come.
Along with the revamped look of the website, some new features include:
A weekly blog by Western's Sustainability Team
Information on how to register for sustainability presentations
A Frequently Asked Questions Section
Weekly Green Tips
Greater coverage of Western's sustainability achievements, awards and initiatives
In addition, members of the Western community can easily register for the Green Office Program or nominate an individual or group for the Annual Green Awards.
Click here to check out the new website now! Remember to refresh your internet browser, or click "Delete browsing history on exit," under Internet Options in order to view the page. If you have any questions or comments about the website feel free to send them to sustainability@uwo.ca.
Feedback