Campus traffic disruptions during Orientation Week
Move-in weekend/week: Students in residence will begin moving in on Sept. 2. Please take extra time and care when traveling around campus over the weekend and throughout the following week.
O-Week 2022: To assist with student pedestrian safety during the busy return to campus certain campus roadways will be closed during Orientation Week:
University Drive from Sunset to the Talbot Intersection*.
Lambton Drive from the Talbot Intersection to Kent Drive.
Huron Drive for Lambton Drive to the South Valley parking lot entrance.
Closures are as follows:
Monday, Sept. 5 to Friday, Sept. 9, 6 p.m. to 2 a.m.
Saturday, Sept. 10, 3 p.m. to 2 a.m.
* The bridge will remain open to pedestrians and cyclists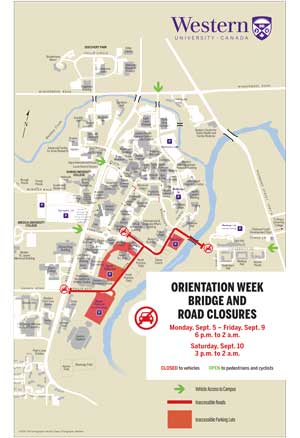 Parking on Campus: In addition to the road closures, the Huron Flats, South Valley and Talbot parking lots, as well as the visitor spaces by FIMS/Nursing Building, will be closed during the same times. If you are using these lots please remove your vehicle by 6 p.m. Monday through Friday and by 3 p.m. on Saturday.
London Transit: During the bridge and road closings LTC buses will be detouring their routes from University Drive Bridge. For updates, visit: http://www.londontransit.ca/category/detours/
Driving to campus: O-Week is a busy time, please drive slowly and take extra care when traveling through campus. Remember to give yourself extra time and expect delays when traveling to and around Western.
Accessibility: Students, faculty, and staff with mobility limitations should contact Accessibility Services at accessibility@uwo.ca or 519-661-2111, extension 81458. Students can call 519-661-2147 (Monday to Friday, 9 a.m. to 4 p.m.) to arrange for assistance. There is no change in service for students using the Western Accessible Transportation Service (WATS). https://accessibility.uwo.ca/
We will continue to provide updates as they become available via Western's social media accounts and on this webpage.