Campus traffic disruptions during Orientation Week
O-Week 2021: To assist with student pedestrian safety during the busy return to campus. Certain campus roadways will be closed during Orientation Week (Monday, September 6 to Saturday, September 11) from 6 p.m. to 2 a.m.
These roadways will include the following:
University Drive from Sunset to the Talbot Intersection.
Lambton Drive from the Talbot Intersection to Kent Drive.
Huron Drive for Lambton Drive to the South Valley parking lot entrance.
COVID-19: With thousands of new students back to school and attending events throughout the week, there will be significantly increased foot traffic on campus and at city crosswalks.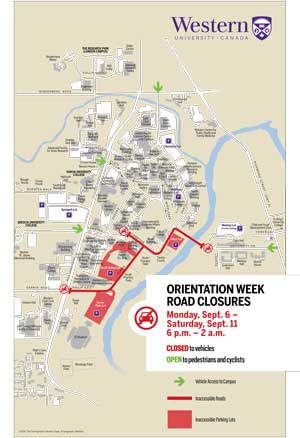 Parking on Campus: In addition to the University Drive Bridge and road closures, the Huron Flats, South Valley and Talbot parking lots, as well as the visitor spaces by FIMS/Nursing Building, will be closed from Sept. 6 until Sept. 11, from 6 p.m. to 2 a.m. each night. Individuals using these lots are requested to have their vehicles out of the lots by 6 p.m.
London Transit: During the evening bridge and road closings LTC buses will be detouring their routes off of University Drive Bridge. Starting at 6 p.m. during Orientation Week, LTC Routes will be detoured off University Drive Bridge. For regular updates, visit: http://www.londontransit.ca/category/detours/
Driving to campus: O-Week is a busy time, please drive slowly and take extra care when traveling through campus. Members of the campus and broader London community should give themselves extra time and expect delays when traveling to and around Western. 
Accessibility: Students, faculty, and staff with mobility limitations should contact Accessibility Services at accessibility@uwo.ca or 519-661-2111, extension 85501. For Students with Disabilities call 519-661-2147 (Monday to Friday, 9 a.m. to 4 p.m.) to arrange for assistance.  Students currently using the Western Accessible Transportation Service (WATS) there is no change in your service. https://accessibility.uwo.ca/
We will continue to provide updates as they become available via Western's social media accounts and on this webpage.