Clinical Placements

Clinical placements, in which students receive instruction and supervision from practicing physical therapists in a variety of clinical environments, are an important part of the learning experience for students in the MPT program. These placements provide opportunities for students to put into practice the theory and clinical skills learned in classrooms and laboratories.
The clinical experience aspect of the Western MPT program includes four clinical experiences, each 7-8 weeks in length, for a total of 30 weeks of practical clinical education within health care facilities across southwestern Ontario.
Western MPT students complete four clinical placements over the course of the two-year program.
| Placement | Course # | Level of Student | Year of Program | Time Period | Length (wks) |
| --- | --- | --- | --- | --- | --- |
| 1 | PT 9181 | Junior | 1 | June – August | 8 |
| 2 | PT 9182 | Intermediate | 2 | Nov – Dec | 7 |
| 3 | PT9183 | Senior | 2 | Feb – April | 7 |
| 4 | PT 9184 | Consolidation | 2 | April – June | 8 |
Students are expected to graduate with a mix of clinical placement experiences assessing and treating a diverse population of individuals and conditions across settings, areas of practice and lifespan to ensure they meet graduation requirements and are prepared for clinical practice.
Settings
Students practice in the following clinical placement settings:
Acute care/hospital
Rehabilitation/long-term care/pediatrics
Ambulatory care clinics (out-patient clinics)
Community/home care (when available; not required for graduation)
Area of Practice
Students gain experience in the following areas of practice:
Cardiovascular and respiratory (CR)
Neurological (Neuro)
Musculoskeletal (MSK)
Multisystem conditions
Lifespan
Students work with individuals across the lifespan:
Children (< 17 years)
Adults (18 – 64 years)
Seniors (> 65 years)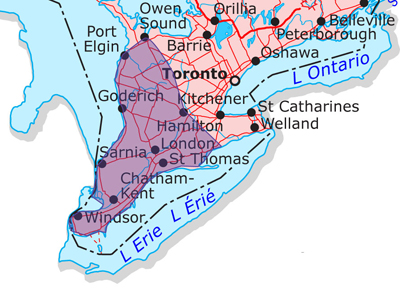 The MPT program collaborates with more than 125 clinical facilities in southwestern Ontario to offer placement experiences to MPT students. Placements are arranged within the Western catchment area (highlighted in purple), which extends from Windsor in the southwest to Owen Sound in the north, and to Kitchener/Cambridge in the east.
Students are required to complete placements, as arranged and assigned by the Academic Coordinator of Clinical Education (ACCE), at any of the affiliated health care facilities within southwestern Ontario. Given Western's catchment area, all students will be required to relocate for at least two (or more) placements. Examples include students relocating to Windsor, Sarnia, Chatham or Owen Sound for the 7-8 week periods. Southwestern Ontario consists of a mix of rural communities, small towns and larger cities. Students must be prepared to relocate to any of these communities to complete their clinical placements and meet graduation requirements.
Placements Outside of Western's Catchment Area
Within Canada
Western MPT students may have the opportunity to complete placements in another part of Canada, within the catchment area of another university. These opportunities are not guaranteed and depend on placement availability within that school's catchment area. With increased enrolment in PT programs in schools across Canada and capacity changes secondary to COVID-19, out-of-catchment placements are increasingly difficult to acquire. Students are not permitted to complete more than one placement in an out-of-catchment area. For example, two placements cannot be completed in McMaster's catchment area. All clinical placements are arranged by the ACCE. Students are not permitted to contact sites to arrange placements.
International
Western MPT students can complete a placement at an international site. These opportunities are not guaranteed and vary year to year. In the past MPT students have completed international placements in Australia, South Africa, India and England.
Students are responsible for all costs incurred related to the completion of the required clinical placements. Completing placements outside of London might be associated with additional costs (such as temporary housing rental, travel to/from London, parking, etc). Access to a vehicle during clinical placements is beneficial, but not necessary.
Additional funding may be available through funds provided by the Ministry of Advanced Education and Skills Development (MAESD), and is subject to change.
Funding is also available through various bursaries and awards from Western's School of Physical Therapy, School of Graduate and Postdoctoral Studies and Society of Graduate Students.
Medical Requirements
During clinical placements, students in the MPT program may be required to care for persons with infectious diseases (including but not limited to Hepatitis, TB, HIV, AIDS). Therefore, students must meet the Ontario Ministry of Labour, Bill 18, Stronger Workplaces for a Stronger Economy Act (2014) policies and guidelines for the protection of workers in addition to requirements specified by each affiliated health care facility. All requirements are for the students' and patients' protection and must be completed prior to each clinical placement.
Students must also be aware that at this time most placement partners including hospitals, long-term care facilities, and community clinics, have pre-placement policies for students that include mandatory vaccination requirements. Students will be required to be compliant with the policy requirements of our placement partners in order to attend placements in those facilities. If students are not compliant with those policies, they will not be able to attend those placements and will fail to meet clinical graduation requirements. Students that fail to meet clinical graduation requirements will not be eligible to complete the program.
Evaluation Requirements
All clinical placements have an assigned course number and are graded on a pass/fail basis. Each student's clinical performance is evaluated by the clinical instructor at the midterm and final evaluation using the Canadian Physical Therapy Assessment of Clinical Performance (ACP). Each clinical placement must be successfully completed to progress to the next clinical block in the program.
Graduation Requirements
To meet graduation requirements, students must complete a minimum of 1025 clinical hours and achieve entry-level in the following PT essential competencies:
Expert (assessment, analysis, diagnosis, prognosis, intervention, discharge planning)
Communicator
Collaborator
Manager
Advocate
Scholarly Practitioner
Professional