IMPORTANT UPDATES
Fall 2020 Program Information
Following the instructional model adopted by Western University as a whole in response to the continuing COVID-19 situation, the School of Physical Therapy has made plans to provide a mixed model of online and in-person course delivery for the Fall term for both incoming and continuing students in the Master of Physical Therapy (MPT) Program. We are carefully redesigning our in-person instruction to implement multiple levels of infection prevention and control for the safety of students and instructors. This will include daily screening before entering campus buildings, smaller in-person group sizes, scheduling to reduce inter-mingling of groups, physical distancing whenever possible, and use of personal protective equipment when proximity is required.
Although the majority of our instruction will be online, there are essential learning objectives in the MPT Program that cannot be achieved without in-person instruction.
In-Person Instruction for Fall 2020
Students entering Year 2 of the MPT Program will have in-person labs during the following times:
August 24 to September 3 (completion of PT9525 and PT9527)
September 14 to September 25
October 19 to October 23
Students entering Year 1 of the MPT Program will have in-person labs during the following times:
September 28 to October 9
October 26 to December 11
Prior to Returning to Campus
Any student, both returning and incoming first-year who has worked in a long-term care setting in the 30 days preceding their arrival on campus must have self-isolated for 14 days prior to returning to campus.
Any student with symptoms of COVID-19, or who thinks they may have been in contact with someone with COVID-19, must be tested and have a negative test result.
First-Year Orientation
Plans are in development to offer a comprehensive orientation experience for students entering their first year of the program. Information will be shared directly as those plans come together.
Western's response to the COVID-19 pandemic continues to be informed by, and adheres to, the advice of federal, provincial and local health authorities and prioritizes the health and safety of students, faculty and staff. We have developed our plans for our academic programs based on the best information available; however, given the ever-changing nature of this public health situation, these schedules and plans may change as required. We will keep you updated. We appreciate your patience as we work to support all members of the Western community.
Virtual Office Support
Based on the current situation, and in order to protect the health of students and staff, we have made adjustments to the way our office is operating. As Western continues to monitor the evolving situation with the COVID-19 pandemic, our priority continues to be finding the best way to support students in achieving their academic goals.
Until further notice, the School of Physical Therapy offices will be operating virtually with no staff physically present in the office. Our virtual office hours will remain the same, with faculty and staff available via email.
PT News and Updates
In Memoriam: Remembering Kathy Obright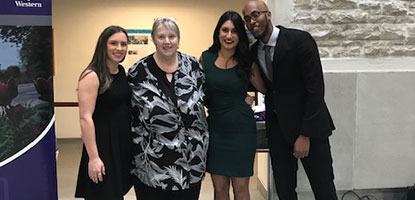 It is with great sadness that we share news of the passing of former Western Physical Therapy lecturer and Professor Emerita Kathy Obright on Friday, June 5.
After more than 30 years at Western, Kathy retired on July 1, 2019, leaving behind the legacy of her impact on thousands of students who passed through the Physical Therapy program and went on to be leaders in the field.
An award-winning instructor, in 2010 she was presented with the Edward G. Pleva Award for Teaching Excellence, which is Western's highest honour recognizing outstanding contributions in the classroom. She also earned the Ontario Physiotherapy Association's Education Award. Kathy's commitment to teaching served as a model for many others to follow.
Kathy will be missed by many in the halls of Elborn College, and across campus, who considered her a colleague, friend and mentor. Her full obituary can be read here.
Land Acknowledgement
We acknowledge that Western University is located on the traditional lands of the Anishinaabek (Ah-nish-in-a-bek), Haudenosaunee (Ho-den-no-show-nee), Lūnaapéewak (Len-ahpay- wuk) and Attawandaron (Add-a-won-da-run) peoples, on lands connected with the London Township and Sombra Treaties of 1796 and the Dish with One Spoon Covenant Wampum. This land continues to be home to diverse Indigenous peoples (e.g. First Nations, Métis and Inuit) whom we recognize as contemporary stewards of the land and vital contributors of our society.