Jeff Holmes, PhD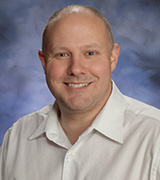 Associate Professor
School of Occupational Therapy
Room 2529, Elborn College
519 661-2111 x88967
jeff.holmes@uwo.ca
Education
BA, MScOT, PhD (Western University)
MHK (Windsor)
Academic Appointments
Associate Director, School of Occupational Therapy
Supervising Graduate Students
Research Interests
Concussion education, management and psychosocial implications on occupational identity
Non-pharmacological management of gait and balance impairments among individuals with Parkinson's disease
Evaluation of novel treatments, diagnostic procedures, and teaching practices in occupational therapy
Additional Information
Classen S, Holmes J, *Alvarez L, Loew K, Mulvagh A, Rienas K, Walton V & He W. (2015). Clinical assessments as predictors of primary on-road outcomes in Parkinson's disease. OTJR: Occupation, Participation and Health, 35(4), 213-220.
Holmes JD, Brigham LK, Jenkins ME, Ready EA, Lutz SG, Johnson AM & Grahn JA. (2015). The effects of manipulating spatial location of visual cue placement on gait among individuals with Parkinson's Disease: A Pilot Study. Physical and Occupational Therapy in Geriatrics 33(3)263-278.
Morrison S, Spaulding S, Holmes J & Jenkins M. (2015). A novel cognitive cueing approach to gait retraining in Parkinson's disease: A Pilot Study. Open Journal of Occupational Therapy, 3(2).
Echlin PS, Johnson AM, Holmes JD, Tichenoff A, Grey S, Gatavackas H, Walsh J, Middlebro T, Blignaut A, Macintyre M, Anderson C, Pasternak O, Koerte I, Bouix S, Fredman E, Sasaki T, Mayinger M, Helmer K, Shenton M, Skopelja EN & Forwell L.A. (2014). The Sport Concussion Education Project: A Brief Report on an Educational Initiative – From Concept to Curriculum. Journal of Neurosurgery, Dec 12(6), 1331-1336, DOI:10.3171/2014.8.JNS132804.
Jimenez-Pardo J, Holmes JD, Jenkins ME & Johnson AM. (2014). An examination of the reliability and factor structure of the Physical Activity Scale for Individuals with Disabilities (PASIPD) among individuals living with Parkinson's disease. Journal of Aging and physical Activity, 23(3), 391-394. (EPub September 2).
Health & Human Performance Research Laboratory - Director
Clinical disorders applicable to the study of occupation and occupational therapy practice and their impact on cognitive, affective and physical occupational performance
Ontario Volunteer Service Award - Parkinson Society Canada South Western Ontario Region, 2011
Directors Award for Distinction in Academia for Excellence in Academic Endeavors - School of Occupational Therapy, Western University