Master of Nursing – Leadership in Professional Nursing Practice (MN-LPNP)
Master of Nursing – Leadership in Professional Nursing Practice

Applications Close on Feb 1, 2023
Transform your Practice. Transform your Profession.
In an increasingly complex health care system, the future of nursing relies on effective and innovative leadership.
The Master of Nursing - Leadership in Professional Nursing Practice prepares ambitious, self-starting nurses for advanced leadership roles that will transform their practice, their organizations and the profession of nursing.
Students gain transferable core knowledge that will build the foundation for a lifetime of self-guided innovation and learning. Mental health and wellness, global and Indigenous health and digital health are some of the central themes explored in this program. A comprehensive understanding of these areas of research empowers graduates to impact policy and enact change across all levels of practice.
Graduates of the  Master of Nursing - Leadership are prepared to:
Analyze and integrate theories, models, concepts, and frameworks for leadership in nursing within multiple domains of practice
Develop an in-depth theoretical and experiential understanding of leadership in nursing
Contribute to the development of knowledge for leadership in nursing within multiple domains of practice
Value differing perspectives to knowledge development in the nursing discipline, and
Support the evolution of the health system and health policy through the use of research findings
Interested in learning more about this program?
Complete the form below to get started.
Accessible to Working Nurses
This course-based master's is designed to an online-hybrid program. Online courses provide a flexible and self-directed learning environment throughout the term. Course content is supplemented with on-site residency periods each term, which offer an opportunity for students to apply course content and receive feedback from renowned nurse scholars in the Arthur Labatt Family School of Nursing.
Master of Nursing- Leadership candidates can earn their degree from home in as little as 12 months of full-time study. Students who wish to study part-time can complete the program in 24 months, however preference is given to full-time applications. Students will also complete a Knowledge Synthesis and Application course, which consists of a clinical mentorship with an experienced mentor, which aligns with the students professional goals. Learn more in the Experiential Learning tab below.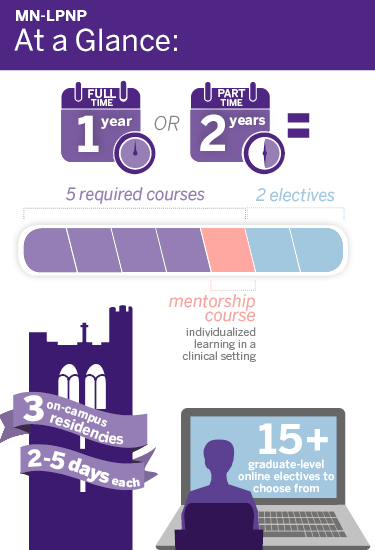 ---
The MN-LPNP program is for baccalaureate-prepared registered nurses who would like to engage in further leadership and advanced nursing roles, and develop a comprehensive understanding of health systems and policy. This program is also suitable for new graduate nurses seeking additional nursing education to advance their nursing practice, gain complementary leadership skills and the opportunities to apply these skills in practice.
The MN-Leadership's online-hybrid model is ideal for students who want a learning environment that is accessible from anywhere, any time, providing more control over their schedules and work-life balance. Unlike traditional online program delivery, students still receive support and face-to-face instruction from Nursing scholars and experts and the opportunity to apply knowledge and exercise collaborative practice during on-campus residency.
International students are eligible to apply, as long as they are able to attend residency periods on Western University's campus. International students who complete the program are ineligible to apply for a Post-Graduation Work Permit if they completed the majority of their program of study by distance learning.
This is an advantageous opportunity for nurses working with our community practice partners in London - Middlesex. (e.g., London Health Sciences Centre, St. Joseph's Health Care London, and Middlesex London Health Unit). The curriculum was developed with input and support from our local community employers, and reflects the leadership needs of these organizations. Furthermore, our community partners offer mentorship placements for MN-Leadership students. Nurses working for our community partners can complete clinical mentorship requirements within their current practice settings.
Graduates of the MN-Leadership program are equipped to engage in various roles, including:
Advanced leadership roles in healthcare organizations
Clinical Nurse Specialist/Advance Practice Nurse
Faculty/Educator in college/university
Policy Development and Analysis
In the MN-Leadership program, students build on their undergraduate education and previous professional experiences to grow as nurse leaders. Graduates of this program are equipped with the necessary competencies, knowledge and judgement to advance nursing practice, and unleash the profession's capacity to lead public policy and systems transformation. 
This program was founded on the conviction that nurses should lead the change toward more equitable and compassionate health care systems. In a rapidly changing health landscape, shaped by social, political and economic circumstances, regulatory changes and digital revolutions, nurses need the advanced knowledge to navigate these systems, recognize health challenges and advocate for best practices.
The MN-LPNP prepares students to synthesize, implement and evaluate evidence-informed solutions, manage complex situations, and develop innovative strategies to improve health outcomes for all. Students acquire a sophisticated understanding of information technology tools used in health care service delivery and its impact, as well as a recognition of how access to digital health tools and patients' literacy with them can impact determinants of health.
The deadline to apply for the MN-LPNP is February 1. Applications open in mid-October. Students applying after February 1 with complete applications can still be considered for admission if space remains in the program. 
All application documents (i.e., transcripts, letters of reference, and supplemental materials) must be received before the admission file can be reviewed. Review of complete application files begins after February 1 and continues until spaces in each program are filled. Incomplete applications will not be reviewed, and it is the applicant's responsibility to ensure that the application file is complete.
Admission Requirements
Completion of a bachelor's degree in nursing (e.g., BScN, BSN, BN)

Preparation in research and statistics

GPA of 78% (B+) or higher in the last two years of full-time study or the last 10 part-time credits
Canadian applicants must be registered with their provincial nursing regulatory body as a Registered Nurse (RN) with no practice restrictions
International applicants
May be asked for a World Evaluation Series (WES) report to confirm degree equivalence
Must show proof of RN registration in their home country

International students are not required to hold registration with the College of Nurses of Ontario (CNO), provided they are currently qualified to practice nursing in their home country. Prospective students must provide this information when applying to the program. Students who do not hold a CNO license will not be permitted to enroll in courses that include a clinical practice component or supervise undergraduate students in clinical practice.
Application Requirements
Two references

Referees are contacted after their names are submitted in the online application
Applicants are asked to provide at least one academic reference
The second reference may be academic or professional as appropriate to the applicant's situation

Transcripts of all postsecondary coursework (including bachelor's degree in nursing)
Curriculum vitae (CV)
Personal essay

The applicant should explain their reasoning for pursuing this program of study
Maximum length: Four double-spaced pages
Review of Applications and Offers of Admission
The Graduate Program Admissions Committee reviews all applications meeting the minimum academic average of 78% (B+) and determines whether to offer admission based on a number of factors, including:
Past academic achievement
Quality of referee assessments
Clarity and fit of the applicant's written goals with the program goals
Evidence of engagement in professional activities
Evidence of leadership
Quality of oral and/or written communication
Offers of admission are made as applications are considered, with the first offers being made in April. Successful applicants may accept their offers of admission online. Preference is given to full-time applications.
Students are required to complete seven courses; five core courses which ensure competency in key areas of practice and two electives that give students the opportunity to gain specialized knowledge in chosen area(s) of interest. For more detailed information about graduate courses offerings in the Arthur Labatt Family School of Nursing, visit the Course Offerings page.
The program is designed to be completed in one year of full-time study or two years of part-time study. The courses are a hybrid of online learning with a short on-campus residency period during each term.
Fall Term:
N9661 – Foundations of Nursing Science (includes 2.5-day residency)
N9612 – Critical Appraisal of Evidence for Nursing Practice (includes 2.5-day residency)
Winter Term:
N9676 – Leadership and Management of Nursing and Health Services (includes 2.5-day residency)
N9651 – Digital Health: Theory and Application (includes 2.5-day residency)
Elective
Summer Term:
N9693 – Knowledge Synthesis (includes 5-day residency)
Elective
Students in the MN-Leadership program will supplement their online studies with participation in residency periods, held each term on Western University's campus. Residency provides students with the opportunity to directly apply what they have learned through coursework within that term into activities that simulate authentic practice settings. Over the course of the five days, students work closely with leading researchers and academics in the field of Nursing, receiving support in building necessary skills and feedback on their progress to date. Students also have the opportunity to build connections with their class cohort, and gain leadership experience within a collaborative setting.
Abe Oudshoorn, PhD, is one of the Nursing faculty members teaching in the MN-Leadership program. His research into the impact of community-based programming for chronically homeless women explores many of the same areas of research that are central to the program's curriculum.
The program's mentorship component, known as the Knowledge Synthesis course, gives students one-on-one support from a mentor while participating in individualized learning objectives that pertain to the students' interests and the mentors' practice setting.
Working in collaboration with faculty, students will determine an area of interest and then discuss options for a mentor. Through faculty and alumni contacts, as well as the students' own professional contacts, students work in conjunction with faculty to secure mentorship placements. Faculty members in the School of Nursing can connect students with mentors at the university, in acute or long-term care, specialty clinics and primary health care settings. Ultimately, it is up to the student to meet with a potential mentor to determine fit in terms of expectations and the topic.
---
Start your Journey Today
Applications are open from mid-October to February 1

Complete applications recieved after February 1  can still be considered for admission if space remains in the program.
 Leaders in Research 
Over the last 100 years, The Arthur Labatt Family School of Nursing has been a recognized leader in health professional education, research, practice and policy. Faculty members teaching in the MN-Leadership program are at the forefront of this tradition, conducting innovative research that promotes health equity and informs the courses they teach.