Unlocking the mysteries of chronic pain and functional living
Pavlos Bobos, a professor at Western's School of Physical Therapy, wants to help those who suffer from chronic conditions live a pain-free and functional life.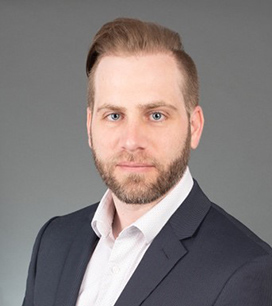 Pavlos Bobos, School of Physical Therapy
Growing up as a competitive sports player, Bobos experienced firsthand the prevalence of injuries and pain suffered by athletes, leading him to seek a better understanding of effectively treating these conditions. He developed an interest in implementing exercised-based interventions derived from clinical research and in exploring the quality and merits of available research studies.
"I strive to be a discerning reader of information, as it's crucial to recognize that not every research study is of high quality," he said. "I want to answer questions like, how we can refine the processes of critically evaluating a paper? How we can identify and address potential pitfalls or limitations inherent in a research study's design?"
His work now includes the development of clinical trials to evaluate pain and mobility interventions as well as the identification of best practices using evidence synthesis.
Bobos discovered an interest in the field of osteoarthritis research while studying musculoskeletal health. Affecting approximately 3.9 million Canadians aged 20 years and older, osteoarthritis is a degenerative joint disease without a cure. Its hallmark symptom is chronic pain. It can be difficult for sufferers, especially those with lower extremity osteoarthritis, to engage in physical activity and their lack of mobility can lead to increased cardiovascular disease and higher mortality rates. It can also influence their mental health and socio-economic status, with impacts on relationships and employment. Bobos sees the effect the disease has on the whole person.
"Chronic pain is characterized as pain that persists for over three months. It's noteworthy that after this three-month mark, a host of associated issues tend to surface, including mental health problems which are often intertwined with various social determinants of health," Bobos explained.
"Clinicians need to approach patient care from the biopsychosocial, not just the biomedical aspect. I want to help them use exercise-based interventions that improve both physical and mental health in patients with chronic pain and I am working to identify the specific subgroup of individuals who will benefit from these interventions."
When the COVID-19 pandemic swept across the globe Bobos joined the Ontario COVID-19 Science Advisory Table as a member of the secretariat. His involvement in the Science Table played a significant role in guiding the Ontario government's pandemic response and sparked a fresh set of research interests for the academic.
As the pandemic continued, it was found that a subset of people who had COVID-19 was experiencing longer-term symptoms, known as post-COVID-19 condition, three or more months following their initial infection. As the only rehabilitation scientist on the Science Table, Bobos was keen to study what was happening to these individuals and what interventions might be of benefit to them.
"Our first priority is the patient. We learn the patient's needs so we can address those and only then, we can move forward."
The World Health Organization estimates approximately 10-20% of people who have contracted COVID-19 will experience post-COVID-19 condition. Although Bobos expects this figure to be revised and reduced as further research is conducted, the number remains significant. The Canadian COVID-19 Antibody and Health Survey (CCAHS) developed by the Government of Canada reported more than 1.4 million people experienced post-COVID condition symptoms in Canada as of August 2022.
Bobos' is now focused on the main symptom of post-COVID-19 condition, chronic fatigue. In collaboration with faculty from Western University and other fatigue experts, his team has designed a clinical trial to evaluate a novel intervention aimed at mitigating fatigue. By targeting fatigue, he aims to improve individuals' ability to perform daily activities, such as work, and enhance their quality of life.
Bobos and his team are putting the patient first by learning what the patient's needs and preferences for care are, as well as which interventions are working well or not for them. "Our first priority is the patient. We learn the patient's needs so we can address those and only then we can move forward," explained Bobos.
Bobos is motivated to support people with injury or chronic illness in attaining an improved quality of life, unburdened by pain and the loss of functionality, physiologically and beyond. By focusing on the distillation of existing research to extract the most effective interventions for clinical implementation, he has made significant strides toward accomplishing his goals.
"I am equally distributing my time between osteoarthritis and post-COVID-19 condition because both are important, and I think there will be a time when these things converge in the future. You will see patients with osteoarthritis who also have post-COVID-19 condition, for sure," he said. "I'm managing my time building my teams and expanding my network, contributing equal time to these two critical issues."