Social comparison of sedentary behaviour linked to psychological stress in adults

Sedentary behaviour, characterized by low energy expenditure while sitting, reclining or lying down while awake, has been shown to affect depression and anxiety levels in adults. Psychological stress can be harmful to physical and mental health, and while some coping strategies may lessen these effects, other coping strategies unintentionally increase this stress. Academic literature also shows that chronic stress can promote comfort eating, reduce physical activity and increase sedentary behaviours—which brings it all back around to start again. So how do we understand and reduce the impact of this cycle?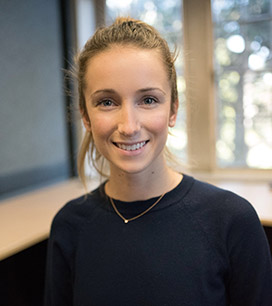 Kelsey Sick, PhD Candidate
That is the question explored by Western Kinesiology PhD candidate, Kelsey Sick, the lead author of a recent publication from the International Journal of Sport and Exercise Psychology, that looks at how adults' mindsets regarding their perceived sedentary behaviour, specifically in comparison to similar-aged peers, impact their psychological stress.
The mindset that one's sedentary behaviour levels are higher or lower than that of their peers may lead the individual to perceive themself as more or less healthy. During the study, adult participants were asked to assess their perceived stress, their perceived sedentary behaviour as compared to others close to their age and their actual time spent sitting during a typical week.
The study's findings suggest that sedentary behaviour mindsets are relevant and highly susceptible to social comparison. Individuals use self-evaluation to establish whether their behaviours are inline with that of a reference group.
The results are the first to demonstrate that the sedentary behaviour mindset within the framework of social comparison impacts psychological stress, even after controlling for sociodemographic characteristics, health status factors, and actual sitting time on a typical weekend day.
"While we found there was a significant link between perceived sedentary behaviours and psychological stress on weekends, it was not significant on weekdays. This may be due to the lack of agency or control individuals feel they have over the amount of time they engage in sitting on those days." Sick explains.
Research on the the relationship between sedentary behaviour and psychological stress has been quite
limited. Looking forward, Sick would like to see the further research to aid the understanding of the causal role of sedentary behaviour mindsets. As well, she would like to see the study's results inform public health initiatives that evaluate the health effects of sedentary behaviour. Approaches that targeing peoples' beliefs about their activity may positively impact sedentary behaviour and overall health outcomes.
Scott Rollo, School of Epidemiology and Public Health, University of Ottawa, and Harry Prapavessis, School of Kinesiology, Western University, are the co-authors of the publication.