Julie Theurer, PhD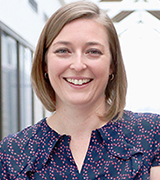 Academic Title
Room 2515, EC
519 661-2111 x85607
jtheurer@uwo.ca
Google Scholar
ORCID: 0000-0001-9790-680X
Education
MCISc, PhD (Western University)
BA (Brock)
Graduate Program Supervision
Health and Rehabilitation Sciences MSc | PhD
Research In Profile
Professor Julie Theurer's research focuses on the study of sensorimotor systems supporting speech and swallowing, and practice-based research collaborations with clinicians aimed at improving outcomes for individuals undergoing treatment of head and neck cancer. Through these practice-based research partnerships, she is exploring swallowing rehabilitation, health-related quality of life, and functional outcomes measurement.
Chapters and Reports

Theurer, J.A. (2019). Human Papillomavirus-Related Head and Neck Cancer. In P.C. Doyle (Ed.), Clinical Care and Rehabilitation in Head and Neck Cancer (pp. 45-68). Springer.
Articles in Peer-Reviewed Journals
Nichols, A.C., Theurer, J.A., … Palma, D.A. (2022). Randomized trial of radiotherapy versus transoral robotic surgery for oropharyngeal squamous cell carcinoma: Long-term results of the ORATOR trial. Journal of Clinical Oncology, 40(8), 866-875. doi: 10.1200/JCO.21.01961
MacDonald, C., Theurer, J.A., Doyle, P.C. (2021). "Cured" but not "Healed": The application of principles of palliative care to cancer survivorship. Social Science in Medicine, 275, doi: 10.1007/s00520-020-05873-4
Jovanovic, N., Dreyer, C., Hawkins, S., Thouless, K., Palma, D.A., Doyle, P.C., Theurer, J.A. (2021). The natural history of weight and swallowing outcomes in oropharyngeal cancer patient following radiation or concurrent chemoradiation therapy. Supportive Care in Cancer, 29(3), 1597-1607
Visit Google Scholar for a comprehensive list of publications.
Theurer, J.A. (2022-2023). Speech, swallowing, and quality of life outcomes following oral cavity resection. Western University. $24, 910.
Theurer, J.A. (2021-2023). Sensorimotor integration in the upper aerodigestive tract. Western University. $25,000.
MacDonald, Chelsea (2021). PhD, Health and Rehabilitation Sciences.
Jovanovic, Nedeljko (2018). MSc, Health and Rehabilitation Sciences.
Visit Scholarship@Western for a list of completed student theses and dissertations in the repository.
Potential areas of research in the Aerodigestive Function and Rehabilitation Lab include:
Sensory and motor systems of swallowing
Functional outcomes in head and neck cancer
Swallowing rehabilitation
Interested students should
email professor Theurer
to enquire about available positions.
Additional Information
Aerodigestive Function and Rehabilitation Lab
Department of Otolaryngology – Head and Neck Surgery
Practice-based Research Collaborative in Speech-Language Pathology (PRECISe)
Swallowing Research Lab
Marilyn Robinson Award for Excellence in Teaching – 2022
Faculty of Health Sciences Teaching Award of Excellence - 2021
Angela Armitt Award for Excellence in Teaching - 2018
Faculty of Health Sciences Part-Time Faculty Teaching Award of Excellence - 2006, 2013
Member, Dysphagia Research Society
Member, Speech-Language Pathology and Audiology Canada