Vijay Parsa, PhD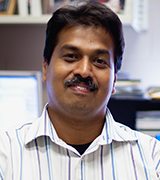 Associate Professor
Room 2262E, EC
519 661-2111, 88947
parsa@nca.uwo.ca

@TwitterHandle
Google Scholar
Education
MESc, PhD (University of New Brunswick)
BEng (Osmania University, India)
Graduate Program Supervision
Research In Profile
Coming soon.
Articles in Peer-Reviewed Journals
Huber R, Parsa V & Scollie S. (2014). Predicting the perceived sound quality of frequency-compressed speech. PLOS ONE, 9(11), e110260.
Falk T, Parsa V, Santos J, Arehart K, Hazrati O, Huber R, Kates J & Scollie S. (2015). Objective quality and intelligibility prediction for users of assistive listening devices. IEEE Signal Processing Magazine, Special Issue on Signal Processing Techniques for Assisted Listening, 32(2), 114 – 124.


Visit Google Scholar for a comprehensive list of publications.
Visit Scholarship@Western for a list of completed student theses and dissertations in the repository.
Additional Information
Oticon Foundation Chair in Acoustic Signal Processing (joint with the Faculty of Engineering)
National Centre for Audiology
Digital Signal Processing Laboratory
Faculty of Health Sciences Recognition of Excellence in Teaching: 2009,2011
University Students' Council Teaching Honour Roll Award: 2005, 2006, 2007
Professional Engineers of Ontario - Licenced Member
Board of Directors, Canadian Acoustical Association (2005 – 2009)