Laura Murray, PhD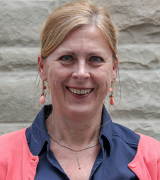 Professor and Director
Room 1004, Elborn College
519 661-2111 x88227
lmurra57@uwo.ca
Education
PhD (University of Arizona)
MS (Minot State University)
BSc (Western)
Supervising Graduate Students
Research Interests
Acquired neurogenic language disorders/aphasia
Cognitive-communicative disorders due to right hemisphere brain damage, traumatic brain injury, or progressive neurological disorders
Cognitive and communicative aspects of healthy aging
Language and cognitive assessment and intervention procedures
Additional Information
Murray, L. L. & Rutledge, S. (2014). Reading comprehension and Parkinson's disease. American Journal of Speech-Language Pathology, 23, S246-258.
Murray, L. L., & Clark, H. M. (2015).  Neurogenic disorders of language and cognition: Evidence-based clinical practice.  Austin, TX: Pro-Ed.
Murray, L. L. & Coppens, P. (2016). Formal and informal assessment of aphasia. In I. Papathanasiou, P. Coppens & C. Potagas (Eds.), Aphasia and related neurogenic communication disorders, 2nd Ed (pp. 81-108). Sudbury, MA: Jones & Bartlett.
Murray, L. L. & Paek, E. (2016). Behavioral/nonpharmacological approaches to addressing cognitive-linguistic symptoms in individuals with dementia. Perspectives in Gerontology, 1(15), 12-25.
Reynolds, S., Murray, L. L., McClennon, S., Elbright, P., & Bakas, T. (2016). Implementation of a spinal cord injury program to improve nursing knowledge and adherence. Rehabilitation Nursing. doi:10.1002/rnj.304
Simmons-Mackie, N., Worrall, L., Murray, L. L., Rose, M., Enderby, P., Klippi, A. & Paek, E. (2017). The "top ten:" International best practice recommendations for aphasia. Aphasiology, 31(2), 131-151.


Adjunct Professor in Speech and Hearing Sciences at Indiana University
Acquired language and cognitive disorders
Cognitive and communicative aspects of healthy aging
Fellow of the American Speech-Language-Hearing Association (2014)