Ruth Martin, PhD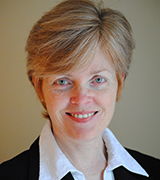 Professor
Room 200, HSB
519 661-2111, x86680
remartin@uwo.ca
Education
PhD (University of Wisconsin–Madison)
MHSc (University of Toronto)
BSc (Queen's University)
Research In Profile
Professor Ruth Martin is the Associate Vice-Provost, School of Graduate and Post-doctoral Studies, and Professor of Communication Sciences and Disorders, Physiology and Pharmacology, Otolaryngology, Neuroscience, and Health and Rehabilitation Sciences at The University of Western Ontario in Canada. Federally funded, her research program is directed towards (i) understanding the neural basis of swallowing through brain imaging and kinematic studies, and (ii) developing new approaches to the rehabilitation of swallowing and other upper airway health problems.. Professor Martin is a Fellow of the Canadian Academy of Health Sciences. She is the inventor of the Abilex* device for which she was awarded the 2018 Vanguard Innovator of the Year Award.
Articles in Peer-Reviewed Journals
Colley, P, Chabot, N., Anstey, L., Baker, N., Martin, R.E., Examining online health-sciences graduate programs in Canada. Internat Rev Res Open Dist Learning, 20 (3), 2019 https://doi.org/10.19173/irrodl.v20i4.4007 Impact Factor (IF): 1.26
Affoo, R, Trottier, K, Garrick R, Mascarenhas T, Jang Y, Martin RE. The effects of tooth brushing on whole salivary flow rate in older adults. BioMed Res Internat, 5:1-7, 2018 Article ID 3904139, 2018. IF: 2.47
Toogood J, Theurer J, Gati J, Menon R, Affoo R, Martin RE. Swallowing preparation and execution: Insights from a delayed-response functional magnetic resonance imaging (fMRI) study. Dysphagia, 1-16, 2017. IF: 2.0
Foley N, Affoo, R, Siqueira W, Martin, R. A systematic review examining the oral health status of persons with dementia. JDR Clinical & Translational Research 2 (4), 330-342, 2017, IF: 4.7
Abe K, Weisz SE, Dunn RL, DiGioacchino MC, Nyentap JA, Stanbouly S, Theurer JA, Bureau Y, Affoo RH & Martin RE. (2015). Occurrences of yawn and swallow are temporally related. Dysphagia, 30(1), 57-66.
PI: Ruth Martin, NSERC Discovery Grant, Functional Organization and Connectivity of the Insula for Swallowing 2017-2022, Funds: $215,900, status: funded.


Additional Information
Associate Vice-Provost, Graduate and Postdoctoral Studies
Orofacial Neuroscience Research Team
Fellow, Canadian Academy of Health Sciences
FHS Faculty Scholar
Premier's Research Excellence Award
Ontario Ministry of Health and Long-term Care Career Scientist
Section Editor, Current Reviews in Physical Medicine and Rehabilitation
Editorial Board Member, Dysphagia Research Society