Ingrid Johnsrude, PhD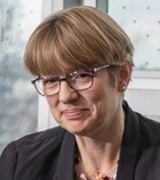 Professor
Room 227, Natural Sciences Centre
519 661-2111 x84447
ijohnsru@uwo.ca
Education
PhD (McGill)
MSc (McGill)
BSc (Queen's)
Academic Appointments
Western Research Chair - Cognitive Neuroscience
Faculty of Social Science - Department of Psychology
Supervising Graduate Students
Research Interests
Diagnosing and treating hearing problems
Hearing impairment
Brain disease in the aging and elderly
Additional Information
Johnsrude IS, Mackey A, Hakyemez H, Alexander E, Trang HP, & Carlyon RP. (in press).Swinging at a cocktail party: Voice familiarity aids speech perception in the presence of a competing voice. Psychological Science.
Zheng ZZ, Vicente-Grabovetsky A, MacDonald EN, Munhall KG, Cusack R, & Johnsrude IS. (In press). Multi-voxel patterns reveal functionally differentiated networks underlying auditory feedback control of speech. Journal of Neuroscience.
Wayne RV & Johnsrude IS. (2012). The role of visual speech information in supporting perceptual learning of degraded speech. Journal of Experimental Psychology: Applied, 18(4), 419-435.
Wild CJ, Yusuf A, Wilson D, Peelle JE, Davis MH, & Johnsrude IS. (2012). Effortful listening: The processing of degraded speech depends critically on attention. Journal of Neuroscience, 32, 14010-14021.
Ramezani M, Abolmaesumi P, Marble K, Macdonald H,& Johnsrude IS. (2012). Classification of individuals based on sparse representation of brain cognitive patterns: A functional MRI study. Conf Proc IEEE Eng Med Biol Soc. 2012, 2688-91.
Zekveld AA, Rudner M, Johnsrude IS, Heslenfel, DJ,& Rönnberg J. (2012). Behavioral and fMRI evidence that cognitive ability modulates the effect of semantic context on speech intelligibility. Brain & Language, 122, 103-113.
Hervais-Adelman A, Carlyon RP, Johnsrude IS, & Davis MH. (2012).Brain regions recruited for the effortful comprehension of noise-vocoded words. Language and Cognitive Processes, 28, 1145-1166.
Huyck JJ, & Johnsrude IS. (2012). Rapid perceptual learning of noise-vocoded speech requires attention. Journal of the Acoustical Society of America – Express Letters.131, EL236-42.
Wild, CJ, Davis MH, & Johnsrude IS. (2012). Human auditory cortex is sensitive to the perceived clarity of speech. NeuroImage, 60,1490-1502. Rodd JM, Johnsrude IS ,Davis MH. (2012). Dissociating frontotemporal contributions to semantic ambiguity resolution in spoken sentences. Cerebral Cortex, 22, 1761-1773.
Tahmasebi, AM, Davis, MH,  Wild, CJ, Rodd, JM, Hakyemez, H, & Johnsrude, IS. (2012). Is the link between anatomical macrostructure and function equally strong at all cognitive levels of processing? Cerebral Cortex, 22, 1593-1603.
Tier II Canada Research Chair in Cognitive Neuroscience (2003-2014)
2009 E.W.R. Steacie Memorial
Government of Ontario Early Researcher Award (2006)