Danielle Glista, PhD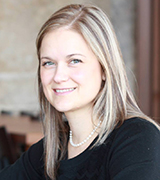 Assistant Professor
Room 2262M, EC
519 661-2111 x88913
daglista@nca.uwo.ca
@DanielleGlista
Google Scholar

LinkedIn
Connected Hearing Healthcare Lab
Education
PhD (Western)
MSc/MClSc (combined) (Western)
BHSc (Western)
Graduate Program Supervision
Research In Profile
Current research from the Connected Hearing Healthcare Lab focuses on the use of patient-orientated research to engage clinicians, patients, families, and community partners. As part of an international, multi-site project designed to help close the virtual care research-to-practice gap, implementation sciences tools were used to facilitate action-oriented, dynamic, and iterative processes in research; resulting knowledge products include a co-created clinical practice guideline specific to the delivery of virtual hearing aid care. Patient-orientated research efforts have also included industry partnerships, guiding research and development around pediatric- and adult-focused mobile hearing solutions, real-world outcome measurement (EMA), and mixed methods research.
Clinical Practice Guidlines
Glista, D., O'Hagan, R., DiFabio, D., Moodie, S. T. F., Muñoz, K., Richert, F., Curca, I. C., Meston, C., Pfingstgraef, D., Joseph, K., & Brown, C. (2022). Virtual hearing aid care: Clinical practice guideline v2.0. Western University. https://doi.org/10.5206/0820211097
Articles in Peer-Reviewed Journals
Visit Google Scholar for a comprehensive list of publications.
Glista, D., Moodie, S., Kothari, A., Bagatto, M., Curca, I., Meston, C., & Richert, F. Rapid implementation of innovative virtual audiology services in response to COVID-19. Faculty of Health Sciences Strategic COVID-19 Research Support Grant, Western University
Glista, D. & Servais, M. Exploring mHealth applications for use in adolescent-led hearing aid personalization. Faculty Research Development Fund, Faculty of Health Sciences, Western University.
Glista, D. Tele-audiology solutions for pediatric hearing aid fitting: Development, implementation, and evaluation of clinical procedures. Sonova Research Grant.
McCorquodale, L., Dorlap, S., Jenkins, K., Whitehead, J., Moodie, S., Kinsella, E.A., Bossers, A., Ferguson, K., Moosa, T., Wilson, J., Brar, S., Glista, D., Connelly, D., Smith, K., McQueen, K. Preceptor Education Program 3rd Edition: Preparing Students and Preceptors for On-Site Practice Experience. E-Campus Ontario.
Cunningham, B., Servais, M., Glista, D. Moodie, S., Oram Cardy, J. COVID-19 and parents' experiences participating in virtual training to support children's language and social. SSHRC Partnership Engage.
Moodie, S., Glista, D., Kinsella, A., Teachman, G., DesGeorges, J. &Kovacs, L. "Thriving in the Detour": Understanding the meaning of parent-to-parent support for families of children who are Ddeaf or hard of hearing (Dd/HH). Emerging Team Grant, Faculty of Health Sciences, Western University.
Visit Scholarship@Western for a list of completed student theses and dissertations in the repository.
Opportunities may be available with the Connected Hearing Healthcare Lab. Example project areas/topics include virtual care research (focused on hearing/speech, pediatric/adult populations), mixed-methods research (scoping reviews, concept mapping, e-Surveys, focus groups, real-world outcome measure collection).
Please contact professor Danielle Glista via email at dglista@uwo.ca for more information.
Additional Information
Affiliate member of the National Centre for Audiology
Licensed Audiologist (reg CASLPO)
Council for Accreditation of Canadian University Programs in Audiology and Speech-Language Pathology: Accreditation Board Member (2022-25)
College of Audiologists and Speech-Language Pathologists of Ontario (CASLPO) Advisory Working Group Member: Standards document on virtual care in Ontario (2020)