Research


The Faculty of Arts and Humanities has a long and proud tradition of academic excellence. We rank consistently as one of the top Faculties in the Arts in Canada. Our nine departments and programs bring together over 150 full-time Professors, many of whom hold teaching and research awards on the local and international stages. 
Research Spotlight:
Geneviève de Viveiros, French Studies, had recently created a vlog on her research relating to Emile Zola's works, career and times. Zola was one of the most influential writers, journalists and critics of the 19th Century. Geneviève will share her archival research, travels and more through her vlog series. View more about the EZolaproject on YouTube 
---

The research of Nandi Bhatia, English and Writing Studies, and Teresa Hubel (Huron College) has been featured in India Today. Both are working on a project focused on the representation of tawaifs and devadasis in literature, film and historical records. Read more  
---
Congratulations to Richard Moll, English and Writing Studies, who was named 2019 Faculty Scholar for his achievements in teaching and research. Moll's teaching focuses on the British literary tradition and his research focuses on the ways that canonical texts move through the Middle Ages as they are adapted and transformed through different languages, genres and time periods. Moll has worked on Arthurian literature and Ovid and he is currently exploring the textual world of English heralds. 
---
Solga and Skelton named 2019 Graham and Gale Wright Distinguished Scholars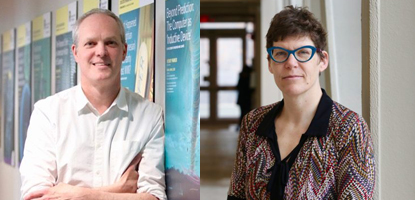 Kim Solga, English and Writing Studies, and Anthony Skelton, Philosophy, were named the 2019 Graham and Gale Wright Distinguished Scholars for excellence in research. Congratulations! 
---
Congratulations to Christof Migone, Visual Arts, and his partner Marla Hlady who were named 2019 Glenfiddich Artist-in-Residence. Both will be spend the summer working on a new project together at the Glenfiddich Distillery in Dufftown in the Scottish Highlands. Read the full article 
---
The continued, universal appeal of Gabriel García Márquez – who would have turned 92 on March 6 – is evident in the latest DataPoints publications of the CulturePlex Lab housed in Western's Department of Modern Languages and Literatures. Read the full article 
---
Tornadoes carry destructive power and fearsome beauty – and a new exhibit at the John Labatt Visual Arts Centre attempts to convey both. Please – Do Not Take This Lightly is an amalgam of research and creation influenced by Engineering professor Greg Kopp's tornado and wind studies and is on display until January 24, 2019. Read the full article