Visual Arts' Mexico City course assignments on display
Mexico City Course - a collage as final assignment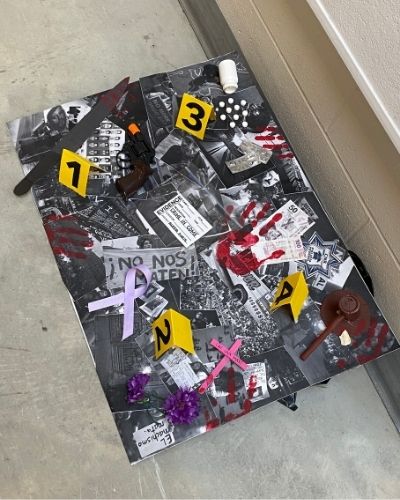 The Mexico City course (AH 2692F/ CLC 2129A/ SP 2102A) was offered in the Fall 2021 by Professor Alena Robin. The course examines Mexico City through its history of continuous transformations from the Aztec empire to the megalopolis it is today. It identifies traces of the various pasts in the city's contemporary urban landscape and daily life through art, film and literature. We also addressed current issues such as cultural agency, water distribution and shortage, garbage recollection, and tragedies, for example the different earthquakes the city suffered, the 1968 students protest, feminicides, crime and drug trafficking.

The final assignment for the course was a creative one. Students had to do a collage, an image composed by gluing papers and various other objects to a ground, with the intention of transforming the most commonplace materials into an imaginative artwork. It was their opportunity to make their own image of Mexico City using a pasting technique of different objects. Some questions guiding their creation were: What image of Mexico City was the most powerful to you? What would you like others to know about Mexico City? The people? The countryside? The food? The art? The conflict? The traditions? What is more meaningful to you: the past, the present or the future of Mexico City?

Students had to consider design, color, texture, and composition, but they had unlimited freedom to express their view of the city. Here are some examples.