2014-2015 Speaker Series
Each year The Speaker Series brings in several visiting guest lecturers. Speakers over the years have included Jean Baudrillard, Lauren Berlant, Peter Brooks, Norman Bryson, David Carroll, Anthony Cascardi, Wlad Godzich, Jean-Joseph Goux, Elizabeth Grosz, N. Katherine Hayles, Linda Hutcheon, Martin Jay, Michael Hardt, Agnes Heller, Barbara Johnson, David Farrell Krell, Murray Krieger, Arthur Kroker, Dominick LaCapra, Jerome McGann, J. Hillis Miller, Chantal Mouffe, Christopher Norris, Mark Poster, Richard Rorty, Charles Scott, Thomas Sebeok, Kaja Silverman, Gayatri Spivak, Bernard Stiegler, Samuel Weber, Hayden White, Slavoj Žižek, and many others.
This year's speakers include:
Andre Pietsch Lima
On creative processes (Simondon/Deleuze)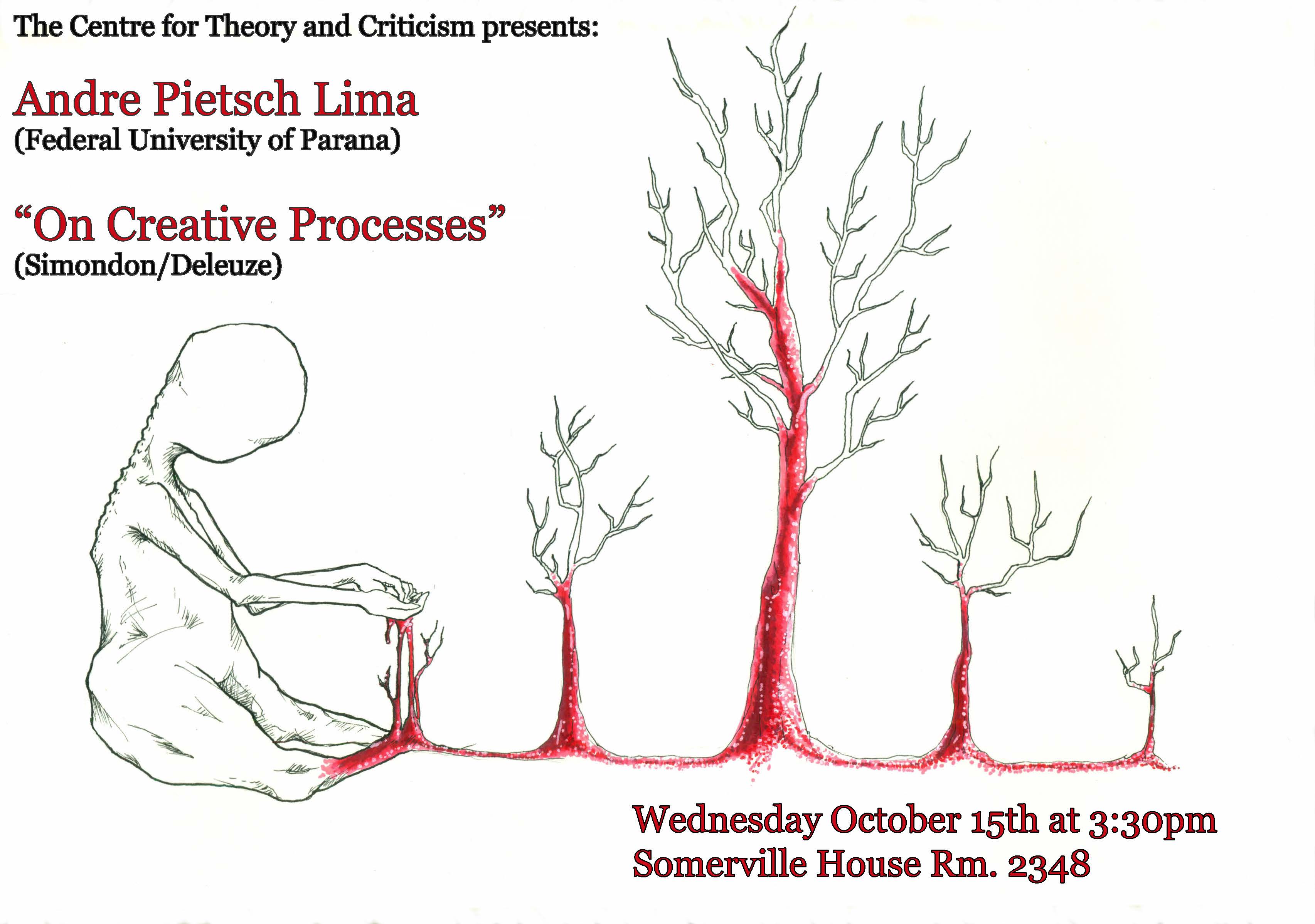 October 15, 2014
3:30pm, Somerville House Rm. 2348
This lecture aims to correlate individuation (as defined in the work of Simondon and Deleuze) with the processes of artistic creation. The double articulation Artaud-Kafka (and a particular dialogue of the dead) does not escape the text's eye. We will look, too, to Glenn Gould, as he takes up and plays with these variations. Messiaen and Klee also have a part into these machinations, as do Borges and Ligeti. The question on the "mythology of the author" (Barthes) returns within two regimes of individuation (style and reading), unfolding some problems of intertextuality and virtuality that help shape the creative processes.
~
Françoise

Meltzer
"The Ethics of Ruins: Berlin 1945"
October 29, 2014
2:00pm, Somerville House Rm. 2348
~
Frances Dyson
"Sound, Sense and Sensing"
November 11, 2014
4:30pm, Somerville House Rm. 2348
~
Eric Cazdyn

"The Non-Coincidence of the Future"
November 27, 2014
4:30pm, Somerville House Rm. 2348
Past Speakers:
Nick Srnicek
The Eyes of the State
April 9, 2014
Alenka Zupančič
Power and Comedy
April 4, 2014

Claire Colebrook
Exceptional Disaster
March 26, 2014
Brett Buchanan
What is called behaviour?
Ethological articulations of bodies in contemporary continental philosophy
March 13, 2014
Simon Critchley
The Problem with Levinas
March 6, 2014

Steven Shaviro
on Scott Bakker's Neuropath
February 13 , 2014
Jack Halberstam
Against Marriage?
February 6, 2014
Paul Anthony Smith
Failure and Victimology: On Laruelle's Mutation of Marxism
November 14, 2013
Peter Stallybrass
"Marx's Coat"
November 8, 2013
Clint Burnham
"Slavoj Žižek as Internet Philosopher"
September 23, 2013