2017-18 Speaker Series
Each year The Speaker Series brings in several visiting guest lecturers. Speakers over the years have included Jean Baudrillard, Lauren Berlant, Peter Brooks, Norman Bryson, David Carroll, Anthony Cascardi, Wlad Godzich, Jean-Joseph Goux, Elizabeth Grosz, N. Katherine Hayles, Linda Hutcheon, Martin Jay, Michael Hardt, Agnes Heller, Barbara Johnson, David Farrell Krell, Murray Krieger, Arthur Kroker, Dominick LaCapra, Jerome McGann, J. Hillis Miller, Chantal Mouffe, Christopher Norris, Mark Poster, Richard Rorty, Charles Scott, Thomas Sebeok, Kaja Silverman, Gayatri Spivak, Bernard Stiegler, Samuel Weber, Hayden White, Slavoj Žižek, and many others.
Watch some of our previous talks on youtube!
Upcoming speakers:
~
September 29, 2017
Dr. Patrick Gamsby
Memorial University
"The Dialectic of One-Dimensional Man" (on Marcuse)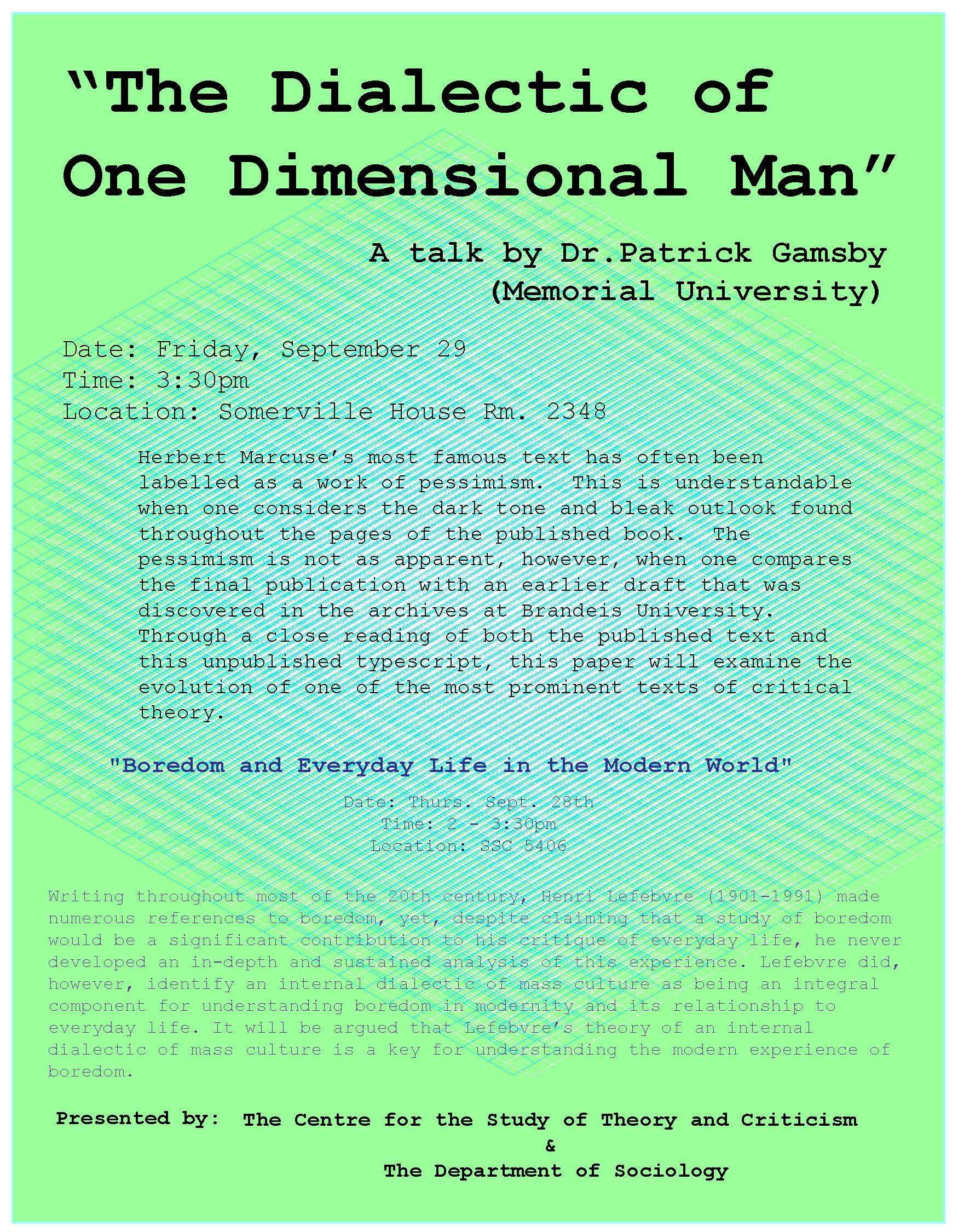 Herbert Marcuse's most famous text has often been labelled as a work of pessimism. This is understandable when one considers the dark tone and bleak outlook found throughout the pages of the published book. The pessimism is not as apparent, however, when one compares the final publication with an earlier draft that was discovered in the archives at Brandeis University. Through a close reading of both the published text and this unpublished typescript, this paper will examine the evolution of one of the most prominent texts of critical theory.
3:30pm in Somerville House 2348
~
November 10, 2017
Dr. Jean-Michel Rabaté
University of Pennsylvania
"Rust Theory"
On Hegel, Ruskin and other thinkers on the theme of Rust; from the forthcoming book Rust (Bloomsbury, 2018)

.
3:30pm in Somerville House 2348
~
March 16, 2018
Mariana Ortega
Philosophy Department, John Carroll University
Past Speakers include:
Dr. Franke B. Wilderson III
The Black in the Cul-de-Sac: Afro-Pessimism as the Crisis of Critical Theory
March 23, 2017
Rey Chow
Foucault, Race, and Racism
March 10, 2017
Eric Santner
The Debt Drive: Philosophy, Psychoanalysis, and Neoliberalism
February 10, 2017
Lewis Gordon
Theorizing Theory, Pessimism, and Social Transformation through Fanon
November 4, 2016
Peter Fenves
Benjamin, Studying, China
September 30, 2016
Maurizio Lazzarato
Financialization and War: Race, Class, Gender, Sexuality and Subjectivity
April 27, 2016
Jane Gallop
The Phallus and its Temporalities: Sexuality, Disability, and Aging
April 8, 2016
Reingard Nethersole
Königswege and Holzwege: High Roads and Byroads taken in Literary Theory
April 5, 2016
Michael Anderson
What mindedness is: Evolution, embodiment, and the nature of human thought
March 18, 2016
Catherine Malabou
Passionate Disattachments: The Work of Catherine Malabou
February 5 & 6, 2016