Conferences
The Centre sponsors a variety of seminars, conferences, publications and an active program of lectures and colloquia by both internal and external faculty.
Sponsored by Comparative Literature | The Centre for Theory and Criticism | Hispanic Studies
No-fly Zones and Molotov Cocktails
March 10-12, 2016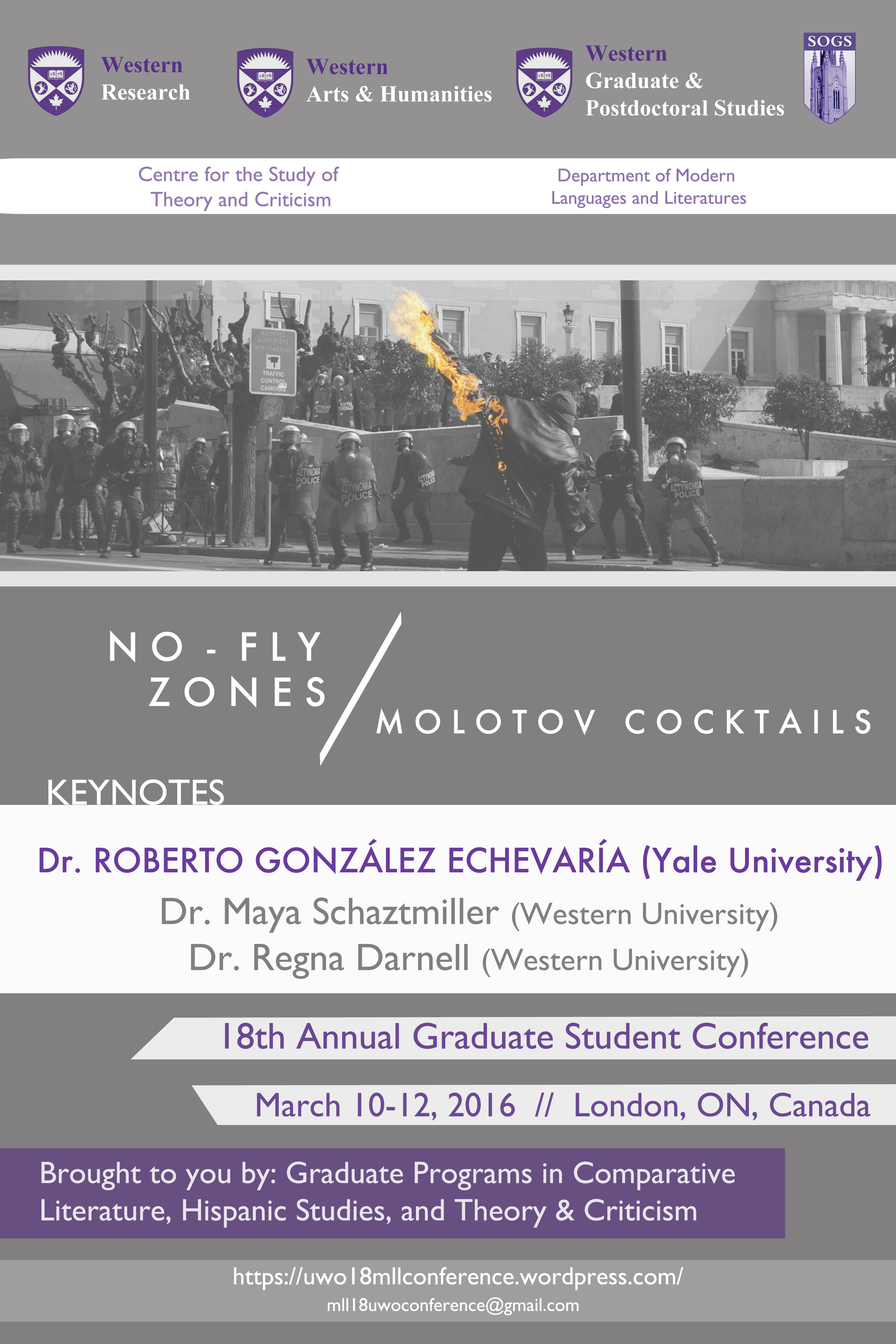 Keynote Speaker Dr. Roberto Gonzalez Echevarria of Yale University presents "Sor Juana and Baroque Cosmology: "Primero sueno"
While the reign of Stephen Harper as Prime Minister becomes defined by the suppression and prohibition of debate and dissention, the Academy itself is also prone to fall prey to the formation of No-Fly Zones, wherein the institution and its ideas are sheltered from its adversaries, thereby containing and controlling the creative flights of language and discourse.
Whereas collective assemblages of protests of power tend to be globally inhibited, Molotov Cocktails are incendiary weapons that defy the professionalization and militarization of social manifestations – whether they are political, literary, linguistic, philosophical or artistic, these tools resist the occupied territory and set it ablaze.
In a literary context, Emir Rodríguez Monegal writes "There is another group of novelists, younger than García Márquez or Cabrera, that are committed to the act of writing novels with the greatest possible freedom, without respecting any visible or known principle save that of experimentation. There are many, and they are scattered all over the continent. Their names mean little outside their own places, but they are, already the masters of tomorrow´s novel."
This conference will therefore examine minoritarian literatures, languages, and theories which resist the standardized or dominant models and create new lines of flight. Some possible concepts to be discussed are the novel, language, government, aesthetics, gender, art, or science, among others, as submissions are asked to investigate the less examined or marginalized aspects of the arts and humanities. We encourage interdisciplinary submissions, including but not limited to literature, critical theory, cultural studies, digital humanities, linguistics, film studies, visual arts, history, anthropology, sociology, and philosophy.
For inquiries contact the organizers at: mll18uwoconference@gmail.com
~
PAST CONFERENCES:
Trans- and Trance
March 5-7, 2015
Apps and Affect
October 18-20, 2013