2016 Recipients
Community Award
Peggy Wakabayashi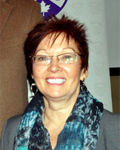 Peggy Wakabayashi was selected for her leadership in the Community. She was a Board Member of Hope's Garden, a London-based non-profit organization providing support to those dealing with eating disorders. Peggy has served as a Board member of Western's Day Care and also as a Board member of Second Stage Housing – a transitional support facility for women who have experienced domestic violence. She is an inaugural member of the London branch of "100 Women Who Care", a local philanthropic group of committed women who raise funds for local charitable initiatives. In addition, for the past few years, Peggy has taken on an active role in Western's United Way campaign, including the role of Chair.
Higher Education Award
Paul Martin
Paul Martin is known to have a "rock-solid grasp on tasks within his portfolio, which is contrasted by his kind and gentle leadership style." His spirit of volunteerism extends to include the higher education industry. Paul has served on the Higher Education User Group and was influential in improving the software for all regional institutions. As a member of the Ontario Association of Physical Plant Administrators, OAPPA, he created a model for charge-out rates and cost recovery that has been adopted by many of his colleagues. As Energy Team Chair at OAPPA, Paul has spearheaded and led meetings to advocate on behalf of the colleges and universities to leverage a better deal with the Ministry of Environment and Climate Change. The result of these efforts have been profound – a freeze on the levy, negating hefty fees and giving universities and large colleges free credits until 2020. He is a member of the Southwest Ontario gas buying group and chairs the utility coalition group with the goal of strategic natural gas buying. Representatives of this group share information on mitigation of energy taxes and negotiate bulk, pricing reducing utility rates for participating institutions.