Who We Are
Paul Eluchok
, BA, LLB
University Legal Counsel
Since January 2018, Paul Eluchok has acted as Legal Counsel at Western, advising the University on a broad range of issues, including procurement, IP, litigation, governance, student affairs and corporate matters. From 2013-2017, Paul worked in the University Secretariat's Office on a variety of legal, privacy and access to information matters.
Prior to working at Western, Paul worked at a local law firm practicing in real estate, estates, and corporate/commercial law. He is a member of the Canadian Association of University Solicitors, the National Association of College and University Attorneys, and the COU Legal Counsel group.
Paul received his BA from Western and his law degree from Queen's University and was called to the Ontario bar in 2006.
---
Meredith Rady, BA, JD
Associate University Legal Counsel
Meredith comes from a background of primarily family law (including considerable work with the Office of the Children's Lawyer) and civil litigation with a focus on professional liability and insurance defence matters. She also has extensive experience in drafting and negotiating contracts, and has assisted on files brought before the Ontario Court of Appeal and Supreme Court of Canada.
Meredith was called to the Ontario Bar in 2011. She obtained her BA from Western and her Juris Doctor from Queen's University, where she was also selected for an international exchange opportunity. She has had numerous articles published in various publications between 2011 and 2014. She is a member of the Ontario Bar Association, Middlesex Law Association and The Advocate's Society.
---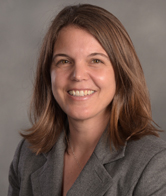 Tara Oudekerk, BA, LLB, LLM
Associate University Legal Counsel (Privacy)
Tara joined Western full time in February 2018 after 14 years in private law practice. Tara started in the Secretariat's Office where she was the Privacy Officer and administered student academic and conduct appeals. She has since moved to the Legal Department where she continues her work related to Privacy. Tara's background is in Municipal and Planning Law and her experience includes privacy, procurement, corporate contracts, employment, land use planning, prosecutions and litigation matters. From 2009 to 2018 Tara also taught courses at Western's Law School and Local Government Program.
Tara received her BA from Queen's University, her law degree from the University of Windsor and her Master of Laws at Osgoode Hall Law School. She was called to the Ontario bar in 2004.
---
Amy Van Damme
Legal Assistant
Amy joined Western in August 2018. Her main duties include facilitating the implementation of student placement affiliation agreements for multiple Schools across campus, handling legal invoices for Western, and processing third-party requests for student academic files. Amy also provided administrative assistance to the Provost's Ad Hoc Committee that developed and implemented Western's Freedom of Expression Policy in Fall 2018. Since January 2019, Amy has also acted as Administrative Assistant to Western's Technology Risk Assessment (TRA) Committee. 
Prior to joining Western, Amy worked for 7 years at a private law firm, primarily in the area of Plaintiff Personal Injury Law (both Tort and SABS). She also worked in the areas of Bankruptcy/Insolvency and Commercial Litigation, and was appointed to maintain the firm's Indian Residential School IAP claim files. Amy obtained her Diploma in the Law Clerk program from Fanshawe College in 2012.
---
Allie Rogozynski
Appeals & Privacy Coordinator
Allie joined Western in November 2019. Her main duties in the Legal Counsel Office are assisting with privacy matters and processing information requests under the Freedom of Information and Protection of Privacy Act. Allie also assists the University Secretariat's office with coordinating student academic and conduct appeals for the Senate Review Board Academic (SRBA) and the University Discipline Appeal Committee (UDAC).
Prior to joining Western, Allie obtained her diploma in the Law Clerk program at Fanshawe College in 2018. During her schooling, she obtained a co-op placement at a small law firm and was hired full-time upon graduation as a Litigation Law Clerk. She has assisted with a wide variety of matters including debt collection, mortgage enforcement, personal injury and insurance defence.