Jonathan Forget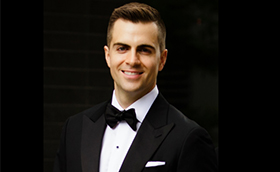 Our office sat down with alumnus Jonathan Forget to reflect on his internship experience and discuss what his path looked like throughout his Western journey and beyond.
Here's what Jonathan had to say. Enjoy.
Can you tell us about your academic background? What was your undergraduate path? 
I started at Western in September 2008 in the Biological and Medical Sciences Program. In second-year, I decided to pursue a BSc. Honours Specialization in Biology. Graduated in 2013.
What was your career aspiration in first-year and why? 
I went into first-year Science @ Western with the same career aspiration as most of my classmates – to become a doctor. I wanted to pursue this career as I did not have much of an idea of any other career options that a science degree could offer me. I was definitely surprised by many of the job options across Canada that were available when I was applying to many of the various positions during the Science Internship Program. Now that I think back on it, I think I applied to almost every single one!
What is your current occupation, what was your path to get here? 
I am currently a Production Supervisor in the Filling & Packaging department at Sanofi Pasteur in Toronto. My path to get here started with the Western Science Internship Program, I was hired for a 12-month internship in the Quality Operations department at Sanofi. I was hired once again by the same department at Sanofi as a Quality Operations Manager just a few months after I graduated. I then moved into the manufacturing side of the business in 2017 and I've been there ever since.
What do you value in a job to feel fulfilled? 
To feel fulfillment in a job, I have to feel like the work I am doing is making a positive and quantifiable contribution to the company as well as society as a whole. Working at Sanofi and having direct involvement in the manufacture of life-saving vaccines certainly helps in that regard. It's also extremely important to find a job where there is opportunity to move around and grow within the company. Otherwise, you could find yourself stuck in a rut and maybe having to start from square one at a different company if you don't like your first job out of university.
What advice would you give current undergraduate students/ or to your undergraduate self? 
I would advise any undergrad student to pursue the Western Science Internship Program and apply to every single job available as you never know where it may lead you. I would also advise any undergrad students to get involved in as many activities as their schedule permits. While I was at Western, I joined a fraternity and played a few different intramural sports. I was very busy but I had a ton of fun and met a bunch of really great people that I am still very close with today.