Internship Experience A "Lottery Win" for Environmental Science Student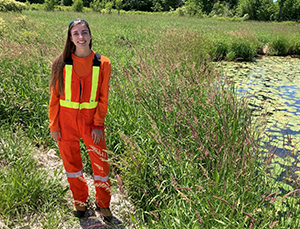 Winning the internship lottery. That's how fourth year environmental science student Katrina Wynne describes her placement at Hydro One.
Over the last 16 months, Wynne worked as an Environmental Assessment Co-op Student with Hydro One, organized by the Science Internship Program. In this role, she assisted the environmental services department with environmental assessments for energy infrastructure projects and maintenance and expansion of existing lines.
During her time, she was given many real responsibilities. "I had a lot of independence and was able to make a substantial contribution to the projects I was working on," shared Wynne. She also took initiative to improve processes, such as creating training videos for onboarding and a standards and guidelines document for employees and consultants.
Aside from the skills she learned and the connections she made at Hydro One, Wynne believes the biggest takeaway was "a sense of direction." Before the internship, it wasn't clear to her what jobs would be available to her with an environmental science degree. And now, she clearly understands what opportunities are available to her and just how many there are. The experience also pushed her to pursue a certificate in Geographic Information Systems (GIS) in her last year, after discovering it is a technical skill that makes her more employable.
"When I signed up for the program, I had no expectations. Now on the other side, I feel so fortunate to have been placed at a company as incredible as Hydro One. While I am grateful to have been paid for my contributions, they provided so much more that I will take with me moving forward. I do feel like I won the lottery."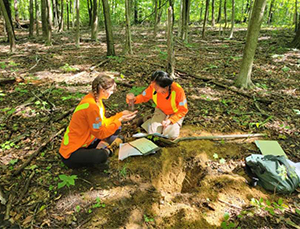 For students who are not sure about taking the internship, and may be hesitant about adding another year to their degree (as students who participate in the program complete the internship between their third and fourth years for a minimum of 8 months), she encourages them to think about how much more employable you will be upon graduation with the work experience you gain. "The internship program gives you a step up with industry experience as well as connections that can help you land a job when the time comes."