Drilling for a Different Shade of Grey
Drilling for a Different Shade of Grey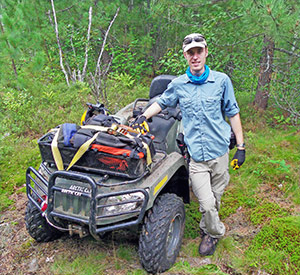 Canada has the world's second largest mining supply sector. Mine development and mineral extraction are both complex and expensive endeavors, with total capital expenditures in 2011 exceeding 11 billion dollars. Maintaining Canada's strong market position in this sector requires a continued and aggressive level of novel tool development and use, and innovative foundational research to find ore bodies, increase ore extraction productivity and to reduce the overall costs of mine development.
It is within this competitive context that Jon O'Callaghan, a Western Earth Sciences graduate student, was recently awarded a coveted scholarship from SRK Consulting, a mining consulting enterprise specializing in exploration for specific deposits in difficult terrains.  A major focus of his Master's research, O'Callaghan searches for chemical clues to help find ore bodies of nickel, copper and platinum group minerals in impact structures. Studying a class of rocks called breccias, which are composed of mixed bits of rock held together by a matrix of grey melt, this graduate level research is teasing out evidence to settle the debate as to whether these breccias are formed from frictional melting between the faces of faults or from the flow of impact melt into cracks during meteorite impacts. The difference is crucial in determining how to explore for more of these precious mineral resources.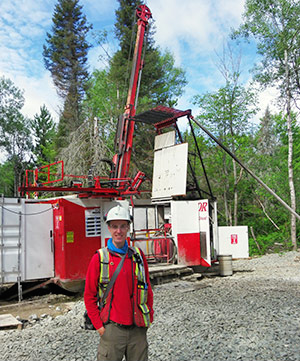 Sudbury is renowned for its mineral deposits, so much so that a nine meter replica of a Canadian nickel graces the top of a small hill just outside of the city.  And, according to geologists, The Sudbury Impact Structure is a fascinating but hard region to get to at times. For Jon O'Callaghan, the 25 kilometer trek he completed last summer to reach the South Ranges through rough backwoods on an ATV was well worth it.
Looking for ore bodies around well established mining operations is referred to as working in brown field exploration, and the quest to find more demands an in depth knowledge of exploratory methods. Part of that search had O'Callaghan visiting numerous drilling sites over the summer, where his team brought up core sample close to two billion years old – adding fundamentally to a more comprehensive understanding of the jigsaw puzzle that makes up this complex geological area.