News
Shannon Dea (PhD Philosophy Western) has been appointed Dean of Arts and Professor of Philosophy
University of Regina, April 8 2020
Shannon Dea currently Professor of Philosophy at the University of Waterloo, has been appointed Dean of Arts and Professor of Philosophy. The appointment is effective 1 September 2020. 
A former Director of Women's Studies at the University of Waterloo, Dr Dea has also served as both Undergraduate and Graduate Associate Chair of Philosophy, as a two-time faculty Senator and a two-time member of the Board of Governors, as well as on multiple department, faculty, university, and extra-university committees and working groups. She is currently the Vice-President of the Faculty Association of the University of Waterloo, and a member of the Board of Directors of the Canadian Philosophical Association.
Dr Dea earned her BA in Philosophy and Russian Language and Literature from the University of Waterloo, her MA in Philosophy from Queen's University, and her PhD in Philosophy from Western University. 
She researches and teaches about academic freedom, harm reduction, sex and gender, LGBTQ issues, pedagogy, equity, and the history of philosophy. She is the author of Beyond the Binary: Thinking About Sex and Gender, and of numerous articles and book chapters. The author of a monthly University Affairs column called "Dispatches on Academic Freedom," Dr Dea is also the principal investigator on a SSHRC-funded project that seeks to develop better academic freedom protections for precarious and minoritized scholars.
Dr Dea regularly engages with the public and the media on topics ranging from freedom of expression to social justice issues, and has worked closely with community agencies aimed at supporting some of society's most vulnerable members. She is a recipient of the Ontario Women's Directorate's Leading Women Building Communities Award and of University of Waterloo's Distinguished Teacher Award. 
---
Catherine Hudleby (PhD 2001) has been awarded the Mary Lou Dietz Equity Leadership Award
University of Windsor DailyNews, April 7 2020
Catherine Hudleby (PhD 2001) is the 2020 recipient of the Mary Lou Dietz Equity Leadership Award from the Windsor University Faculty Association's Status of Women, Diversity and Equity Action Committee. 
The award, which hours individuals who demonstrate leadership through their contributions to creating an equality culture on campus, is named after Mary Lou Dietz, a late UWindsor faculty member and head of the Department of Sociology, Anthropology and Criminology, in recognition of her contributions to advancement of women in Canadian universities and colleges. 
The committee calls Dr. Hundleby a "champion of inclusion, diversity, and equity" in the Department of Philosophy, the University of Windsor, and the discipline of philosophy across North America and Europe.
She works in a discipline which is still male-dominated, and has been a force for change. She has pushed the department and each member to re-think and revise reading lists to open them to women's and marginalized voices outside of the traditional canon. Within her own field of philosophy of science and argumentation studies, she has pioneered new directions to feminist epistemology and theories of argumentation.
Hundleby is a progressive activist philosopher, primarily concerned with equity and social justice, who has had a significant impact at the University of Windsor and on the professional groups of which she is a part of.
---
Richard Marshall interviews Corey W. Dyck for 3:16am
Interview by Richard Marshall
Corey W Dyck specializes in the history of German philosophy, with an emphasis on the eighteenth century. His recent research has focused on issues in metaphysics and the philosophy of mind in the period from Leibniz to Kant. Here he discusses the influence of Hegel on how the German philosophical tradition has been discussed, the importance of Wolff and the Pietists for Kant, Lambert, Tetens and Mendelssohn, the Morgenstunden, Christian August Crusius, Kant's Critique of Pure Reason as a rather pernicious form of scepticism, the Paralogisms of Pure Reason and rational psychology, kant's criticisms of rational psychology and his resulting view of the soul, the relevance of the Fourth Paralogism, the soul and immortality, German materialism, the 'quarrel of women' (querelle des Femmes), Erxleben's 'Rigorous Investigation' and why women's philosophy is missing from accounts of early modern German philosophy. Read the full interview here.
---
Reflections on Being a First-Generation and/or Low-Income Graduate Student
By Arianna Falbo and Heather Stewart March 10, 2020
The 2020 Eastern Division Meeting of the APA in Philadelphia featured a panel discussion that we, Arianna Falbo and Heather Stewart, members of the APA's Graduate Student Council, organized, entitled: "Outsider's Within: Reflections on Being a First-Generation and/or Low-Income Philosopher." To the best of our knowledge, this panel is the first of its kind at the APA, which we hope will reflect the beginning of many important discussions to come concerning the experiences of first-generation philosophers, and philosophers who come from low-income and working-class backgrounds. Read the full story here.
---
David Hakim, MA Philosophy, will be clerking for Justice Karakatsanis at the Supreme Court of Canada in 2021-22
After completing a clerkship at the Ontario Court of Appeal, David will be clerking for Justice Karakatsanis at the Supreme Court of Canada in 2021-22. Congratulations! 
---
Emma Ryman, PhD Philosophy, Western 2017, awarded a prestigious clerkship at the Ontario Court of Appeal
Emma is currently doing a JD in law at the University of Toronto. Our congratulations on her success!
---
Embodied Cognition: Implication in Science and Philosophy hosted by the Huron Philosophy Society
Is Cognition centralized or embodied?
Is the Computational Theory of Mind accurately representing the mind and cognition?
Where exactly is the information we pick up through perception?
Is perception active or passive?
Is consciousness extended or private?
Is the brain more dynamical or localized specializations?
How does the kind of body one has structure their lived experience?
These are just some of the questions addressed in Embodied Cognition. Embodied Cognition views cognition as embodied rather than centralized within, for example, the brain. Embodied cognition is slowly growing and in recent years the interest in embodiment has drastically increased. This rise of Embodied Cognition is most evident in Philosophy and Psychology but has had advocates incorporate it into Feminist Theory, Dynamical Systems Theory, Phenomenology, Linguistics, Robotics, Biology and Public Policy. This one day workshop will host speakers whose research is bringing new insights to and from Embodied Cognition. Our event aims to show you how Embodied Cognition is helping researchers study human and animal cognition.
We welcome students, faculty, and locals to join us! We will be providing an early small dinner to all guests If you request any dietary accommodation please email jardilac@uwo.ca.
In order to ensure we have enough food for everyone, we ask that you RSVP us here.
For full details, including the speaker schedule and location, please click here.
---
Philosophy of Neuroscience Conference keynote speaker: Mike Anderson
Mike Anderson will be one of the keynote speakers for the upcoming conference on Philosophy of Neuroscience: Content, Self, and Cognitive Ontology at the University of Colorado September 4-6, 2020. 
---
Heather Stewart, PhD student, selected to be an instructor at Johns Hopkins' Centre for Talented Youth Program
Heather Stewart will be the instructor for the course on "Playing God: The Ethics of Human Subjects Research" for a session of Johns Hopkins' Centre for Talented Youth Program. She will be teaching the course at Princeton University, in Princeton, New Jersey. The course will cover the history of human subjects research (and its historical and ongoing impact on vulnerable populations), and raise ethical questions around content, privacy and confidentiality, and the weighing of harm to individuals against potential collective benefits. 
---
WHO publishes a document on "Ethical Considerations for Health Policy and Systems Research"
December 4, 2019
The World Health Organization published a document on "Ethical Considerations for Health Policy and Systems Research" written by Charles Weijer and colleagues from the Ottawa Hospital Research Institute.
HPSR seeks to generate knowledge to improve "how societies organize themselves to achieve health goals." HPSR's focus on systems, policies and programmes means that studies may be both organizationally and ethically complex. "Ethical Considerations for Health Policy and Systems Research" provides a novel systematic approach to analyzing ethical issues in HPSR for researchers and RECs globally.
WHO's Senior Scientist, Dr. Soumya Swaminathan, says: "This document will be of value to all involved in undertaking or using HPSR, including researchers, educators and students, as well as policy-makers and practitioners involved in co-producing research on health policy and systems. Research ethics committees – especially those that have limited experience of dealing with HPSR – will find it particularly helpful, as it illustrates the points made with clear and relevant examples. I hope that the contents will stimulate further thinking and development of guidance in this field." 
The published document can be found here: https://www.who.int/alliance-hpsr/resources/publications/ethical-considerations-hpsr/en/
---
Dr. John Bell's Retirement Party
November 16, 2019
Western colleagues celebrated the career of John Bell at his retirement party, themed "Signs & Symbols". (Photo Album Link)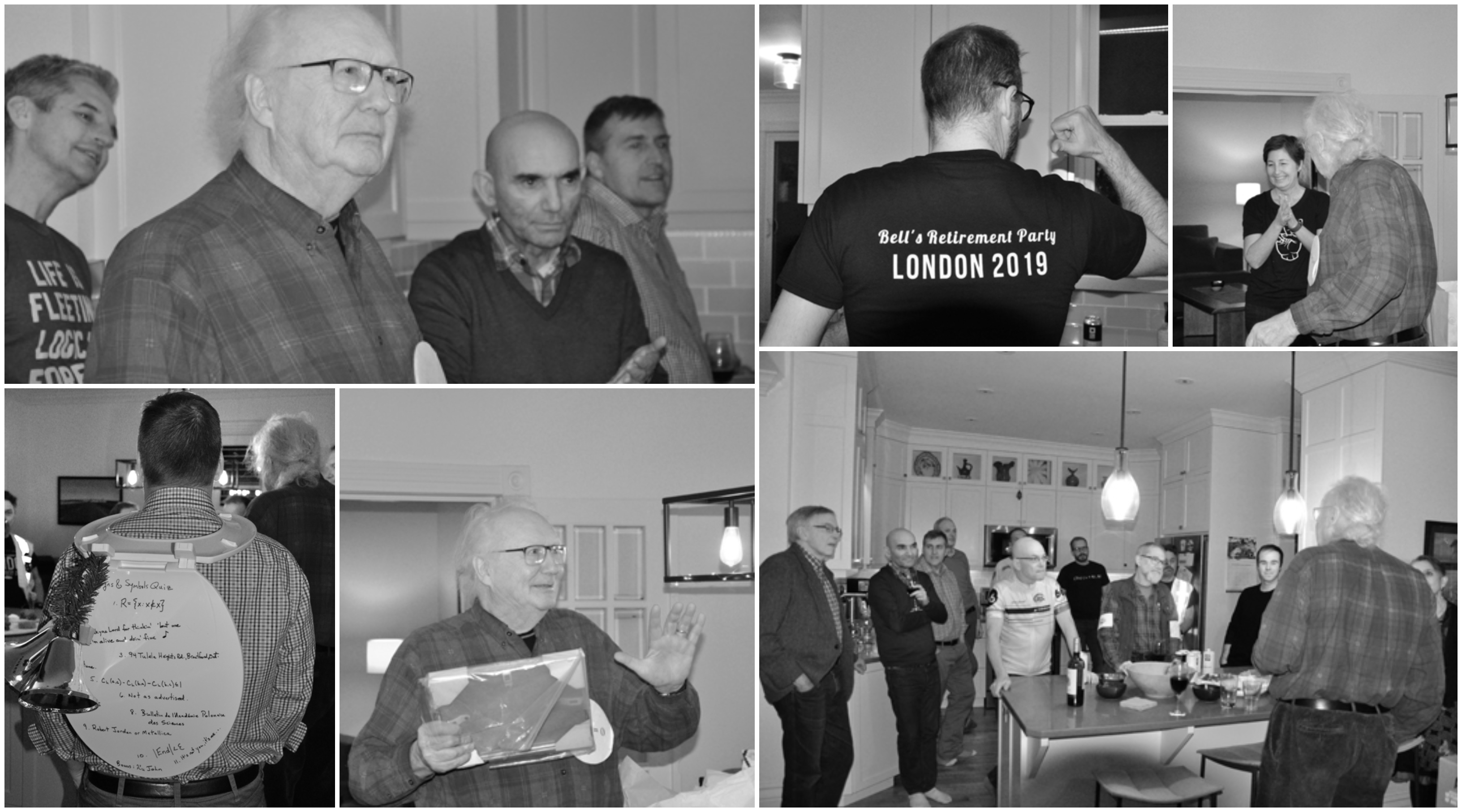 ---
Once an oasis of stability, Chile now burns
By Ignacio Moya Arriagada, October 23, 2019, The Globe and Mail
Ignacio Moya Arriagada is a Chilean-Canadian doing his PhD at the University of Western Ontario in London, Ont.
The streets of Chile are on fire. Barricades light up the night sky, soldiers patrol the streets and thousands of people defy curfew. In a world of unrest, the crisis in Chile is unique in that it calls into question not just the unfair wealth distribution, but also a very specific way of doing politics.
For a long time, Chile was held up as an example of what good governance can accomplish. This is particularly true in the context of Latin America where successive crises in Argentina, Brazil, Peru, Venezuela and Honduras have helped to reaffirm the long held image that Latin America is a place where corruption and instability are a part of everyday life.
But Chile, as President Sebastian Pinera recently said, was an oasis of peace and stability. Almost 30 years of uninterrupted democratic rule, economic growth and social peace seemed to prove him right. But Chile is no longer an oasis. Continue reading here.
---
Philosophy in China
Recently, Professor Carolyn McLeod went to China as part of a delegation from Western Arts & Humanities and Music. She met with people from top Philosophy Departments in China, including the departments at Peking University, Renmin University (see its Centre for Analytic Philosophy), and Fudan University. Here are some pictures from her trip. The image below is of members of the Western delegation with members of the Philosophy department at Fudan.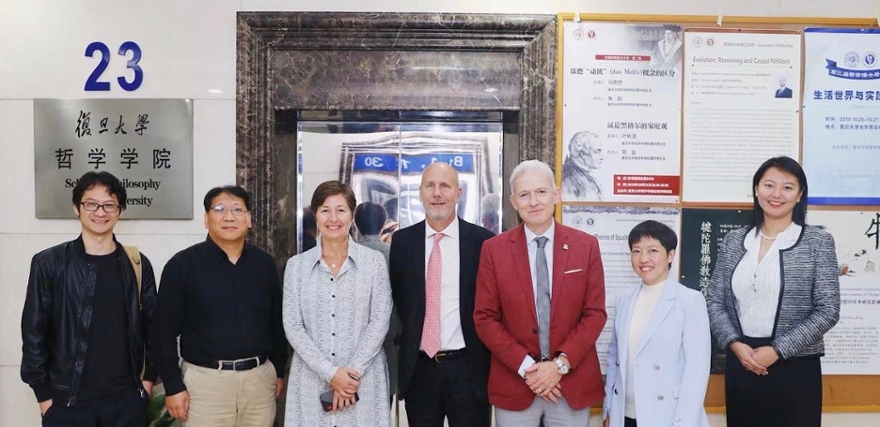 ---
Impact Experience: Engage with local and global communities
Sarah Murdoch (undergraduate program coordinator) has been selected as a team leader for the May 2020 Pine Ridge, South Dakota- Lakota Life. Through the program, the team will have the opportunity to learn about Lakota life and culture, and contribute to a community-led service project. Amizade (community partner) has emerging relationships with a network that engages agricultural initiatives, programming on youth and education, and cultural learning. Depending on the needs of the community at the time, the 8-day exploration of Pine Ridge may include any of these service activities. The team will be working with a group of Lakota elders dedicated to ushering in a sustainable future for the health and wellbeing of the Oglala Lakota people.
Staff, Faculty and Graduate Students are eligible and invited to engage with communities, both locally and globally. Impact Experience collaborates with communities to develop and implement projects that align with their needs. Impact Experience is more than just a one-week experience - it is a six-month program with leadership elements, workshops, pre-departure modules, combined with service and reflection.  Team leaders are vital to the success of the program. As an ambassador from Western, this is an opportunity to gain and impart the development of intercultural perspectives.
For more information on Impact Experience, please click here: http://cel.uwo.ca/faculty_and_staff/impact/index.html 
---
Southwestern Ontario Feminist Philosophers Workshop
On October 3rd, Western Philosophy will be hosting the Southwestern Ontario Feminist Philosophers Workshop. The event will focus on papers by Jennifer Saul (Waterloo), "Figleaves," and by Heather Stewart (Western), "Paving the Road to Truly Free Speech: Establishing a More Just Free Speech Infrastructure on Campus and Beyond." The papers are to be read in advance and will be circulated by September 19th. All are welcome to attend. We're meeting in StvH 1145 from 4-6pm, and we'll go to dinner afterwards. Please contact Carolyn McLeod: cmcleod2@uwo.ca, for further details.
---
2018-19 Chair's Annual Essay Prize
Congratulations to Olivia Gordon, winner of the 2087-19 Chair's Annual Essay Prize for her essay Kant's Erroneous Objectification of Animals by Regarding their Worth as Indistinguishable from the Worth of "Things". The paper was written for Professor Corey Dyck's course PHIL 3170F: Kant's Groundwork.
---
Student Reflections Snapshot: Heather Stewart
August 21, 2019 by Sabrina D. MisirHiralall
This series of Student Reflections is based on interviews conducted by Elyse Purcell and Sarah Horne during the APA's 2019 Central Division Meeting in Denver, Colorado. Heather Stewart is currently a Philosophy PhD Candidate at Western University in London, Ontario, Canada. Her research highlights the intersection of feminist philosophy, political philosophy, and bioethics, with a special interest in the philosophy of microagressions.
What inspired you to pursue a graduate degree in philosophy?
When I discovered philosophy in university, I realized I would not be content doing anything else – likely to the confusion, and perhaps dismay, of my parents and mentors!
When I first moved to Louisville, Kentucky to attend the University of Louisville, I assumed that I would become a pediatrician. As a first-generation college student who grew up on the lower end of working class, having the opportunity to attend college at all was somewhat of a pipedream (one that a combination of scholarships, grants, and student loans made possible). Knowing that I was the first in my family to have that opportunity – and also reckoning with the fact that I had to put myself into fairly substantial debt to do so – meant that the obvious choice (or, the only choice) would be to pursue a career that would lead me toward long-term financial stability. The only such possibilities I could really envision were medical school and law school, though, having spent a lot of time with pediatricians dealing with my own chronic illness as a child, I was fairly quickly compelled in that direction. I began doing all of the right things – taking natural science-filled semesters to complete the pre-med curriculum, studying incessantly, and volunteering at the local children's hospital in my (wildly limited) spare time. I was on the track I always assumed I would be on. But over time, my courses began to bore me – they were heavy on memorization of facts without an interrogation of those "facts," or indeed, even a good understanding of them. At about the same time, I was shadowing in pediatric emergency and began to grapple with the many contradictions of health care delivery under the American system. Fairly quickly, I became more interested in health care policy, and the ethical questions that play out in real time in the clinic.
---
McLeod eyes responsibility of Philosophy chair
By Paul Mayne, May 31 2019, Western News
Even running one of the world's best programs, Carolyn McLeod sees the challenges clearly.
The Department of Philosophy ranks among the Top 50 programs in the world, and among the top two in the country, behind only the University of Toronto, according to the 2019 QS World University Subject Rankings. It is a lofty standing Western has enjoyed for the last five or six years.
Known not only for the Rotman Institute of Philosophy, the department also benefitted from a broad base of research strengths, including being one of the foremost departments in North America in feminist philosophy.
But times are changing in Philosophy departments across the country and around the world.
That didn't stop McLeod from seeking its leadership post.
"We've had challenges – and, yes, there were times during those challenges where I thought there was no way I'd take this on," said McLeod, who will assume the Department Chair role July 1. "I've always felt chair is a responsibility I should take on at some point."
In her 17th year at Western, McLeod points to fewer faculty members – down almost a third to 24 today – as creating a different type of environment. "You can have more of a community feeling when it's smaller, like we are all in it together to create this great department, as long as you have the people you need to run the programs you want to run." Read the full story.
---
New Western-led study explains why adoptive parents more "Time to Attach"
May 15, 2019
The child welfare system in Canada is in "a state of crisis," according to a new report from Western University. There are too many children and youth flowing into the system, especially from marginalized social groups including First Nations, Inuit, and Métis peoples, and African Canadians. There are also not enough children or youth leaving the system to join permanent, safe, and loving homes.
There are two main objectives of the report, which is titled Time to Attach: An Argument in Favour of EI Attachment Benefits. First, to show that when these children are placed in permanent families, they need more 'time to attach' to their new parents or caregivers than Canada's Employment Insurance (EI) parental benefits system currently allows them to have; and second, to argue that the government should introduce new 'attachment benefits' for these families.
Time to Attach recommends attachment benefits should, at the very least, be equal to maternity benefits. This means they should be available for 15 weeks at a rate of 55 per cent of average weekly insurable earnings. Read the full story.
---
Anthony Skelton sees 'lots of possibilities' in Rotman role
By Paul Mayne, May 8 2019, Western News
Anthony Skelton knows a lot about the nature well-being – perhaps that is why he has no hesitations taking over as Acting Director of the Rotman Institute of Philosophy.
"There is a sense of permanency. There are lots of possibilities," said Skelton, noting the recent celebration of the institute's 10th anniversary. "We have a core faculty and lots of affiliate faulty. We have great people coming from all over the world, doing great things in so many areas – philosophy of science, neuroscience, biology, research ethics and bio-ethics.
"It's a very dynamic area; the possibilities are there for more growth. It's very fertile soil in which different people in different research lines can grow. I'm excited about that prospect." Read the full story.
---
2019-20 Graham and Gale Wright Distinguished Scholar
Anthony Skelton has been named a Graham and Gale Wright Distinguished Scholar for 2019-20. This Faculty-wide award recognizes the prominent contributions of internationally-recognized researchers in their fields. Anthony joins an impressive list of philosophers who have previously received this prestigious award: Wayne Myrvold, 2017; Corey Dyck, 2015; Carolyn McLeod, 2011; Robert DiSalle, 2009; Lorne Falkenstein, 2008; and John Bell, 2006.
---
Time to Attach research team awarded funds from the Conference Board of Canada
Professor Carolyn McLeod's Time to Attach (timetoattach.com) research team has been awarded $15,000 from the Conference Board of Canada to complete a report on inequality in, and the inadequacy of, the Canadian government's current parental benefits system.
---
David Hume on Miracles, Evidence, and Probability: Former Philosophy MA and PhD student publishes book with Lexington Books
William Vanderburgh's book, David Hume on Miracles, Evidence, and Probability, will be published by Lexington Books (an imprint of Rowman & Littlefield) in mid-April 2019. David Hume's argument against believing in miracles has attracted nearly continuous attention from philosophers and theologians since it was first published in 1748. Hume's many commentators, however, both pro and con, have often misunderstood key aspects of Hume's account of evidential probability and as a result have misrepresented Hume's argument and conclusions regarding miracles in fundamental ways. This book argues that Hume's account of probability descends from a long and laudable tradition that goes back to ancient Roman and medieval law. That account is entirely and deliberately non-mathematical. As a result, any analysis of Hume's argument in terms of the mathematical theory of probability is doomed to failure. Recovering the knowledge of this ancient tradition of probable reasoning leads us to a correct interpretation of Hume's argument against miracles, enables a more accurate understanding of many other episodes in the history of science and of philosophy, and maybe also useful in contemporary attempts to weigh evidence in epistemically complex situations where confirmation theory and mathematical probability theory have proven to be less helpful than we would have hoped. 
---
Western's Minorities and Philosophy (MAP) Chapter host second annual Philosophy Undergraduate Conference
By Nicole Fice, March 19, 2019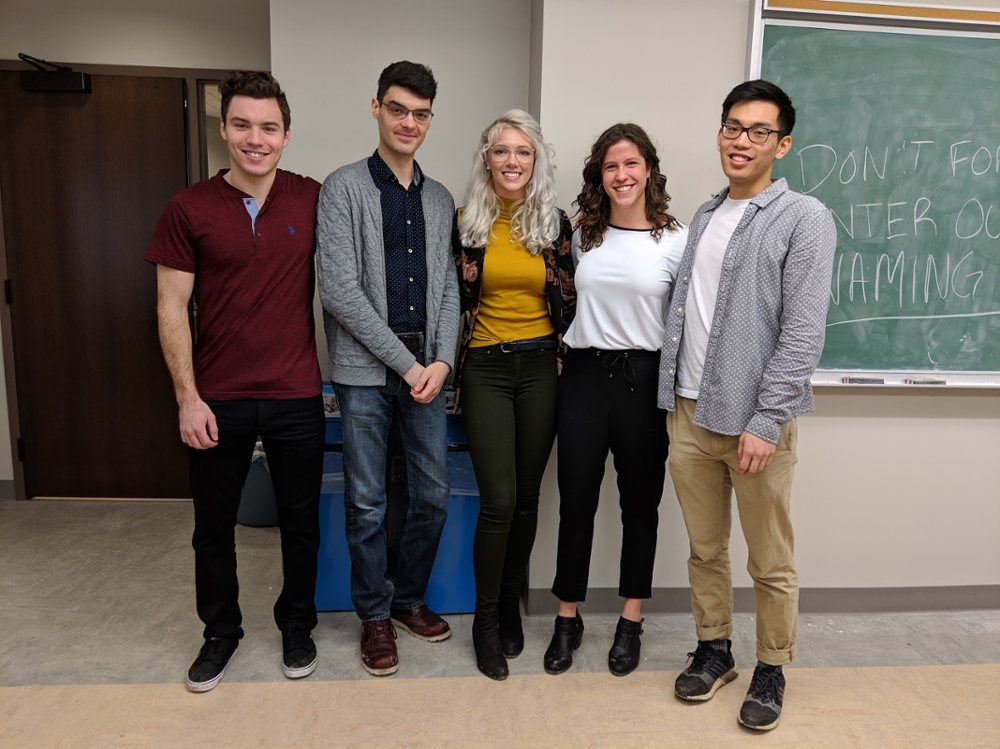 Left to right: Nicholas Legallais, Zach Daulat, Larissa Eadie, Julia Albert, Andrew Au-Yeung [not picture Belinda Ding]
Western's 
Minorities and Philosophy
 (MAP) chapter hosted it's second annual Philosophy Undergraduate Conference on March 15
th
, 2019. It celebrated the excellent philosophical work of undergraduate students at Western, with
particular
focus on under-represented areas of philosophy, including (but not limited to) philosophy of gender, race, sexual orientation, class, etc. All six speakers delivered outstanding presentations and showcased their unique philosophical ideas to Western's philosophy community. Topics included LGBTQ+ sexuality and epistemic injustice, ethics and organ donation, economic inequality, gender, multiculturalism, and oppression in the context of legal and criminal justice systems. Each presentation was followed by an engaging Q&A session which continued philosophical conversations surrounding the authors' ideas. We are already looking forward to next year's conference
!
---
Resisting Scientific Realism: Former Philosophy MA and PhD student publishes book with Cambridge University Press
Brad Wray, a former Western Philosophy MA and PhD student, has just published a book with Cambridge University Press. The book is called Resisting Scientific Realism. 
Brad completed his PhD at Western in 1997 under the supervision of John Nicholas.  Brad's dissertation was on social epistemology. Kathleen Okruhlik and Bruce Freed were readers, and Alison Wylie was a departmental examiner.  Cheryl Misak, from Toronto, was the external examiner.
If you are interested in learning more about Brad's work, feel free to email him at kbwray@css.au.dk.
---
Journal of Medical Ethics appoints Charles Weijer to the editorial board
Charles Weijer has been appointed to the editorial board of the Journal of Medical Ethics. In 2016, JME was recently ranked number 1 in the "Top 50 Bioethics Journals" by Georgetown University. For more information see https://jme.bmj.com/pages/editorial-board/. 
---
Adoptive parents need more time off to bond with kids, say Western researchers
By Hala Ghonaim, December 3, 2018, CBC News
A group of Western University researchers including Carolyn McLeod, far left, met with several members of parliament including Karen Vecchio, Conservative MP in Elgin-Middlsex-London. (Submitted by Carolyn McLeod)
A group of Western University researchers and community partners are asking Canadian politicians to grant adoptive parents and caregivers more time to bond with their children during the early stages of adoption.

The London, Ont.-based research team and Adopt4Life: Ontario's Adoptive Parents Association officials were in Ottawa last month to request an additional 15-week "attachment" leave to be part of a new class of employment insurance benefits for adoptive parents and customary and kin caregivers. They met with members of parliament and policy advisors.

"Our concern is that there isn't a separate class of benefits that recognizes the unique challenges adoptive parents face," said lead researcher Carolyn McLeod. The Western University Arts and Humanities professor is also chair of the board at the non-profit.

"What we are asking for is parity with biological parents," she said.

Right now, both biological and adoptive parents are granted a parental leave of up to 35 weeks. However, biological mothers are granted an additional 15 weeks of maternity leave. Read the full story.
---
Adoptive parents seek longer leave
By Paul Mayne, December 4 2018, Western News
Western researchers are leading a national push for 15 more weeks of work leave for adoptive parents as an important way to strengthen the bond between parents and their adopted children.

Biological and adoptive parents currently receive parental leave of up to 35 weeks; biological mothers receive an additional 15 weeks of maternity leave.

"There are unique challenges that come with adoption, and there are unique challenges that come with biological parenting too, and we think the 15-week maternity leave responds to that," said Philosophy and Women's Studies & Feminist Research professor Carolyn McLeod.

"The problem is there isn't a similar leave for parents who provided permanent homes for children in care.

The team's main partner is Adopt4Life: Ontario's Adoptive Parents Association, of which McLeod is chair. McLeod said the 'attachment leave' would offer adoptive parents caregivers and children more time to address the unique needs of adoptive families. Read the full story.
---
World-changing research fueled by new CRCs
By Communications Staff, November 15 2018, Western News
Western will be home to three new Canada Research Chairs whose work will have global impact on earthquake disaster preparedness; psychology and brain science; and neuroimaging to help people with epilepsy.

The federal announcement this week also highlights one researcher upgraded to a Tier 1 (from a Tier 2), specializing in wireless engineering; and three renewals for researchers working in advanced robotics in health settings; meteor analysis; and particle technology.

The Canada Research Chair Program is intended to attract, support and retain outstanding scholars and scientists. Funding flows through the Social Sciences and Humanities Research Council (SSRC), National Sciences and Engineering Research Council of Canada (NSERC) the Canadian Institutes of Health Research (CIHR).

Chairholders with Tier 1 designation are outstanding researchers acknowledged as leaders in their fields; Tier 2 chairs are exceptional emerging researchers recognized for their potential to lead in their fields.

Western's new Canada Research Chairs:
Michael Anderson, Philosophy, Tier 1 Canada Research Chair in Philosophy of Science (SSHRC): His research explores new conceptual systems for psychology and provides a deeper understanding of how the brain works. His work emphasizes an integrated, interdisciplinary approach to the cognitive sciences in helping researchers understand complex systems like the brain. Anderson comes to Western from Franklin & Marshall College in Lancaster, PA. Read the full story here.
---

Western's MAP Chapter is pleased to announce that our second Philosophy Undergraduate Conference will be held on MARCH 15th, 2019. This conference celebrates the excellent philosophical work of undergraduate students at Western.

Reflecting the commitments of MAP, the theme of the conference will broadly focus on any of the following areas: philosophy of gender, race, sexual orientation, class, disability, etc. These themes can intersect with other areas of philosophy. Although papers should be philosophical, authors who apply need not be specializing, majoring, or minoring in philosophy.

Presentations will be no more than 15 minutes in length, followed by a short Q & A period.

Students are encouraged to submit a relevant term paper from a previous class, roughly 1500-2000 words or 15 minutes read aloud.
Papers will be reviewed anonymously and selected by faculty based on relevance to the theme of this conference. The selected authors will be notified by email. Faculty and graduate student organizers will be available to help authors of accepted papers prepare for the conference.

Please submit papers to Western's MAP email address: mapwestern@gmail.com by JANUARY 31st, 2019.

If you have any questions about this conference, please send an email to Western's MAP email address (mapwestern@gmail.com).
---
Summer Vacation with Professor Wayne Myrvold
Andrew Botterell, Department Chair, sat down with Philosophy professor Wayne Myrvold to chat about what he did during his summer vacation.
AB: Can you talk a bit about your philosophical background and research interests?
WM: I'm a philosopher of science, with particular interest in philosophy of physics.  My route into philosophy was one that, I believe, is a common one for philosophers of science.  I started out, as an undergraduate, in a science major (physics), became intrigued by philosophical questions arising from the science, and made a move into philosophy for my PhD.  Much of my work has been on the foundations of quantum mechanics, but more recently I've been thinking a lot about the use of probability in physics, and, in particular about its role in statistical mechanics.  Early this summer I completed a draft of a book manuscript on the topic, which I hope will be published in the none-too-distant future. It's called Beyond Chance and Credence.
AB: I understand that you participated in several conferences and events this summer; can you say more about them?
WM: For me, the value of going to conferences is that it gives me an opportunity to talk to people face-to-face about matters of mutual interest, to meet new people and re-establish connections with people I've known for a long time, and to be exposed to work that might otherwise escape my attention.  This year I was involved in four events.  The first was New Directions in Foundations of Physics, an annual conference that brings together philosophers and physicists to discuss topic in foundations of physics.  Participants are encouraged to float new ideas, so it's a terrific opportunity to be exposed to work that I might otherwise be unaware of.  This year it was in a lovely location: Viterbo, in Italy.  This year's conference was special for me because it included a session in honour of our sorely missed long-time colleague, Bill Demopoulos, who passed away last year.  This included talks by a member of our department, Robert DiSalle, and by one of my former graduate students, Michael Cuffaro.
That was in early June. Later in June there was a workshop I organized, called Thermodynamics as a Resource Theory, bringing together physicists and philosophers to discuss what I regard as an exciting recent shift in direction in work on thermodynamics.  You can see videos of the talks on YouTube.
The other events were in July.  I attended, and gave a talk at, Foundations 2018, in Utrecht, and was participating faculty at a summer school in Split, Croatia, with the title The Chimera of Entropy.  The Foundations conference was this year's instantiation of a longstanding series of interdisciplinary conferences in the UK and Europe.  These are huge events, involving philosophers and physicists at all stages of their careers. 
AB: Which event did you find most interesting/rewarding?
WM: Well, going to Italy involves eating Italian pizza, and there's little that's more rewarding than that.  Though, I must say, since Split is on the Adriatic coast, and attracts a lot of Italian tourists, they do pizza pretty well, there, too. Professionally, I'd have to say that it's a toss-up between the workshop I organized, and the Split summer school on entropy. It's always great to meet and interact with graduate students and other up-and-coming researchers from other institutions, and I'm pleased to say that, at the summer school, many of them took full advantage of the opportunity to ask questions in between sessions.  One of the things that the organizers did right was to schedule a day in the middle in which there were no talks, and participants had an option to join on an excursion to Trogir, just up the coast.  That meant that we were all on a boat for several hours, talking to each other.  Lots of good conversations.
AB: What value do you think these sorts of summer schools have for students and faculty members?
WM: One thing that's very important, for students, is that they get exposed to different approaches to the subject.  We all do our best to steer our students towards what is most important. There's a danger that students will become too enmeshed in a particular approach, and not realize that the presuppositions of that approach are not universally shared. It's also valuable to have discussion face-to-face, as things that people take for granted, and don't explicitly say in their published work, can come out.  For me, it's valuable, as I get to meet at an early stage of their career people who are on the way to becoming the leading researchers of tomorrow.
AB: Will any of the issues discussed in Croatia make their way into your teaching or research?
WM: Absolutely.  As soon as I got back I made some adjustments to the draft of the book I mentioned earlier, in light of the discussions at the summer school. In particular, I added a section because of a question and follow-up discussion with one student, which made me realize that there was need of an explanation of a point brought out in the discussion that isn't clearly made in any of the existing literature, as far as I know.  This will affect how I teach the topic next time I do a seminar on it.  And I'll be doing a grad course on philosophy of quantum mechanics in the Winter term, and some of the things I learned at Utrecht conference will find its way into that.
---
2017-18 Chair's Annual Essay Prize
Congratulations to Nicole Nowoselski, winner of the 2017-18 Chair's Annual Essay Prize for her essay "The Unbecoming of the Self? An Existential Analysis of Identity and Dementia". The paper was written for Professor Helen Fielding's course PHIL 3555G: Continental Philosophy.
---
Chris Smeenk and James Weatherall (UC Irvine) awarded a grant from the John Templeton Foundation for their project: New Directions in Philosophy of Cosmology
Chris Smeenk, Director of the Rotman Institute of Philosophy and Associate Professor of Philosophy at Western University, and Jim Weatherall, Professor of Logic and Philosophy of Science at the University of California, Irvine, have been awarded a grant from the John Templeton Foundation for $1.37-million USD. Their project, entitled New Directions in Philosophy of Cosmology, will offer a new model for collaboration between philosophers and cosmologists.
Physical cosmology has enjoyed decades of progress, leading to a new understanding of the cosmos and our place in it. But this success comes with new puzzles. Cosmologists seek to understand events that are far removed from us. Moreover, in many cases they study historical episodes that are apparently unique – such as the origin of the universe – and which cannot be studied experimentally. To overcome these challenges, cosmologists have often revisited basic questions concerning what constitutes an acceptable scientific theory, what sorts of explanatory demands a theory of cosmology can meet, and how to understand confirmation in this context. Their answers to these – essentially philosophical – questions have shaped the character of cosmological theory. 
The principal goal of this project is to articulate and scrutinize the philosophical commitments behind cosmology's Standard Model. The project will dive more deeply into two pressing conceptual issues, identified in collaboration with cosmologists James Bullock (UCI) and Robert Brandenberger (McGill), both of whom are collaborators on the grant: (1) the epistemological significance of the crucial role now played by simulations in linking cosmological theory with observations; and (2) the status of the large-scale structure of the universe in light of suggestions from quantum gravity that characteristic features of general relativity, such as singularities, may not persist into future theories.
Find out more information about the New Directions in Philosophy of Cosmology and visit the John Templeton Foundation.
---
Forging on the feminist fitness journey
By Adela Talbot, April 12, 2018, Western News
Nearly six years ago, it started as a personal blog on which philosophers Tracy Isaacs and Samantha Brennan would share their fitness journeys, publicly tackling a challenge to be in the best shape of their lives by the age of 50.
Readership grew quickly, and the blog, Fit is a Feminist Issue, soon became an online community, with more than 200 individual contributors sharing their personal challenges, experiences and feminist views of fitness.
This month, Isaacs, Associate Dean (Academic) in the Faculty of Arts & Humanities and Philosophy professor at Western, and Brennan, a former Philosophy professor at Western (now the Dean of Arts at the University of Guelph) released a new book, Fit at Mid-Life: A Feminist Fitness Journey. Read the full story here.
---
 Corey Dyck among the 2018 Western Faculty Scholars
Western selected 15 Faculty Scholars to recognize their significant achievements in teaching or research. The recipients are considered all-around scholars and will hold the title of Faculty Scholar for two years and receive $7,000 each year for scholarly activities. Read more.
---
Professor crosses Borders for global understanding
By Adela Talbot, March 22, 2018, Western News
Andrew Botterell couldn't ignore the email. When a note from Academics Without Borders (AWB) popped up in his inbox, requesting curriculum support for Bahir Dar University's law school in Ethiopia, it might as well have addressed him directly.
Botterell, who is the Chair of Western's Department of Philosophy, and holds a joint appointment with the Faculty of Law, has adopted two children from Ethiopia. With a connection to the country and the skills to answer Bahir Dar's need, he saw an opportunity to give back. It just happened to be during a time of political tension in the country. 
"The proposal (from AWB) was to have someone visit their law school and teach a course on advanced jurisprudence, or the philosophy of law. Bahir Dar wants to create a new PhD program in law but, to do that, they need people who can supervise PhD students," Botterell explained.
"As I was getting ready to travel in February, the Ethiopian Prime Minister (Hailemariam Desalegn) resigned. The Minister of Defence declared a state of emergency in the country. There had been a lot of protests against the government, and while this was the first voluntary handing over of power in Ethiopia, the understanding is he was going to get pushed out, anyway," he continued. Read the full story here.