News
How pharma can build trust in
COVID-19

vaccines: Transparency on trials and 

side-effect

Charles Weijer, The Conversation, 2020

Promising results from large clinical trials testing three vaccines to prevent COVID-19 bring us a step closer to a widely available vaccine.

On Nov. 9, Pfizer's interim analysis from its Phase 3 vaccine trial revealed it prevented 90 per cent of COVID-19 cases. (The vaccine's efficacy was revised to 95 per cent in a recent more complete analysis of the data.) Just one week later, Moderna announced interim results from its own Phase 3 trial: its vaccine conferred 94.5 per cent protection against illness.

On Nov. 23, AstraZeneca reported an interim analysis from two separate Phase 3 trials that looked at two dosing regimens. Its COVID-19 vaccine, developed with the University of Oxford in the United Kingdom, was 70 per cent efficacious overall, with one dosage regimen protecting against the disease 90 per cent of the time.

But a vaccine that works is useless if people are unwilling to take it. Read the full article here.
---
Colloquium Speaker Series with Amie Thomasson (Dartmouth), "Should Ontology be Explanatory?"
Join us for our next Speaker Series talk of the 2020-21 academic year with Amie Thomasson (Dartmouth) on November 20 at 3:30-5:00pm.
Should Ontology be Explanatory?
Since Quine, it has been common to hold that the goal of ontology is to determine what entities we should or must 'posit' as part of a best total explanatory theory. Accordingly, whether putative entities such as meanings, properties, or numbers contribute explanatory power is often taken as a central criterion for whether we should accept that they exist.
I will argue that this is a mistake. The explanatory power criterion arises from failing to understand the diverse functions that different areas of discourse can serve. A deeper understanding of the way these forms of discourse enter language, and of the functional roles they play, makes clear why we should reject the explanatory power criterion, and reject the explanatory conception of ontology. I will close with some remarks about how we should rethink our approach to existence questions—and, more deeply, how we should re-focus our philosophical efforts. Please follow this link for full information.
---
Philosophical Briefing with Anthony Skelton, "What do I do when I ought to tell the truth?"
Join us for our first Philosophical Briefing on Friday, November 13 at 3:30- 4:30pm with Anthony Skelton, "What do I do when I ought to tell the truth?".  
---
WOEMP (Western Ontario Early Modern Philosophy Research Group) "Race in Dialogue"--Continuing the Conversations
How can we as scholars and academics act as antiracist allies helping to foster real, systemic change within our fields of study? What can we really do—as mere teachers, students, researchers, and individual academics—within our local environments and spheres of influence to foster real change?  
The Western Ontario Early Modern Philosophy Research Group would like to continue the conversations occurring within the Newberry Library's "Race in Dialogue" seminar series this year and direct them toward these questions about effective allyship in our local academic environments. And we'd like to invite you to join us for an informal, honest and open conversation about antiracist allyship at Western as occasioned by the Newberry dialogues. 
As a Newberry consortium member, all Western people are eligible to participant in these Newberry online sessions (registration here). We will be meeting via Zoom (ID # 952 5606 7593; Passcode "Antiracism")  a few hours after the seminars, 20:00 Eastern, for extended conversation about the day's seminar and its application to us as allies at Western. Please join us!  
The first session is Friday Nov 13. 
Newberry Seminar, 13:00 Eastern (

Registration

), Kim F. Hall's Things of Darkness: Economics of Race and Gender in Early Modern England at 25. 
WOEMP Conversation, 20:00 Eastern, (Zoom ID: 952 5606 7593, Passcode: Antiracism) 
Recommended Pre-reads 
Future Sessions 
Feb 26, Peter B. Erickson and Brandy C. Williams, Accomplices and Allies in Premodern Critical Race Studies 
April 13, Scott Manning Stevens and Blaire Topash-Caldwell, Indigenous Studies in the Archives 
Please direct any questions to Dr. Benjamin Hill at bhill28@uwo.ca. Anyone wishing to become a member of WOEMP should also contact Dr. Hill. 
---
Responsibilities to Others: 2020 Philosophy Lecture Series, November 5 to 26, 2020
Our attempts to deal with the effects of COVID-19 have revived significant interest in a question of enduring philosophical interest: what do we owe to each other?  This series of public lectures will examine our responsibilities (if any) to others. It will include discussions on the evolution of altruism, on the idea that both individuals and collectives can have moral responsibilities, on how moral philosophy might assist us in thinking about whether we ought to mandate vaccination for Covid-19 once a vaccine is developed, and finally, on what it would mean to grant legal personhood status to non-human animals. 
The annual philosophy lecture series is prepared in partnership with the Rotman Institute of Philosophy, the Department of Philosophy at Western University, and the London Public Library. This year's events will be held via Zoom webinar and will take place on Thursdays in November. Attendance is free, but advance registration will be required in order to obtain the link to join the webinar.
Nov 5  at 12:00 pm | Evolution, Selfishness & Altruism | Samir Okasha, University of Bristol
Nov 12 at 7:00 pm | Individual and Collective Responsibility and Interests during COVID-19 | Tracy Isaacs, Western University
Nov 19 7:00 pm | Ethics in the Time of Coronavirus | Anthony Skelton, Western University
Nov 26 7:00 pm | Animals as Legal Beings: Contesting Anthropocentric Legal Orders | Maneesha Deckha, University of Victoria
Each event will begin with a short presentation by the speaker, lasting approximately 15 – 20 minutes. Rotman Institute Associate Director, Eric Desjardins, will act as host and ask the speaker a number of follow-up discussion questions. Registered attendees will have the option to ask additional questions live via Zoom, or to submit questions in advance via email. This will be a new format for our annual library series and we look forward to having an engaging discussion with everyone in attendance in this new online setting! Please follow this link for information on registration, talk abstracts, speaker profiles and suggested readings for each event.
---
Special Virtual Issue of Kantian Review—Kantian Thinking in a Time of Crisis
edited, selected and introduced by Corey W. Dyck, on behalf of the editors
This year, Kantian Review will complete its 25th volume. Since its founding in 1997, the journal has published leading scholarship in every area of Kant studies, by authors throughout the English-speaking world and beyond. Of course, 2020 has also seen the world confronted with the dual crises of a global pandemic and systemic racism: the former a fast-developing challenge unprecedented in our lifetime, and the latter a longstanding problem the pervasiveness of which has been made undeniable through the recent murder of George Floyd by police officers in Minneapolis. Though unrelated in nature, these crises are nonetheless intertwined in their effects as it has now been well documented that communities of colour have been disproportionately impacted by COVID. Read the full piece here.
---
A Line in the Sand
By Ashley Rabinovitch, Rapport 2020 
"Somebody once said that in a pandemic, everyone is a utilitarian," mused Dr. Charles Weijer. "But I know that's not true, because I'm not one. Lowering our ethical standards may be useful, but that doesn't mean it's right."
For the past 15 years, Dr. Weijer has occupied a unique space as a joint appointee between Medicine at Schulich Medicine & Dentistry and Philosophy in the Faculty of Arts & Humanities. Trained as a physician and a philosopher, he describes himself first and foremost as an interdisciplinary researcher with a responsibility to respect the "singular and pivotal importance of human dignity" in every health research project he undertakes. Read the full story here.
---
Chris Smeenk awarded the 2020 Faculty Scholars Award
The Faculty Scholars Award recognizes the significant achievements in teaching or research. The recipients are considered all-around scholars and will hold the title of Faculty Scholar for two years and receive $7,000 each year for scholarly activities.
2020: Chris Smeenk; Philosophy
2018: Corey Dyck; Philosophy
2016: Carolyn McLeod; Philosophy
2011: Tracy Isaacs; Philosophy, Women's Studies and Feminist Research
2009: Helen Fielding; Philosophy, Women's Studies and Feminist Research
---
Charles Weijer publishes article in
 

The Conversation: Ethics must not be ignored when testing COVID-19 vaccines

By Charles Weijer, August 25, 2020

The grassroots organization 1Day Sooner has been asking people to indicate their willingness to volunteer for human challenge studies of COVID-19. Challenge studies, in which healthy people are intentionally exposed to infection, may, they believe, speed vaccine development.

1Day Sooner reports that more than 35,000 people from 160 countries, including Canada, are ready to volunteer to be exposed to COVID-19.

But should we let them? Read the full story here.
---
2019-20 Chair's Annual Essay Prize
Congratulations to Abbey Horner, winner of the 2019-20 Chair's Annual Essay Prize for her essay, Reproductive CRISPR: Rese​arch at the Intersection of Reproductive and Disability Rights. The paper was written for Professor Carolyn McLeod's Scholars Electives Research Program.
---
Read. Watch. Listen. with Francesca Vidotto
Read. Watch. Listen. introduces you to the personal side of our faculty, staff and alumni. Participants are asked to answer three simple questions about their reading, viewing and listening habits – what one book or newspaper/magazine article is grabbing your attention; what one movie or television show has caught your eye; and what album/song, podcast or radio show you're lending an ear to.
Professor Francesca Vidotto is a theoretical physicist working in the Departments of Applied Mathematics and Philosophy. She investigates the quantum properties of gravity that are important to understand the primordial universe and the evolution of black holes.
Today, she takes a turn on Read. Watch. Listen. Read the full story here.
---
Western scholar contributes to WHO human trial guidelines
by Crystal Mackay, May 27, 2020 Western News
Human trials may offer a pathway toward a COVID-19 vaccine, but the effort is rife with ethical pitfalls that need to be navigated. It is a journey that requires a well-developed roadmap forward, according to one Western researcher.
Western scholar Charles Weijer joined an international team that developed Key criteria for the ethical acceptability of COVID-19 human challenge studies, a 19-page set of guidelines issued by the World Health Organization (WHO) earlier this month.
"Even with all of the important public-health interventions that have been implemented, there is a strong sense that we, as a society, are not going to get past the COVID-19 threat until there is a widely available and effective vaccine for the virus," said Weijer, a professor in the departments of Medicine, Epidemiology & Biostatistics and Philosophy. 
Traditional vaccine development, however, is a stepwise process that can take years to complete.
"This led a lot of people to start considering how we could speed up vaccine development and consider whether human challenge studies might be an important part of that," Weijer said.
Human challenge studies involve intentionally infecting healthy volunteers with a disease to test potential treatments or vaccines. They allow us to test vaccine candidates quickly and identify the most promising among them for field trials. Human challenge studies have been carried out for decades in highly controlled laboratory environments for diseases like malaria, influenza and cholera. Read the full story on Western News.
---
Carolyn McLeod publishes her latest book, Conscience in Reproductive Health Care: Prioritizing Patient Interests
Conscience in Reproductive Health Care responds to the growing worldwide trend of health care professionals conscientiously refusing to provide abortions and similar reproductive health services in countries where these services are legal and professionally accepted. Carolyn McLeod argues that conscientious objectors in health care should prioritize the interests of patients in receiving care over their own interest in acting on their conscience. She defends this "prioritizing approach" to conscientious objection over the more popular "compromise approach" without downplaying the importance of health care professionals having a conscience or the moral complexity of their conscientious refusals. McLeod's central argument is that health care professionals who are gatekeepers of services such as abortions are fiduciaries for their patients and for the public they are licensed to serve. As such, they owe a duty of loyalty to these beneficiaries and should give primacy to their beneficiaries' interests in accessing care. This conclusion is informed by what McLeod believes is morally at stake for the main parties to the conflicts generated by conscientious refusals: the objector and the patient. What is at stake, according to McLeod, depends on the relevant socio-political context, but typically includes the objector's integrity and the patient's interest in avoiding harm. For more information, please click here.
---
Shannon Dea (PhD Philosophy Western) has been appointed Dean of Arts and Professor of Philosophy
University of Regina, April 8 2020
Shannon Dea currently Professor of Philosophy at the University of Waterloo, has been appointed Dean of Arts and Professor of Philosophy. The appointment is effective 1 September 2020. 
A former Director of Women's Studies at the University of Waterloo, Dr Dea has also served as both Undergraduate and Graduate Associate Chair of Philosophy, as a two-time faculty Senator and a two-time member of the Board of Governors, as well as on multiple department, faculty, university, and extra-university committees and working groups. She is currently the Vice-President of the Faculty Association of the University of Waterloo, and a member of the Board of Directors of the Canadian Philosophical Association.
Dr Dea earned her BA in Philosophy and Russian Language and Literature from the University of Waterloo, her MA in Philosophy from Queen's University, and her PhD in Philosophy from Western University. 
She researches and teaches about academic freedom, harm reduction, sex and gender, LGBTQ issues, pedagogy, equity, and the history of philosophy. She is the author of Beyond the Binary: Thinking About Sex and Gender, and of numerous articles and book chapters. The author of a monthly University Affairs column called "Dispatches on Academic Freedom," Dr Dea is also the principal investigator on a SSHRC-funded project that seeks to develop better academic freedom protections for precarious and minoritized scholars.
Dr Dea regularly engages with the public and the media on topics ranging from freedom of expression to social justice issues, and has worked closely with community agencies aimed at supporting some of society's most vulnerable members. She is a recipient of the Ontario Women's Directorate's Leading Women Building Communities Award and of University of Waterloo's Distinguished Teacher Award. 
---
Catherine Hudleby (PhD 2001) has been awarded the Mary Lou Dietz Equity Leadership Award
University of Windsor DailyNews, April 7 2020
Catherine Hudleby (PhD 2001) is the 2020 recipient of the Mary Lou Dietz Equity Leadership Award from the Windsor University Faculty Association's Status of Women, Diversity and Equity Action Committee. 
The award, which hours individuals who demonstrate leadership through their contributions to creating an equality culture on campus, is named after Mary Lou Dietz, a late UWindsor faculty member and head of the Department of Sociology, Anthropology and Criminology, in recognition of her contributions to advancement of women in Canadian universities and colleges. 
The committee calls Dr. Hundleby a "champion of inclusion, diversity, and equity" in the Department of Philosophy, the University of Windsor, and the discipline of philosophy across North America and Europe.
She works in a discipline which is still male-dominated, and has been a force for change. She has pushed the department and each member to re-think and revise reading lists to open them to women's and marginalized voices outside of the traditional canon. Within her own field of philosophy of science and argumentation studies, she has pioneered new directions to feminist epistemology and theories of argumentation.
Hundleby is a progressive activist philosopher, primarily concerned with equity and social justice, who has had a significant impact at the University of Windsor and on the professional groups of which she is a part of.
---
Richard Marshall interviews Corey W. Dyck for 3:16am
Interview by Richard Marshall
Corey W Dyck specializes in the history of German philosophy, with an emphasis on the eighteenth century. His recent research has focused on issues in metaphysics and the philosophy of mind in the period from Leibniz to Kant. Here he discusses the influence of Hegel on how the German philosophical tradition has been discussed, the importance of Wolff and the Pietists for Kant, Lambert, Tetens and Mendelssohn, the Morgenstunden, Christian August Crusius, Kant's Critique of Pure Reason as a rather pernicious form of scepticism, the Paralogisms of Pure Reason and rational psychology, kant's criticisms of rational psychology and his resulting view of the soul, the relevance of the Fourth Paralogism, the soul and immortality, German materialism, the 'quarrel of women' (querelle des Femmes), Erxleben's 'Rigorous Investigation' and why women's philosophy is missing from accounts of early modern German philosophy. Read the full interview here.
---
Reflections on Being a First-Generation and/or Low-Income Graduate Student
By Arianna Falbo and Heather Stewart March 10, 2020
The 2020 Eastern Division Meeting of the APA in Philadelphia featured a panel discussion that we, Arianna Falbo and Heather Stewart, members of the APA's Graduate Student Council, organized, entitled: "Outsider's Within: Reflections on Being a First-Generation and/or Low-Income Philosopher." To the best of our knowledge, this panel is the first of its kind at the APA, which we hope will reflect the beginning of many important discussions to come concerning the experiences of first-generation philosophers, and philosophers who come from low-income and working-class backgrounds. Read the full story here.
---
David Hakim, MA Philosophy, will be clerking for Justice Karakatsanis at the Supreme Court of Canada in 2021-22
After completing a clerkship at the Ontario Court of Appeal, David will be clerking for Justice Karakatsanis at the Supreme Court of Canada in 2021-22. Congratulations! 
---
Emma Ryman, PhD Philosophy, Western 2017, awarded a prestigious clerkship at the Ontario Court of Appeal
Emma is currently doing a JD in law at the University of Toronto. Our congratulations on her success!
---
Embodied Cognition: Implication in Science and Philosophy hosted by the Huron Philosophy Society
Is Cognition centralized or embodied?
Is the Computational Theory of Mind accurately representing the mind and cognition?
Where exactly is the information we pick up through perception?
Is perception active or passive?
Is consciousness extended or private?
Is the brain more dynamical or localized specializations?
How does the kind of body one has structure their lived experience?
These are just some of the questions addressed in Embodied Cognition. Embodied Cognition views cognition as embodied rather than centralized within, for example, the brain. Embodied cognition is slowly growing and in recent years the interest in embodiment has drastically increased. This rise of Embodied Cognition is most evident in Philosophy and Psychology but has had advocates incorporate it into Feminist Theory, Dynamical Systems Theory, Phenomenology, Linguistics, Robotics, Biology and Public Policy. This one day workshop will host speakers whose research is bringing new insights to and from Embodied Cognition. Our event aims to show you how Embodied Cognition is helping researchers study human and animal cognition.
We welcome students, faculty, and locals to join us! We will be providing an early small dinner to all guests If you request any dietary accommodation please email jardilac@uwo.ca.
In order to ensure we have enough food for everyone, we ask that you RSVP us here.
For full details, including the speaker schedule and location, please click here.
---
Philosophy of Neuroscience Conference keynote speaker: Mike Anderson
Mike Anderson will be one of the keynote speakers for the upcoming conference on Philosophy of Neuroscience: Content, Self, and Cognitive Ontology at the University of Colorado September 4-6, 2020. 
---
Heather Stewart, PhD student, selected to be an instructor at Johns Hopkins' Centre for Talented Youth Program
Heather Stewart will be the instructor for the course on "Playing God: The Ethics of Human Subjects Research" for a session of Johns Hopkins' Centre for Talented Youth Program. She will be teaching the course at Princeton University, in Princeton, New Jersey. The course will cover the history of human subjects research (and its historical and ongoing impact on vulnerable populations), and raise ethical questions around content, privacy and confidentiality, and the weighing of harm to individuals against potential collective benefits. 
---
WHO publishes a document on "Ethical Considerations for Health Policy and Systems Research"
December 4, 2019
The World Health Organization published a document on "Ethical Considerations for Health Policy and Systems Research" written by Charles Weijer and colleagues from the Ottawa Hospital Research Institute.
HPSR seeks to generate knowledge to improve "how societies organize themselves to achieve health goals." HPSR's focus on systems, policies and programmes means that studies may be both organizationally and ethically complex. "Ethical Considerations for Health Policy and Systems Research" provides a novel systematic approach to analyzing ethical issues in HPSR for researchers and RECs globally.
WHO's Senior Scientist, Dr. Soumya Swaminathan, says: "This document will be of value to all involved in undertaking or using HPSR, including researchers, educators and students, as well as policy-makers and practitioners involved in co-producing research on health policy and systems. Research ethics committees – especially those that have limited experience of dealing with HPSR – will find it particularly helpful, as it illustrates the points made with clear and relevant examples. I hope that the contents will stimulate further thinking and development of guidance in this field." 
The published document can be found here: https://www.who.int/alliance-hpsr/resources/publications/ethical-considerations-hpsr/en/
---
Dr. John Bell's Retirement Party
November 16, 2019
Western colleagues celebrated the career of John Bell at his retirement party, themed "Signs & Symbols". (Photo Album Link)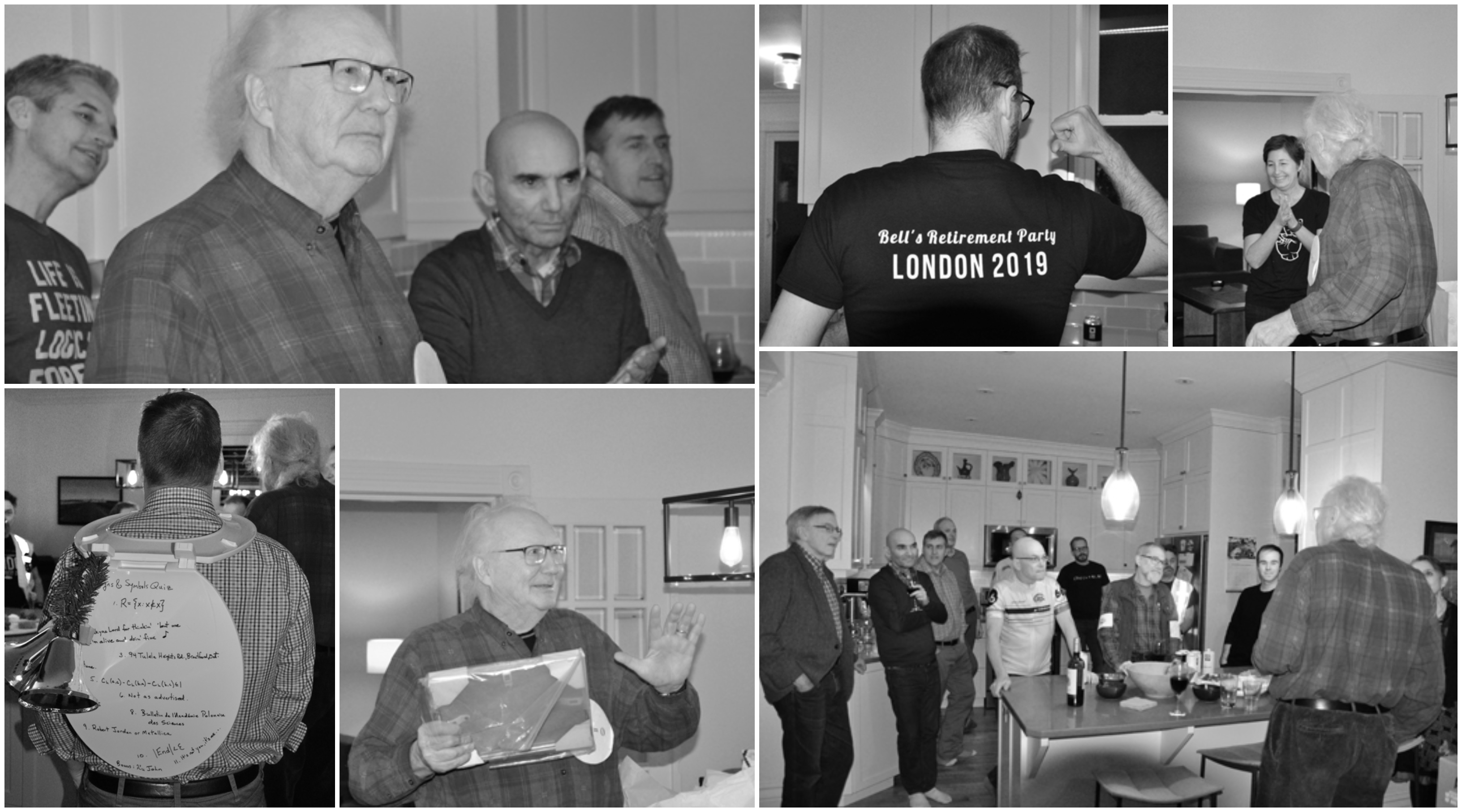 ---
Once an oasis of stability, Chile now burns
By Ignacio Moya Arriagada, October 23, 2019, The Globe and Mail
Ignacio Moya Arriagada is a Chilean-Canadian doing his PhD at the University of Western Ontario in London, Ont.
The streets of Chile are on fire. Barricades light up the night sky, soldiers patrol the streets and thousands of people defy curfew. In a world of unrest, the crisis in Chile is unique in that it calls into question not just the unfair wealth distribution, but also a very specific way of doing politics.
For a long time, Chile was held up as an example of what good governance can accomplish. This is particularly true in the context of Latin America where successive crises in Argentina, Brazil, Peru, Venezuela and Honduras have helped to reaffirm the long held image that Latin America is a place where corruption and instability are a part of everyday life.
But Chile, as President Sebastian Pinera recently said, was an oasis of peace and stability. Almost 30 years of uninterrupted democratic rule, economic growth and social peace seemed to prove him right. But Chile is no longer an oasis. Continue reading here.
---
Philosophy in China
Recently, Professor Carolyn McLeod went to China as part of a delegation from Western Arts & Humanities and Music. She met with people from top Philosophy Departments in China, including the departments at Peking University, Renmin University (see its Centre for Analytic Philosophy), and Fudan University. Here are some pictures from her trip. The image below is of members of the Western delegation with members of the Philosophy department at Fudan.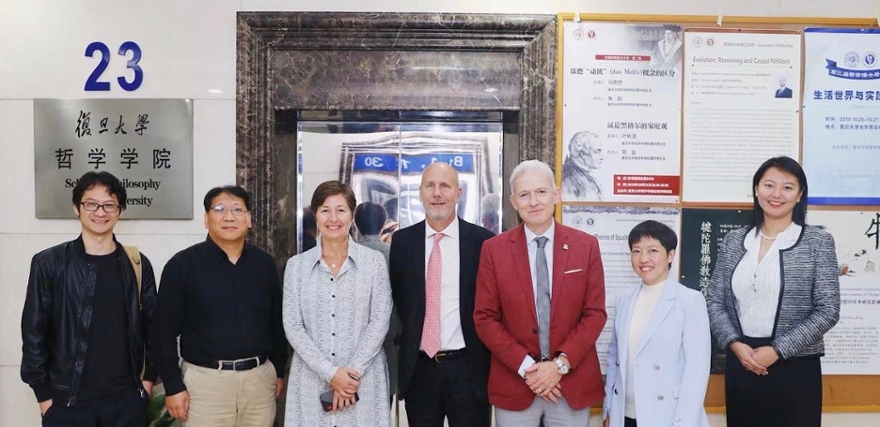 ---
Impact Experience: Engage with local and global communities
Sarah Murdoch (undergraduate program coordinator) has been selected as a team leader for the May 2020 Pine Ridge, South Dakota- Lakota Life. Through the program, the team will have the opportunity to learn about Lakota life and culture, and contribute to a community-led service project. Amizade (community partner) has emerging relationships with a network that engages agricultural initiatives, programming on youth and education, and cultural learning. Depending on the needs of the community at the time, the 8-day exploration of Pine Ridge may include any of these service activities. The team will be working with a group of Lakota elders dedicated to ushering in a sustainable future for the health and wellbeing of the Oglala Lakota people.
Staff, Faculty and Graduate Students are eligible and invited to engage with communities, both locally and globally. Impact Experience collaborates with communities to develop and implement projects that align with their needs. Impact Experience is more than just a one-week experience - it is a six-month program with leadership elements, workshops, pre-departure modules, combined with service and reflection.  Team leaders are vital to the success of the program. As an ambassador from Western, this is an opportunity to gain and impart the development of intercultural perspectives.
For more information on Impact Experience, please click here: http://cel.uwo.ca/faculty_and_staff/impact/index.html 
---
Southwestern Ontario Feminist Philosophers Workshop
On October 3rd, Western Philosophy will be hosting the Southwestern Ontario Feminist Philosophers Workshop. The event will focus on papers by Jennifer Saul (Waterloo), "Figleaves," and by Heather Stewart (Western), "Paving the Road to Truly Free Speech: Establishing a More Just Free Speech Infrastructure on Campus and Beyond." The papers are to be read in advance and will be circulated by September 19th. All are welcome to attend. We're meeting in StvH 1145 from 4-6pm, and we'll go to dinner afterwards. Please contact Carolyn McLeod: cmcleod2@uwo.ca, for further details.
---
2018-19 Chair's Annual Essay Prize
Congratulations to Olivia Gordon, winner of the 2018-19 Chair's Annual Essay Prize for her essay Kant's Erroneous Objectification of Animals by Regarding their Worth as Indistinguishable from the Worth of "Things". The paper was written for Professor Corey Dyck's course PHIL 3170F: Kant's Groundwork.
---
Student Reflections Snapshot: Heather Stewart
August 21, 2019 by Sabrina D. MisirHiralall
This series of Student Reflections is based on interviews conducted by Elyse Purcell and Sarah Horne during the APA's 2019 Central Division Meeting in Denver, Colorado. Heather Stewart is currently a Philosophy PhD Candidate at Western University in London, Ontario, Canada. Her research highlights the intersection of feminist philosophy, political philosophy, and bioethics, with a special interest in the philosophy of microagressions.
What inspired you to pursue a graduate degree in philosophy?
When I discovered philosophy in university, I realized I would not be content doing anything else – likely to the confusion, and perhaps dismay, of my parents and mentors!
When I first moved to Louisville, Kentucky to attend the University of Louisville, I assumed that I would become a pediatrician. As a first-generation college student who grew up on the lower end of working class, having the opportunity to attend college at all was somewhat of a pipedream (one that a combination of scholarships, grants, and student loans made possible). Knowing that I was the first in my family to have that opportunity – and also reckoning with the fact that I had to put myself into fairly substantial debt to do so – meant that the obvious choice (or, the only choice) would be to pursue a career that would lead me toward long-term financial stability. The only such possibilities I could really envision were medical school and law school, though, having spent a lot of time with pediatricians dealing with my own chronic illness as a child, I was fairly quickly compelled in that direction. I began doing all of the right things – taking natural science-filled semesters to complete the pre-med curriculum, studying incessantly, and volunteering at the local children's hospital in my (wildly limited) spare time. I was on the track I always assumed I would be on. But over time, my courses began to bore me – they were heavy on memorization of facts without an interrogation of those "facts," or indeed, even a good understanding of them. At about the same time, I was shadowing in pediatric emergency and began to grapple with the many contradictions of health care delivery under the American system. Fairly quickly, I became more interested in health care policy, and the ethical questions that play out in real time in the clinic.
---
McLeod eyes responsibility of Philosophy chair
By Paul Mayne, May 31 2019, Western News
Even running one of the world's best programs, Carolyn McLeod sees the challenges clearly.
The Department of Philosophy ranks among the Top 50 programs in the world, and among the top two in the country, behind only the University of Toronto, according to the 2019 QS World University Subject Rankings. It is a lofty standing Western has enjoyed for the last five or six years.
Known not only for the Rotman Institute of Philosophy, the department also benefitted from a broad base of research strengths, including being one of the foremost departments in North America in feminist philosophy.
But times are changing in Philosophy departments across the country and around the world.
That didn't stop McLeod from seeking its leadership post.
"We've had challenges – and, yes, there were times during those challenges where I thought there was no way I'd take this on," said McLeod, who will assume the Department Chair role July 1. "I've always felt chair is a responsibility I should take on at some point."
In her 17th year at Western, McLeod points to fewer faculty members – down almost a third to 24 today – as creating a different type of environment. "You can have more of a community feeling when it's smaller, like we are all in it together to create this great department, as long as you have the people you need to run the programs you want to run." Read the full story.
---
New Western-led study explains why adoptive parents more "Time to Attach"
May 15, 2019
The child welfare system in Canada is in "a state of crisis," according to a new report from Western University. There are too many children and youth flowing into the system, especially from marginalized social groups including First Nations, Inuit, and Métis peoples, and African Canadians. There are also not enough children or youth leaving the system to join permanent, safe, and loving homes.
There are two main objectives of the report, which is titled Time to Attach: An Argument in Favour of EI Attachment Benefits. First, to show that when these children are placed in permanent families, they need more 'time to attach' to their new parents or caregivers than Canada's Employment Insurance (EI) parental benefits system currently allows them to have; and second, to argue that the government should introduce new 'attachment benefits' for these families.
Time to Attach recommends attachment benefits should, at the very least, be equal to maternity benefits. This means they should be available for 15 weeks at a rate of 55 per cent of average weekly insurable earnings. Read the full story.
---
Anthony Skelton sees 'lots of possibilities' in Rotman role
By Paul Mayne, May 8 2019, Western News
Anthony Skelton knows a lot about the nature well-being – perhaps that is why he has no hesitations taking over as Acting Director of the Rotman Institute of Philosophy.
"There is a sense of permanency. There are lots of possibilities," said Skelton, noting the recent celebration of the institute's 10th anniversary. "We have a core faculty and lots of affiliate faulty. We have great people coming from all over the world, doing great things in so many areas – philosophy of science, neuroscience, biology, research ethics and bio-ethics.
"It's a very dynamic area; the possibilities are there for more growth. It's very fertile soil in which different people in different research lines can grow. I'm excited about that prospect." Read the full story.
---
2019-20 Graham and Gale Wright Distinguished Scholar
Anthony Skelton has been named a Graham and Gale Wright Distinguished Scholar for 2019-20. This Faculty-wide award recognizes the prominent contributions of internationally-recognized researchers in their fields. Anthony joins an impressive list of philosophers who have previously received this prestigious award: Wayne Myrvold, 2017; Corey Dyck, 2015; Carolyn McLeod, 2011; Robert DiSalle, 2009; Lorne Falkenstein, 2008; and John Bell, 2006.
---
Time to Attach research team awarded funds from the Conference Board of Canada
Professor Carolyn McLeod's Time to Attach (timetoattach.com) research team has been awarded $15,000 from the Conference Board of Canada to complete a report on inequality in, and the inadequacy of, the Canadian government's current parental benefits system.
---
David Hume on Miracles, Evidence, and Probability: Former Philosophy MA and PhD student publishes book with Lexington Books
William Vanderburgh's book, David Hume on Miracles, Evidence, and Probability, will be published by Lexington Books (an imprint of Rowman & Littlefield) in mid-April 2019. David Hume's argument against believing in miracles has attracted nearly continuous attention from philosophers and theologians since it was first published in 1748. Hume's many commentators, however, both pro and con, have often misunderstood key aspects of Hume's account of evidential probability and as a result have misrepresented Hume's argument and conclusions regarding miracles in fundamental ways. This book argues that Hume's account of probability descends from a long and laudable tradition that goes back to ancient Roman and medieval law. That account is entirely and deliberately non-mathematical. As a result, any analysis of Hume's argument in terms of the mathematical theory of probability is doomed to failure. Recovering the knowledge of this ancient tradition of probable reasoning leads us to a correct interpretation of Hume's argument against miracles, enables a more accurate understanding of many other episodes in the history of science and of philosophy, and maybe also useful in contemporary attempts to weigh evidence in epistemically complex situations where confirmation theory and mathematical probability theory have proven to be less helpful than we would have hoped. 
---
Western's Minorities and Philosophy (MAP) Chapter host second annual Philosophy Undergraduate Conference
By Nicole Fice, March 19, 2019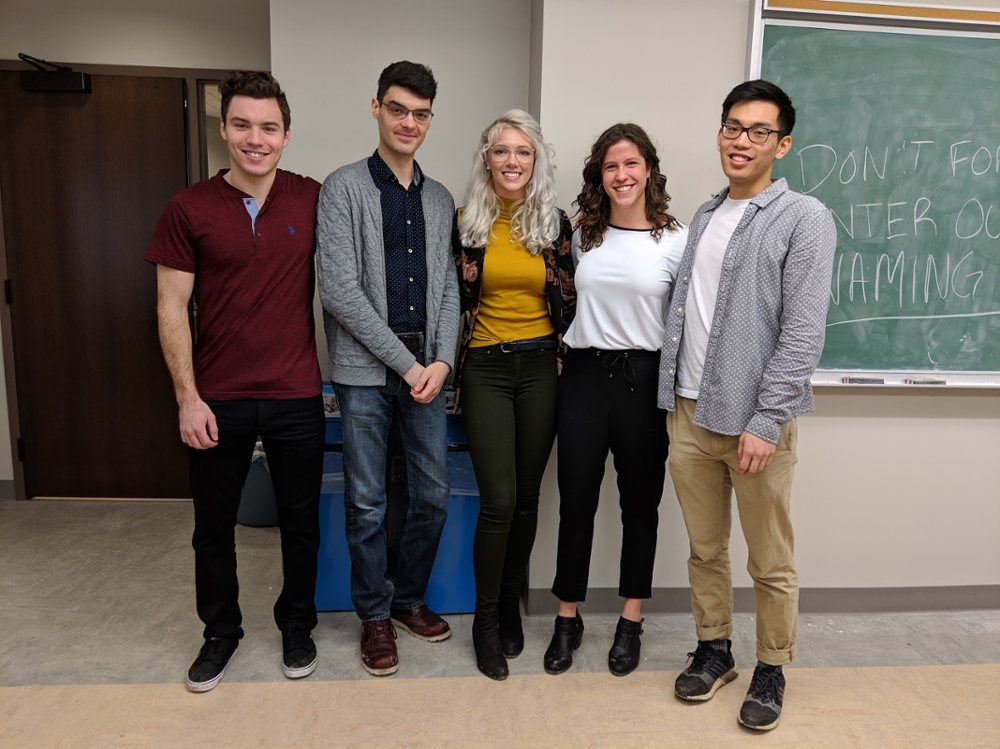 Left to right: Nicholas Legallais, Zach Daulat, Larissa Eadie, Julia Albert, Andrew Au-Yeung [not picture Belinda Ding]
Western's 
Minorities and Philosophy
 (MAP) chapter hosted it's second annual Philosophy Undergraduate Conference on March 15
th
, 2019. It celebrated the excellent philosophical work of undergraduate students at Western, with
particular
focus on under-represented areas of philosophy, including (but not limited to) philosophy of gender, race, sexual orientation, class, etc. All six speakers delivered outstanding presentations and showcased their unique philosophical ideas to Western's philosophy community. Topics included LGBTQ+ sexuality and epistemic injustice, ethics and organ donation, economic inequality, gender, multiculturalism, and oppression in the context of legal and criminal justice systems. Each presentation was followed by an engaging Q&A session which continued philosophical conversations surrounding the authors' ideas. We are already looking forward to next year's conference
!