Greening your office
March 07, 2013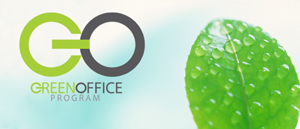 Getting your office more in touch with its greener side just got a kick-start with Western's Green Office (GO) Program.
Whether committing to taking the stairs, changing printer defaults, or adding some living plants to your space, going green as an office is often a matter of incrementally changing day-to-day habits. Western's Green Office Program is the road map to making those changes.
The program is the ultimate support system for getting you started, identifying areas of improvement, tracking progress and celebrating achievements. The GO website offers resources for each step of your green journey.
"Help make a difference at Western. Get your office registered for the Green Office Program today."
Visit the Sustainability wesbite to learn more or to participate in this initiative.
Feedback