Alison Rushton, EdD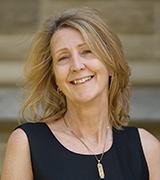 Professor and Director
Room 1000A, EC
519 661-2111
arushto3@uwo.ca
@abrushton
Google Scholar
PubMed
CANSpine Research Group
Education
EdD (Warwick University, UK)
MSc, Manipulative Physiotherapy (Coventry University, UK)
Graduate Diploma Physiotherapy (Middlesex Hospital School of Physiotherapy, UK)
Diploma in Teaching Physiotherapy (UK)
Fellow Higher Education Academy (UK)
Graduate Program Supervision
Research In Profile
Spinal pain is the leading health condition requiring effective management. Low value care, inefficient and fractured care pathways, and lack of a person-centred approach contribute to high health and economic costs in Canada. Current management practices of spinal pain strongly contribute to the growing use of opioids and a one size fits all approach does not work. To better manage spinal pain, an urgent need for comprehensive assessment to inform precision interventions exists. Comprehensive 360° assessment of the multiple dimensions of spinal pain, including physical measures (e.g., strength, daily activity) and biomarkers (e.g., inflammatory markers) is required. Unique and innovative combinations of measures will identify factors important to patient outcomes, mechanisms of spinal pain and inform precision rehabilitation and surgical interventions.
Articles in Peer-Reviewed Journals
Rushton A, Carlesso L, Flynn T, Hing W, Rubenstein S, Vogel S, Kerry R (2022). Position statement: International Framework for Examination of the Cervical Region for potential of vascular pathologies of the neck prior to Musculoskeletal Intervention: International IFOMPT Cervical Framework. JOSPT (accepted, in press)
Evans, D., Rushton, A., Middlebrook, N., Bishop, J., Barbero, M., Patel, J., & Falla, D. (2022). Predicting chronic pain and disability following musculoskeletal trauma in the United Kingdom. JAMA network open (accepted, in press).
Achttien, R. J., Powell, A., Zoulas, K., Staal, J. B., & Rushton, A. (2021). Prognostic factors for outcome following lumbar spine fusion surgery: a systematic review and narrative synthesis. European Spine Journal, 1-46.
Fawcett, L., James, S., Botchu, R., Martin, J., Heneghan, N. R., & Rushton, A. (2021). The influence of spinal position on imaging findings: an observational study of thoracolumbar spine upright MRI in elite gymnasts. European Spine Journal, 1-8.
McIlroy, S., Jadhakhan, F., Bell, D., & Rushton, A. (2021). Prediction of walking ability following posterior decompression for lumbar spinal stenosis. European Spine Journal, 1-12.
Rushton, A., Jadhakhan, F., Masson, A., Athey, V., Staal, J. B., Verra, M. L., ... & Soundy, A. (2020). Patient journey following lumbar spinal fusion surgery (FuJourn): A multicentre exploration of the immediate post-operative period using qualitative patient diaries. PloS one, 15(12), e0241931.
Rushton, A., Heneghan, N. R., Heymans, M. W., Staal, J. B., & Goodwin, P. (2020). Clinical course of pain and disability following primary lumbar discectomy: systematic review and meta-analysis. European Spine Journal, 29(7), 1660-1670.
Visit Google Scholar for a comprehensive list of publications.
Macedo L, Crites Battie M, Hancock M, Hayden J, MacDermid J, Packham J, Richardson J, Rushton A, Saragiotto B, Solomon P, Haldysh G, Attwell S, Miller P (2022-2024). Back to living Well: Implementation of a community-based program for the tertiary prevention of low back pain. Canadian Institute for Health Research (CIHR) Project Grant ($450,000, 3y).
Wiangkham T, Uthaikhup S, Rushton A (2021-2022). Effectiveness of an active behavioural physiotherapy intervention for chronic non-specific neck pain: a cluster randomised double-blind clinical trial, Office of the Ministry of Higher Education, Science, Research and Innovation, 600.000 Thai baht.
Shoemaker K, McFence C, Hayward M, MacDermid J, Rushton A, Stewart M, Belfry S, Smye V, Muir D, Morse E, Armstrong S, Wathen N, Pampillo M, Juodis A (2022-2024). Research Engagement Collaborative Alliance with Partners (RECAP). Western Strategic priorities Fund. $500,000
Thornton J, Stranges S, Gilliland J, Ooudshorn A, Mottola M, Shelley J, Fenesi B, Kaniki N, Lizotte D, Rushton A, Shoemaker K (2022). Western Research Hub for Physical Activity and Health. Interdisciplinary Development Initiatives, full funding. $200k.
Price J, Greaves C, Jolly K, Rushton A, Comer C (2022-2025). The development and feasibility testing of an evidence informed exercise programme for people with chronic non-specific neck pain. NIHR302141. £302K.
Punnoose A, Claydon L, Rushton A, Khanduja V (2022-2025). Prehabilitation for patients undergoing hip arthroscopic surgery for Femoro-acetabular impingement syndrome- a feasibility study. NIHR. £300K.
Middlebrook N, Falla D, Rushton A, Heneghan N, Jarrett C (2020-2022). What constitutes successful recovery following musculoskeletal trauma? A qualitative study of patient and physiotherapists' perceptions. Physiotherapy Research Foundation. £22K.
Additional Information
Fowler Kennedy Sport Medicine Clinic
The Bone and Joint Institute
London Health Sciences Centre
Honorary Reader School of Sport, Exercise and Rehabilitation Sciences, University of Birmingham, UK
Clinical Specialist in Musculoskeletal Physiotherapy
Examiner and Teacher UK Musculoskeletal Association of Physiotherapists
Fellowship Chartered Society of Physiotherapy in recognition of an outstanding contribution to advancing the standards of manual therapy and manual therapy research nationally and internationally
Honorary membership OMT Espana Terapia Manual Ortopedica, for outstanding contribution to the development of Orthopaedic Manual Therapy in Spain
Honorary fellowship Musculoskeletal Association of Chartered Physiotherapists, for outstanding contribution to musculoskeletal physiotherapy in the UK
Life membership International Federation of Orthopaedic Manipulative Physical Therapy for outstanding international contribution to Musculoskeletal Physical Therapy
Previous Chair Standards Committee, International Federation of Orthopaedic Manipulative Physical Therapists (IFOMPT, 2004-2020)
Honorary Member of the Canadian Academy of Manipulative Physiotherapy
Fellow Musculoskeletal Association of Chartered Physiotherapists (UK)
Fellow Chartered Society of Physiotherapy (UK)
Associate Editor Plos One
Editorial Board Musculoskeletal Science and Practice