Susan Hunter, PhD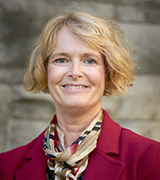 Associate Professor
Room 1408A, Elborn College
519 661-2111 x88845
susan.hunter@uwo.ca
Education
BSc, BScPT, PhD (Western)
Supervising Graduate Students
Research Interests
Falls and fall-related injuries  in older adults
Rehabilitation of the cognitively impaired older adult
Balance, gait and falls in lower extremity amputees
Additional Information
Ongoing validation and implementation in routine clinical practice of the Safe Use of Mobility Aids Checklist (SUMAC) – a new tool for evaluating function and safety in older adults using a 4-wheeled walker.
Real and imagined walking effects in people with lower extremity amputations: a functional MRI study. Our study will use brain imaging technology to evaluate brain motor activity during real and imagined leg movements in healthy adults and people with leg amputations. Showing that people with a leg amputation can successfully do imagined walking will allow us to develop a rehabilitation program to improve walking and quality of life for people with a leg amputation.
A comprehensive list of publications is available through Google Scholar.
Gait & Brain Lab: Parkwood Hospital
Schulich School of Medicine & Dentistry, Western University

Division of Geriatric Medicine (Assistant Professor)
Department of Physical Medicine & Rehabilitation (Adjunct Professor)

School of Physical Therapy and Exercise Science, Curtin University, Perth, Australia. (Senior Research Fellow)
Introduction to physical therapy practice
Neuroscience and neurological conditions
Ontario Research Coalition (ORC) Early Researcher Award – 2011
Edmund V. Cowdry Prize. Canadian Geriatrics Society - 2010
AgePlus Prize, Canadian Institutes of Health Research (CIHR), Institute of Aging - 2009
Vice-President of the International Association of Physical Therapists working with Older People (IPTOP), a subgroup of World Physiotherapy
Associate Editor, Journal of Alzheimer's Disease
Member of Ontario Fall Prevention Collaborative
Member – Canadian Physiotherapy Association, International Society for Posture & Gait Research, Rehabilitative Care Alliance (Ontario)