Susan Hunter, PhD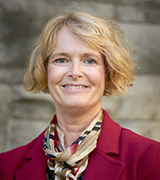 Associate Professor
Room 01408A, EC
519 661-2111 x88845
susan.hunter@uwo.ca
Google Scholar
ORCID:
0000-0002-7571-3895
Education
BSc, BScPT, PhD (Western)
Research In Profile
Coming soon.
Chapters and Reports

Hunter SW. (2019) Assistive devices, falls and cognitive aspects. In M Montero Odasso and R Camicioli (Eds.), Falls and cognition in older persons: fundaments, assessment & therapeutic options. (pp 139-150) Springer Nature publications.
Callisaya M, Hunter SW, Montero-Odasso M. (2020) Maintaining and improving physical function in dementia. In K Laver and LF Low (Eds): Dementia Rehabilitation: evidence-based interventions and clinical recommendations. (57-80) London, UK: Elsevier.
Articles in Peer-Reviewed Journals
Racey M, Markle-Reid M, Fitzpatrick-Lewis D, Ali MU, Gagne H, Hunter S, Ploeg J, Sztramko R, Harrison L, Lewis R, Jovkovic M, Sherifali D. Fall prevention in community-dwelling adults with mild to moderate cognitive impairment: A systematic review and meta-analysis. BMC Geriatrics. 2021;21:689. doi: 10.1186/s12877-021-02641-9
Frengopoulos C, Fuller K, Payne MWC, Viana R, Hunter SW. Rehabilitation outcomes following major lower limb amputation in the oldest old: a systematic review. Prosthetics and Orthotics International. 2021; 45(6):446-456. doi: 10.1097/PXR.0000000000000038
Omaña H, Bezaire K, Brady K, Davies J, Louwagie N, Power S, Santin S, Hunter SW. Functional Reach Test, Single Leg Stance Test and Tinetti Performance Oriented Mobility Assessment for Falls Prediction in Older Adults: A Systematic Review. Physical Therapy. 2021;101(10):1-18. Epub on July 10, 2021. doi.org/10.1093/ptj/pzab173
Hunter SW, Divine A, Madou E, Omana H, Johnson A, Hill K, Holmes J, Wittich W. Executive function as a mediating factor between visual acuity and postural stability in cognitively healthy adults and adults with Alzheimer's dementia. Archives of Gerontology & Geriatrics. 2020;89 July-August (article 104078). Epub on April 19, 2020. doi: 10.1016/j.archger.2020.104078
Visit Google Scholar for a comprehensive list of publications.
Hunter, SW (PI). (2022-2023) Barriers and facilitators to community accessibility in people with lower limb losss. SSHRC Partnership Engage Grant ($24,000)
Hunter SW (PI). (2022-2024) Implementation of falls screening in long-term care. London Community Foundation ($38,900)
Hunter SW (PI) (2020-2023) Real and imagined walking in lower limb amputees. Bone & Joint Institute. ($30,000)
Hunter SW (coI). (2022-2024) The effects of a novel phantom exercise execution program on phantom limb pain and mobility in people with unilateral transtibial amputation: a feasibility study. Canadian Musculoskeletal Rehab Research Network. ($25,000)
Hunter SW (coI) (2022-2023) Planning a national limb loss registry. CIHR Planning & Dissemination Grant ($20,000)
Additional Information
Gait & Brain Lab: Parkwood Hospital
Schulich School of Medicine & Dentistry, Western University

Division of Geriatric Medicine (Assistant Professor)
Department of Physical Medicine & Rehabilitation (Adjunct Professor)

Associate Researcher Gray Centre for Mobility & Activity, Parkwood Research Institute, London, Ontario
Faculty Scholar Award, University of Western Ontario 2022
Ontario Research Coalition (ORC) Early Researcher Award – 2011
Edmund V. Cowdry Prize. Canadian Geriatrics Society - 2010
AgePlus Prize, Canadian Institutes of Health Research (CIHR), Institute of Aging - 2009
Vice-President of the International Association of Physical Therapists working with Older People (IPTOP), a subgroup of World Physiotherapy
 Global Falls Guidelines Working Group – Co-Leader Falls and Cognition group
 Member Ontario Fall Prevention Collaborative, Parachute Canada
 World Health Organization – member of international team developing rehabilitation guidelines for people living with dementia (2021-2022)