Laura Graham, PhD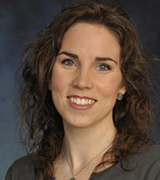 Assistant Professor
Room 1442, Elborn College
519 661-2111 x88935
lgraha29@uwo.ca
Education
MPT, PhD (Western)
BKIH (Acadia)
Academic Appointments
Research Interests
Intervention for persistent symptoms post-concussion/mild traumatic brain injury (mTBI)
Self-management promotion for mTBI
Additional Information
Activity planning and pacing web app for persistent post-mTBI symptom self-management
BrainEx90: A combined physiotherapy and occupational therapy intervention for adults with persistent symptoms post-concussion/mTBI.
Concussion/mTBI self-management education web pages: www.sjhc.london.on.ca/concussion-mtbi
Kleiner M, Wong L, Dube A, Wnuk K, Hunter SW, Graham L (2017) Dual-task Assessment Protocols in Concussion Assessment: A systematic review. JOSPT. 2017, 48(2): 87-103
Muir-Hunter SM, Graham L, Montero Odasso M. Reliability of the Berg Balance Scale as a clinical measure of balance in community-dwelling older adults with moderate Alzheimer's disease: A pilot study. Physiother Can. 2015, 67(3): 255-62.
Graham L, Connelly D. "Any movement at all is exercise": A focused ethnography of rural community dwelling older adults' perceptions and experiences of exercise as self-care. Physiother Can. 2013, 65(4): 333-41.
Physiotherapy Foundations: clinical skills, theory and science
Rehabilitation of neurological and complex chronic conditions
Vision rehabilitation post-concussion/mTBI
Teaching Award, School of Physical Thereapy, Western University, 2017
Nan Phillipson Award for Excellence in Teaching Assistants, Western University, 2013
Member, College of Physiotherapists of Ontario