Trevor Birmingham, PhD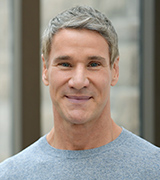 Professor and Canada Research Chair in Musculoskeletal Rehabilitation
Room 1444, EC
519 661-2111 x84349
tbirming@uwo.ca
Google Scholar
ORCID ID:
0000-0002-3300-7677
Education
BA, BSc, MSc, PhD (Western University)
Graduate Program Supervision
Research In Profile
Professor Birmingham leads a translational and clinical research program focused on musculoskeletal health and clinical biomechanics. His work combines patient-reported and performance-based outcomes with biomechanical, imaging, and biological measures in longitudinal cohort studies and randomized clinical trials.
Articles in Peer-Reviewed Journals
Hart HF, Birmingham TB, Sritharan P, Fischer LK. Walk Smarter, Not Harder: Effects of Cadence Manipulation on Gait Biomechanics in Patients with Patellofemoral Osteoarthritis. Med Sci Sports Exerc. 2023 Apr 1;55(4):633-641. doi: 10.1249/MSS.0000000000003081. Epub 2022 Nov 7. PMID: 36345138.
Philpott HT, Carter MM, Birmingham TB, Pinto R, Primeau CA, Giffin JR, Lanting BA, Appleton CT. Synovial tissue perivascular edema is associated with altered gait patterns in patients with knee osteoarthritis. Osteoarthritis Cartilage. 2022 Jan;30(1):42-51. doi: 10.1016/j.joca.2021.10.013. Epub 2021 Nov 10. PMID: 34774789.
Atkinson HF, Birmingham TB, Primeau CA, Schulz JM, Appleton CT, Pritchett SL, Giffin JR. Association between changes in knee load and effusion-synovitis: evidence of mechano-inflammation in knee osteoarthritis using high tibial osteotomy as a model. Osteoarthritis Cartilage. 2021 Feb;29(2):222-229. doi: 10.1016/j.joca.2020.11.007. Epub 2020 Dec 6. PMID: 33290812.
Schulz JM, Birmingham TB, Atkinson HF, Woehrle E, Primeau CA, Lukacs MJ, Al-Khazraji BK, Khan MCM, Zomar BO, Petrella RJ, Beier F, Appleton CT, Shoemaker JK, Bryant DM. Are we missing the target? Are we aiming too low? What are the aerobic exercise prescriptions and their effects on markers of cardiovascular health and systemic inflammation in patients with knee osteoarthritis? A systematic review and meta-analysis. Br J Sports Med. 2020 Jul;54(13):771-775. doi: 10.1136/bjsports-2018-100231. Epub 2019 Dec 17. PMID: 31848152.
Marriott KA, Birmingham TB, Leitch KM, Pinto R, Giffin JR. Strong independent associations between gait biomechanics and pain in patients with knee osteoarthritis. J Biomech. 2019 Sep 20;94:123-129. doi: 10.1016/j.jbiomech.2019.07.015. Epub 2019 Jul 25. PMID: 31421807.
Birmingham TB, Moyer R, Leitch K, Chesworth B, Bryant D, Willits K, Litchfield R, Fowler PJ, Giffin JR. Changes in biomechanical risk factors for knee osteoarthritis and their association with 5-year clinically important improvement after limb realignment surgery. Osteoarthritis Cartilage. 2017 Dec;25(12):1999-2006. doi: 10.1016/j.joca.2017.08.017. Epub 2017 Sep 6. PMID: 28888904.
Marsh JD, Birmingham TB, Giffin JR, Isaranuwatchai W, Hoch JS, Feagan BG, Litchfield R, Willits K, Fowler P. Cost-effectiveness analysis of arthroscopic surgery compared with non-operative management for osteoarthritis of the knee. BMJ Open. 2016 Jan 12;6(1):e009949. doi: 10.1136/bmjopen-2015-009949. PMID: 26758265; PMCID: PMC4716206.
Visit Google Scholar for a comprehensive list of publications.
Please visit Scholarship@Western for a list of completed student theses and dissertations in the repository.
Additional Information
Wolf Orthopaedic Biomechanics Laboratory
Fowler Kennedy Sport Medicine Clinic
Western University Bone and Joint Institute
Western University Collaborative Training Specialization in Musculoskeletal Health Research
Western University, Faculty of Health Sciences MSK-Innovation Factory
Member, College of Physiotherapists of Ontario
Member, Osteoarthritis Research Society International
Associate Editor, Osteoarthritis and Cartilage