Legacy 2020 Research Conference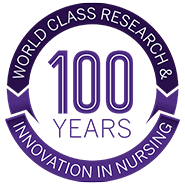 Honouring our Past, Creating our Future:
Transforming Education, Services, Systems and Policies that Impact Health
May 7-8, 2020 – Doubletree Hilton, London, Ontario
In celebration of 100 years of Nursing at Western and the International Year of the Nurse and Midwife, this two-day conference will bring together researchers, graduate students, practitioners, and decision-makers for dialogue and exchange with a focus on the transformative potential of research in improving health and well-being across varied contexts, and the conditions that shape health – past, present and future. Delegates from all disciplines who have an interest in these issues are most welcome.
A variety of sessions will be offered, including hands-on workshops, a technology expo and art-based research session, keynote presentations by international experts in global health and digital health, and a full program of presentations covering a range of topics, and special networking opportunities for graduate students and future leaders.
Abstracts for oral presentations, brief 'science pitches', and presentations at the Technology Expo or Art-Based Research Session are being accepted until February 1, 2020.
We welcome submissions of completed or in progress research, program evaluation, policy analyses, theory development, or other scholarly work, inclusive of clinical and applied research, that address some aspect of the conference theme. We are particularly interested in presentations in one of more of the following areas:
Digital Health, Technology, and Health Care
Violence, Gender, and Health
Strengthening Mental Health and Wellness
Women's Health
Global and Indigenous Health
Health Equity, Inequity and Structural Violence
Promoting Transformative Change in Services, Systems and Policies [all sectors]
For more information about types of sessions and abstract submission, please click here.
Thursday, May 7 (Evening)
Dr. Nancy Glass, PhD, MPH, RN, FAAN
Professor and Independence Chair in Nursing Johns Hopkins School of Nursing & Johns Hopkins Bloomberg School of Public Health, Department of International Health Associate Director, Johns Hopkins Center for Global Health
Dr. Glass conducts multidisciplinary projects in partnership with local experts and communities across diverse global settings domestically and globally, including in conflict and post-conflict countries (Somalia, DR Congo, South Sudan). Her federally funded program of research work focusses on evaluating violence prevention, economic empowerment and safety interventions to improve the health, economic stability and well-being of survivors of gender-based violence (GBV) and their families. Dr. Glass has collaborated with global experts and donors (such as UNICEF and World Bank) to implement and evaluate innovative primary prevention programs that challenge social norms that sustain violence against women; examine the prevalence of gender-based violence (GBV) to inform programs and service; and improve health care systems' responses to survivors of GBV. These and other projects use mHealth technologies to deliver programs and to collect confidential and secure data, reach diverse populations, and provide tools and resources to health and social service providers. A past president of NNVAWI, Dr. Glass is committed to collaborating with and mentoring colleagues, postdoctoral fellows, and graduate students globally as well as partnering with community experts and organizations to improve health, safety, and economic stability for women, families, and communities.
Friday, May 8 (Morning)
Lynn M. Nagle, PhD, RN, FAAN
Director, Digital Health and Virtual Learning, University of New Brunswick
Adjunct Professor, Lawrence S. Bloomberg Faculty of Nursing, University of Toronto
Adjunct Professor, Western University
With more than 35 years of healthcare experience, Dr. Nagle is nationally and internationally known for her work in health and nursing informatics. She brings expertise from many different clinical and academic settings, has participated in and led the development of numerous digital health initiatives, as well as research focused on the adoption of digital health solutions in practice environments. Dr. Nagle teaches in undergraduate and graduate programs focused in nursing, health administration and informatics. Prior to establishing her own health informatics consulting practice, she was the CIO and Senior Vice-President for Technology and Knowledge Management at Mount Sinai Hospital in Toronto. She has numerous professional publications and presentations to her credit and in recognition of her work was named one of the top 10 Women Leaders in Digital Health in Canada in 2017.
Full program schedule coming soon.
DoubleTree by Hilton – London, Ontario
300 King Street
London, Ontario, Canada 
N6B 1S2
We are pleased to offer accommodations at the conference hotel, DoubleTree Hilton, at a reduced rate of $135 per night (single or double occupancy). To make a reservation, call the hotel at 1-800-445-8667 and provide the code "LRC", or use the reservation link to book online.
Rooms will be offered on a first come, first served basis until April 6, 2020 or until the block of rooms has been filled. We ask that you consider booking your accommodation at the DoubleTree to help offset the costs of hosting this meeting.
Delegates are responsible for arranging and paying for their own accommodations.

Parking: Complimentary self-parking for overnight guests is available adjacent to the hotel (based on availability).
Room Cancellations: Reservations must be cancelled at least 48 hours in advance. If rooms are not cancelled at least 48 hours prior to arrival a charge equal to 1 night room and tax will be applied to the individual's credit card.
About DoubleTree by Hilton Hotel
Situated in the center of downtown London, Ontario, DoubleTree by Hilton Hotel London Ontario is just 15 km from the London International Airport (YXU). Only three blocks from Via Rail Station, the Greyhound Bus Terminal, and minutes from the 401 Highway, making it easy to get around. Enjoy easy access to lots of shopping, dining and entertainment options, and popular attractions like Budweiser Gardens, which is just three blocks away.
Guest rooms are spacious and modern. They offer fantastic views and feature complimentary WiFi, a refrigerator and a large desk. Comfortable suites are also available, offering more space and amenities – ideal for families, extended-stays or casual business meetings. Maintaining exercise routine is easy with state-of-the-art fitness center and sparkling indoor swimming pool. Dine in style in Blake's Lounge, and recharge with favorite hot drink and a sweet treat in Starbucks, situated in the hotel lobby.
Registration opening soon.