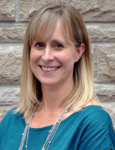 Janis Cardy, PhD, S-LP(C)
Associate Professor and Faculty Scholar

Biography: Dr. Janis Cardy is an Associate Professor in Communication Sciences and Disorders at Western, as well as a Research Affiliate in the National Centre for Audiology and an Associate Scientist in the Brain and Mind Institute and the Children's Health Research Institute. She completed a PhD in Speech-Language Pathology and a CIHR Fellowship in Medical Imaging at the University of Toronto. She is a speech-language pathologist by training (McGill University), having practiced for nine years at Toronto's Sickkids Hospital prior to embarking on her research and teaching career.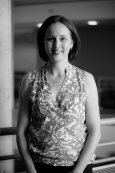 BJ Cunningham, PhD, SLP(C)
Research Associate

Biography: BJ graduated with a Bachelor of Arts (Psychology) degree from the University of Waterloo in 2001 and a Master of Science (Speech-Language Pathology) degree from Western University in 2006. As a speech-language pathologist in Ontario's Preschool Speech and Language Program, BJ worked with preschoolers with various communication impairments and their families for 7 years before pursuing PhD studies. In 2017 BJ completed her PhD in the School of Rehabilitation Science at McMaster University. Supervised by Dr. Peter Rosenbaum, BJ's thesis work explored participation-based outcomes for preschoolers with communication impairments. Much of this work involved exploring how preschoolers' communicative participation skills developed, and how they changed as a result of their involvement in Ontario's Preschool Speech and Language Program. In her role as Research Associate in the ASLD lab, she is developing new tools and methods to improve outcome measurement in the PSLP and in the field of speech-language pathology.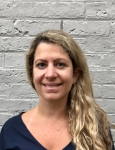 Joanna Sinos, BSc, MSc
Research Project Coordinator/Lab Manager

Biography: Joanna completed a Bachelor of Science in Psychology in 2002 and a Master of Science in Health Psychology in 2004, both at the City University London, UK. In 2005, she acquired a MSc in Child Development from the Institute of Education, University College London, UK. Joanna then became a Registered Psychologist in the European Union and practiced in Greece. In Canada, Joanna has lectured at George Brown College, Fanshawe College, and Humber College in psychology and communications. Her clinical experience includes working with children on the autism spectrum as a Developmental Therapist, and conducting psychoeducational assessments of children, adolescents, and post-secondary students. Joanna is a member of the Ontario Association of Consultants, Counsellors, Psychometrists, and Psychotherapists and the Ontario Psychological Association, and is certified in DIR Floortime Therapy. Joanna's role at Western as Research Project Coordinator in the ASLD lab combines her passion for children and conducting research. She supports research activities falling under two projects examining 1) speech/language outcomes of children who receive speech-language pathology services within Ontario's Preschool Speech and Language Program, and 2) the contribution of auditory cortical maturation to language acquisition in young children using EEG.