MoBEES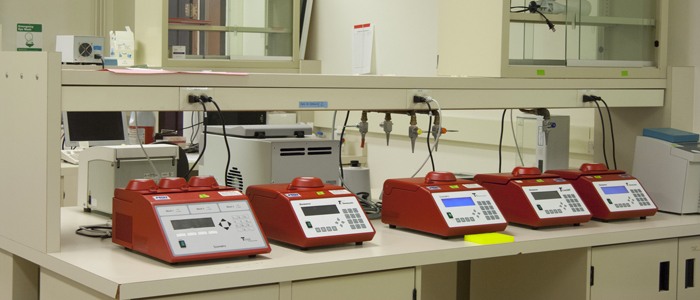 "MoBEES" is a facility for Molecular studies in Biodiversity, Ecology and Environmental Sciences. MoBEES was jointly established by Greg Thorn, Bryan Neff, Graham Thompson, Beth MacDougall-Shackleton and Sashko Damjanovski through initial funding from The Canadian Foundation for Innovation and Ontario Innovation Trust. Since this beginning, MoBEES has evolved and been periodically rejuvenated with funds from NSERC's Research Tools and Infrastructure program as well as from Western's own Faculty of Science and Department of Biology.
Mission Statement:
MoBEES mission is to provide a critical service to Biology researchers who incorporate molecular biology tools and techniques in their evolutionary, ecological and environmental research. Our goal is to train students with new technologies and tools that last a lifetime and that lay a strong foundation for future careers in academic research.
MoBEES core-values are to:
provide instrumentation, support and training in various aspects of molecular biology
foster teamwork, collaboration and sharing of knowledge
build an inclusive community
have respect and social commitment
use ethical behaviour, transparency and fairness in all of our dealings
strive for quality and excellence throughout our activities and through delivery of our services
Diversity Statement:
MoBEES lab is committed to provide a working and learning environment that allows for full and free participation of all members of the community. As a collaborative and open-concept research space, MoBEES is committed to cultivating an inclusive work environment that is welcoming of individuals who self-identify with any of the federally designated groups that are most prone to discrimination, including women, indigenous peoples, persons with disabilities, members of the LGBTQ2+ community, and members of racialized groups.
All members of the MoBEES lab community – researchers, students, volunteers and employees – share a common responsibility to provide and maintain an environment free of discrimination and harassment, which is demonstrated daily through their leadership, statements, and actions. MoBEES research lab strives to break down barriers to participation; to recognize the value of a variety of opinions, backgrounds and experiences from the broader community; and to strengthen the field of Molecular Biology.
Genetic Analyzer

Beckman CEQ 8000 DNA sequencer: Simplify the process and you reduce the chance of error. That's the safeguard built into the CEQ 8000. Developed using Beckman Coulter's extensive experience in laboratory automation and leadership in capillary electrophoresis technology, the CEQ 8000 is a fully automated genetic analysis system. This system automatically fills the capillary array with a patented linear polyacrylamide (LPA) gel, denatures and loads the sample, applies the voltage program, and analyzes the data.  Software tools let you rapidly review data quality and even customize automated data assessment.

Applications:

De Novo DNA Sequencing
Heterozygote Detection
Confirmatory Sequencing
Mutation Analysis
Allele Identification
SNP Scoring
Microsatellite Instability
AFLP Fingerprinting
Gene Expression

With the CEQ 8000, you can perform virtually all genetic analysis functions with one Gel, one Array and One Software Package.

DNA Clean UP

Boreal's electrophoretic extraction technology is proven to purify DNA and RNA from extremely low abundance and heavily inhibited samples including soils from the Atacama desert, Antarctic tundra, sea sediments, oil sands and stool. Aurora also excels at extraction of high molecular weight DNA

A revolutionary platform for nucleic acid extraction based on powerful electrophoretic purification technology.

Unparalleled nucleic acid purity
Recovers 10X more DNA compared to commercially available kits
The highest yield from low abundance samples
Extraction of intact high molecular weight DNA from 100kb – 1Mb
Input: 5 mL of lysed or prepared sample; output: 60 uL of buffer ready for PCR, sequencing or other analysis

Workflow

The Aurora workflow includes the following steps:

1. Preparation of raw samples
2. Lysis using chemical or mechanical methods or pre-processing
3. Concentration and purification on the instrument

NanoDrop 2000
UV-Vis Spectrophotometer

The NanoDrop 2000 is a microvolume spectrophotometer for measuring DNA, RNA, and protein. Using the patented sample retention system the NanoDrop 2000 accurately measures samples as small as 0.5 µL, and reports sample concentration, purity ratios, and full spectral data. The NanoDrop 2000 is a full-spectrum UV/Vis spectrophotometer used to quantify nucleic acids, proteins, fluorescent dyes and other compounds.

Full spectral microvolume UV-Vis analysis:

Fast measurement time of less than 5 seconds – just pipette, measure, and wipe clean
Measure 0.5 - 2 µL DNA, RNA, and protein samples
Software includes pre-configured methods for measuring nucleic acids, Protein A280 and colorimetric assays, and flexible customized methods
Measure concentrations up to 15,000 ng/µl (dsDNA) - eliminating the need for dilutions
Low-cost operation – no plates or other consumables
Perfect for proteins with low wavelength absorbance, such as peptides at 205 nm

Bench Top Freeze Dryer

The VirTis Bench Top 3.5 Pro freeze dryer with condenser refrigeration packages of -55°C that allow users to meet the demands of both aqueous or aqueous solvent based formulations. Designed for both the occasional user and freeze drying expert the Benchtop controller simplifies freeze drying and eases system operation. One touch start-up and shut down ensure that the product and freeze dryer are protected from inadvertent operational procedures.

A graphic display provides users with at-a-glance understanding of the status of the freeze dryer and whether or not appropriate freeze drying conditions exist. The system can be hooked up to vacufuge conentrator that can hold 45 eppendorf tubes. Takes products from frozen to dried state, effectively removing <99% of moisture.  Useful for preserving biologically active products requiring long-term storage.

Gel Imaging

The Gel Doc 2000 is an easy-to-use, high-performance system that captures images in real time, allowing you to more accurately position and focus on your sample. With Bio-Rad's intuitive software, images acquired with the Gel Doc 2000 can be rapidly optimized, annotated, analyzed, and printed. Follow the onscreen steps, and get your results with only 3 clicks of the mouse. The Gel Doc 2000 system combines a compact darkroom, UV-transilluminator workstation, CCD camera, motorized zoom lens, and user-friendly Quantity One software to document and quantitate gels stained with ethidium bromide and other fluorophores.  The iris, zoom, and focus of the lens can be manipulated either onscreen within Quantity One software or by the instrument control panel.

Optimized for Easy Gel Documentation

High-intensity epi-illumination light source
Large 25 x 26 cm UV transilluminator (302 nm) included with each system
Convenient sliding drawer for easy placement of gels
Visualization of areas as small as 4 x 5 cm
Visualization down to 0.1 ng of double-stranded
DNA stained with ethidium bromide
Software-controlled automatic integration to visualize faint samples
Software-controlled molecular weight determination and concentration analysis

Also have Bio-Rad Finger printing II Software that can be used to gel image analysis.

Biolog System

MicroStation System - For rapid identification of bacteria, yeast, and filamentous fungi. It uses each microbe's ability to use particular carbon sources to produce unique patterns or "fingerprint" for that microbe. The MicroPlate is placed in the reader at the appropriate time interval and analyzed via the MicroLog software. The MicroStation also allows the user to expand and create customized databases of their isolates.

The Biolog Microbial ID System can rapidly identify over 2,500 species of aerobic and anaerobic bacteria, yeasts and fungi. These easy to use Systems provide reference laboratory quality identifications. Biolog Systems do this without the labor-intensive requirements of conventional strips or panels. There is a Biolog System for any size laboratory, from full and semi-automatic to manually read systems.

Biolog's latest generation redox chemistry enables testing and microbial identification of aerobic Gram-negative and Gram-positive bacteria in the same test panel. Gram stain and other pre-tests are no longer needed. A simple one minute setup protocol and your samples are ready to be analyzed. Our expanded GEN III database is designed to meet the needs of Biolog's broad customer base covering diverse disciplines of microbiology.

96 well plate reader

Automatic plate reader with 340-750 nm spectral range.

Thermocyclers

Biometra T3000 Thermocyclers with triple block concept and the latest in Peltier technology to achieve excellent heating and cooling rates.  T1 plus thermocycler, 2 of T1 Thermocycler and T gradient and Primus 96 plus thermocyclers. Ideal for standard as well as gradient PCR, RT-PCR, DNA duplication, and cloning.

Centrifuges

Microfuge 18: holds 24 eppendorf tubes, max 14,000rpm

Refrigerated Microcentrifuge: Hermle Z216MK holds 40 eppendorf tubes, max 14,000 rpm, 40C-220C.

Table top Sorvall Legend RT –with three different rotor types

eppendorf rotor max 17,000 rpm
B2248 max 5650rpm, can hold 2x500g
bucket rotor, max spped 4600rpm, max load 800g

Mix Mate vortex (with PCR 96 well holder, 1.5/2.0 ml tube holder, 0.5 ml tube holder) available for DNA/protein extraction. 

Other Equipments/Features

DNA/RNA gel rigs, Owl Separation system Model B2; all in one EasyCast gel casting system
Bio-Rad Mini Protein gel apparatus
Orbital Incubator Shaker, Gyromax 727, Water bath, Microwave, Incubator
Balance, AG 204 Delta range max 210g, d=0.1mg/mg
Fume Hood and storage cabinets for Acid and flammables
Gel Dryer(s)  Bio-Rad Model 583
Bio-Rad D code System, Universal mutation detection system

Services

Consultations + Demonstration
Custom training - DNA isolation, amplification and characterization, microsatellite, SNPs and AFLP analysis
Currently available are the listed equipment at $100 per user per month (to a maximum of $1000 per year) except CEQ.  Use of the CEQ capillary array genetic analyzer for sequencing or microsatellite analyses is available at a rate of $80/column (8 rxns) of usage in CEQ automated sequencer (whether forsequence or fragment analysis). This works out to $10 per sample, but samples will be billed in multiples of 8 only, since the CEQ loads and runs all 8 wells in a column by default, with the user supplying all reagents. These costs are intended to offset anticipated repairs and service contracts, to maintain the lab and equipment in good order.
Note: no radioisotopes may be used in this facility at any time.
Access
The MoBEES is located in Biological and Geological Sciences BGS, room 3054. MoBEES is open on weekdays from 9:00 am until 5:00 pm. During these hours, the Facility staff will be available for training and consultation regarding the instruments.
Responsibilities of Users and their Supervisors
Users must be trained by the Facility staff to ensure safe usage of the equipment. Log books are provided for each instrument and users are expected to log in their time of usage. When the work is complete, the user should ensure that the work area is left clean. Any problems or concerns can be noted in the log books or the user can contact the Facility staff.  In the event of instrument damage due to abuse, misuse, or unauthorized use, the research supervisor will be held financially responsible for the cost of repair or replacement.
Billing
The facility will charge fees in order to cover the cost of consumables and instrument operating costs as defined in the fee section. Users must provide a valid speedcode or account number for invoicing. Invoices will be submitted quarterly and e-mailed to the research supervisor electronically.
Protocols coming soon
DNA isolation
RNA isolation
PCR reactions/DNA amplification
Sites to order oligos
Ordering primers (links)
Neff BD and EI Svensson. 2013. Polyandry and alternative mating tactics. Philosophical Transactions of the Royal Society of London (B), in press.
Rodgers CMC, BD Neff, and R Knapp. 2013. Androgen-mediated nurturing and aggressive behaviors during paternal care in bluegill sunfish (Lepomis macrochirus). Hormones and Behaivor, in press.
Cogliati K, BD Neff, and S Balshine. 2013. High degree of paternity loss in a species with alternative reproductive tactics. Behavioral Ecology and Sociobiology, in press.
Evans ME, BD Neff, and DD Heath. 2013. MHC-dependent mate choice revealed through behavioural and genetic analyses in the Chinook salmon. Canadian Journal of Fisheries and Aquatic Sciences, in press.
Mullen EK, Daley M, Thompson GJ. (submitted). Gene co-citation networks associated with worker sterility in honey bees. BMC Systems Biology
Thompson GJ, Hurd PL, Crespi BJ 2013. Genes underlying altruism. Biology Letters. In press
Camiletti A, Awde DN, Thompson GJ (in revision). How female flies respond to honey bee pheromone: The role of the forager gene on reproductive response to queen mandibular pheromone. Naturwissenschaften.
Clarke M, Thompson GJ, Sinclair BJ 2013. Cold tolerance of the Eastern subterranean termite, Reticulitermes flavipes (Isoptera: Rhinotermitidae), in Ontario. Environmental Entomology. 42: 805-810.
Mizzau, TW, Garner S, Thompson GJ, and Morbey YE 2013. A genetic test of sexual size dimorphism in pre-emergent Chinook salmon. PLoS ONE In Press
Camiletti A, Percivall-Smith A, Thompson GJ. 2013. Honey bee queen mandibular pheromone inhibits ovary development and fecundity in a fruit fly. Entomologia Experimentalis et Applicata. 147: 262-268.
Nieuwesteeg, M. Walsh, L.A., Fox, M.A. and Damjanovski, S. 2012. Domain specific overexpression of TIMP-2 and TIMP-3 reveals MMP-independent functions of TIMPs during X laevis development. Biochem Cell Biol. r2011-0088 Link to Abstract
Walsh, L.A., Cepeda, M.A. and Damjanovski, S. 2012. Analysis of MMP-dependent and independent functions of tissue inhibitor of metalloproteinase-2 on the invasiveness of breast cancer cells. J. Cell Comm.Signal. 2012 Jan 8. Link to Abstract
Marek, S.M., K. Hansen, M. Romanish, and R.G. Thorn. 2009. Molecular systematics of the cotton root rot pathogen, Phymatotrichopsis omnivora. Persoonia 22: 63-74.
Koziak, A.T.E., F. Chavarria, J. Diaz, M. Garcia, D.H. Janzen and R.G. Thorn. 2007. Nematoctonus (anamorphic Pleurotaceae) in Costa Rica. Can. J. Bot 85 (8): 749-761.
Koziak, A.T.E., K.C. Cheng and R.G. Thorn. 2007. Phylogenetic analyses of Nematoctonus and Hohenbuehelia (Pleurotaceae). Can. J. Bot 85 (8): 762-773.
Schmidt KL, SD Moore, EA MacDougall-Shackleton & SA MacDougall-Shackleton. 2013. Early-life stress affects song complexity, song learning, and the volume of RA in adult male song sparrows. Animal Behaviour, in press.
Schmidt KL, ES McCallum, EA MacDougall-Shackleton & SA MacDougall-Shackleton. 2013. Early-life stress affects the behavioural and neural response of female song sparrows to conspecific song. Animal Behaviour, in press.
Dr. Gurpreet Dhami,  gdhami2@uwo.ca  519-661-2111 x 86406 for consultation and demonstrations.