Molecular Genetics Unit (MGU)
Molecular Genetics Unit (MGU)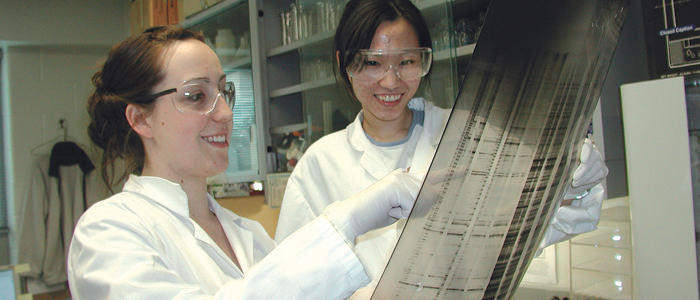 MGU core provides a number of facilities in the field of plant and animal molecular biology, molecular genetics and general life science research. The following faculty members use the facility on daily basis: Dr. Susanne Kohalmi (Arogenate dehydratase family [ADTs] gene family and regulation in Arabidopsis thaliana), Dr. Kathleen Hill (Mutation analysis, genome organization and Integrity), Dr. Greg Kelly (Cell signaling in vertebrate embryo), Dr. T Percival-Smith (Molecular mechanisms of morphogenesis in Drosophila melanogaster ), Dr. V Grbic (Arabidopsis development genetics) and Dr. Sashko Damjanovski (Extracellular matrix remodeling in developing Xenopus laevis). The MGU Core facility is available for similar research by other Biology Faculty for a user fee. It is located on the third floor of the Western Science Centre.
It is a large and well-equipped common area (242m2) which includes State-of-art gel documentation facility (Chemi-touch Doc digital imaging of DNA/RNA and Western blotting), Real time PCR (CFX 96), Nanodrop 2000C (DNA/RNA quantification, density of cell cultures, protein measurements), Animal and Plant Culture rooms, Microscopy and Imaging (Leica DMR BE fluorescence), Ultrapure water system, Steam Autoclaves for sterilization of biological samples, Hot air sterilization ovens, high speed ultra-centrifuges, cold room, incubators, vacuum pump and concentrators, homogenizers, and laminar flow hoods.
Bio-Rad Experion

Bio-Rad's Experion is an automated gel electrophoresis system for analysis of RNA, DNA and protein samples using patented Lab-On-Chip technology.  Different kits are available for analysis of proteins, RNA, and DNA.  Each assay allows for analysis of up to 12 samples within 1 h with only about 30 min "hands-on" time.

For eukaryotic total RNA samples, the Experion system automatically generates an RQI (RNA quality indicator) number in addition to the electropherogram profile, virtual gel image, and 28/18S ratio. The RQI number offers an objective assessment of RNA quality and aids researchers in conforming to the MIQE (minimum information for publication of quantitative real-time PCR experiments) guidelines, which call for practices that increase the reproducibility and quality of RT-qPCR data.

The CFX96™ touch system is a real time PCR system which combines advanced optical technology with precise thermal control to deliver sensitive and reliable detection.

Key Features and Benefits:

Set up your system quickly — easy installation and factory-calibrated optics
Minimize sample and reagent use — up to 5-target multiplexing with sample volumes as low as 10 µl
Optimize reactions in a single run — thermal gradient feature
Analyze data faster — visualize all run data at once and export only the data you need in the format you want
Use advanced data analysis tools — normalized gene expression using CFX Manager™ Software.

QX200™ Droplet Digital™ PCR System

Droplet Digital PCR (ddPCR) is a method for performing digital PCR that is based on water-oil emulsion droplet technology. A sample is fractionated into 20,000 droplets, and PCR amplification of the template molecules occurs in each individual droplet. ddPCR technology uses reagents and workflows similar to those used for most standard assays. The massive sample partitioning is a key aspect of the ddPCR technique.

The benefits of ddPCR technology include:

Superior partitioning — ddPCR technology yields 20,000 droplets per 20 µl sample, nearly two million partitioned PCR reactions in a 96-well plate and thus allowing greater higher accuracy.  ddPCR enables the reliable measurement of small fold differences in target DNA sequence copy numbers among samples
Absolute quantification — ddPCR technology provides an absolute count of target DNA copies per input sample
Increased signal-to-noise ratio — high-copy templates and background are diluted, effectively enriching template concentration in target-positive partitions, allowing for the sensitive detection of rare targets and enabling a ±10% precision in quantification
Removal of PCR bias — error rates are reduced by removing the amplification efficiency reliance of qPCR, enabling the detection of small (1.2-fold) differences

Nanodrop 2000c

The NanoDrop ND-2000 is a full-spectrum (220-750nm) spectrophotometer that measures 2 ul samples with high accuracy and reproducibility. The ND-2000 has the capability to measure highly concentrated samples without dilution (50X higher concentration than the samples measured by a standard cuvette spectrophotometer).

The NanoDrop 2000c offers:

Direct, easy measurements in less than 5 seconds – just pipette & wipe
Full spectral output (190nm – 840nm)
Measures DNA, RNA (A260) and Protein (A280) concentrations and sample purity (260/280 ratio)
Large concentration range (2 ng/μL – 15,000 ng/μL dsDNA) without dilutions
Pre-configured methods for common applications such as Nucleic Acid, Protein A280, Microarray, Proteins & Labels, Bradford, BCA, Lowry and Pierce 660nm – and more
User-friendly software that includes Custom Methods and data export capabilities
Simple self-calibration check using control fluid – no instrument adjustments

with the added convenience of a cuvette reader, this adds the below capabilities:

Cell culture methods (OD600)
Kinetic studies with time, 37°C temperature and stirring, in cuvette mode
Extended concentration range (lower limit 0.4 ng/μL dsDNA) in cuvette mode

Beckman DU 640 for DNA/RNA quantification

Beckman DU 640 UV-VIS Spectrophotometer Real nice, microprocessor controlled instrument intended for use in quantitative and qualitative biological research and industrial procedures that require spectrophotometric measurements in the UV visible region of the electromagnetic spectrum -, wavelength range 190-1100 nm. Photometric readout (-0.300)-3.000 A, 0.0-200.0 %T. Scan speed 120, 240, 600, 1200, 2400 nm/min. Standard routine measurements of fixed wavelength, wavelength scan in absorbance and transmittance, and kinetics time absorbance- optional application modes available are protein analysis, nucleic acid, fraction read/plot, single component quantitative analysis, enzyme mechanism, enzyme activity, multi-component analysis, gel scan, and performance validation. 

Incubator Shaker

The New Brunswick Scientific Innova 4300 Large Capacity Incubator Shaker is designed for handling greater quantities of flasks. It easily holds (12) 2 L flasks and accepts flasks up to 6 L.  The Innova 4300 shaker incorporates a triple eccentric counterbalanced drive to provide horizontal plane rotary motion in a 1 in. (25.4 mm) circular orbit. A Proportional/Integral (PI) Microprocessor controller with instantaneous digital feedback controls the speed over a range of 25-500 RPM. It also provides temperature control over a range of 5°C above ambient to 60°C. The internal chamber is 34¾ inches (88.3 cm) wide, 22¼ inches (56.6 cm) deep, 19¼ inches (48.9 cm) above the platform and will accept flasks up to 6 liters.

Sorvall RC-5B Refrigerated Centrifuge

The Sorvall RC-5B, a refrigerated and high speed floor model centrifuge in the family of Sorvall (a division of DuPont), is built to deliver easy operation, exceptional performance, and reliability for tough clinical applications.  The DuPont Sorvall RC-5B centrifuge features a rotor, angular velocity and time/min knob, automatic programmed acceleration, a simple on/off switch, and braking functions. The drive systems of this machine are outfitted with a universal/drive motor. This centrifuge offers quiet operation and has the capability to operate at a speed of 20,000 maximum rpm (48,300x g).

Other Instruments

Animal and Plant Culture rooms, Microscopy and Imaging (Leica DMR BE fluorescence), Ultrapure water system, Steam Autoclaves for sterilization of biological samples, Hot air sterilization ovens, X-ray film processor, Microtome for cry sectioning (Leitz 1720), cold room, incubators, vacuum pump and concentrators, homogenizers, and laminar flow hoods.
Instrument training Fee

Cost-Western Account holders

Cost-PO Payment

QX-200 ddPCR

$340

$424

Real-time PCR

$252

$300

All other training

$60/hr

$60/hr

Other Instruments--

 

 

Nanodrop

$100/month… 
maximum $1000/year

Ovens/Autoclaves/centrifuges

$250/year

 

 

Instrument Usage Fee

Cost-Western Account holders

Cost-PO Payment

QX200 Droplet generator (incl. cartridge)

$20/8 sample cartridge

$24/8sample cartridge

QX200 Droplet reader

$2 samples

$9/8 samples

 

 

 

real-time PCR

$40/run

Experion

$60/chip (samples 1-12)
$20/Chip if you want to run it with your own kit
Consultations + Demonstration
Custom training – DNA/RNA isolation, amplification and characterization, PCR and QPCR, Western blotting, Immunostaining, Primer designing, cloning.
Access
MGU is located in Western Science Center WSC, room 357 and it is open on weekdays from 9:00 am until 5:00 pm. During these hours, the Facility manager will be available for training and consultation regarding the instruments. The staff or student card can be registered in order to gain card access to the facility after hours. During after hours, the user will be held responsible for ensuring that doors are kept locked at all times.
Responsibilities of Users and their Supervisors
Users must be trained by the Facility staff to ensure safe usage of the equipment. Log books are provided for each instrument and users are expected to log in their time of usage. When the work is complete, the user should ensure that the work area is left clean. Any problems or concerns can be noted in the log books or the user can contact the Facility manager.  In the event of instrument damage due to abuse, misuse, or unauthorized use, the research supervisor will be held financially responsible for the cost of repair or replacement.
Billing
The facility will charge fees in order to cover the cost of consumables and instrument operating costs as defined in the fee section. Users must provide a valid speed-code or account number for invoicing.
Nieuwesteeg, M. Walsh, L.A., Fox, M.A. and Damjanovski, S. 2012. Domain specific overexpression of TIMP-2 and TIMP-3 reveals MMP-independent functions of TIMPs during X laevis development. Biochem Cell Biol. r2011-0088.
Walsh, L.A., Cepeda, M.A. and Damjanovski, S. 2012. Analysis of MMP-dependent and independent functions of tissue inhibitor of metalloproteinase-2 on the invasiveness of breast cancer cells. J. Cell Comm.Signal. 2012 Jan 8.
Rosloski SM, Jali SS, Balasubramanian S, Weigel D, Grbic V. (2010) Genomic rearrangements and natural variation in splicing of MADS AFFECTING FLOWERING 2 leads to diverse flowering responses in Arabidopsis thaliana. Genetics 186, 263-276.

Wang Q, Sajja U, Rosloski S, Humphrey T, Kim MC, Bomblies K, Weigel D, Grbic V. (2007) HUA2 Caused Natural Variation in Shoot Morphology of A. thaliana. Curr Biol. 17, 1513-1519.
Poduska B, Humphrey T, Redweik A and Grbic V (2003) The synergistic activation of FLOWERING LOCUS C by FRIGIDA and a new flowering gene AERIAL ROSETTE 1 underlies a novel morphology in Arabidopsis. Genetics 163, 1457-1465.
Smith CA, Newson TA, Leonard KC, Barfett J, Holdsworth DW, Hutnik CM, Hill KA. A framework for modeling ocular drug transport and flow through the eye using micro-CT. Phys Med Biol. 2012 Oct 7;57(19):6295-307.
Ward TL, Prtenjaca A, Hill KA, A novel E. coli-derived mutation detected with the Big Blue ÒcII mutant selectable assay. Environ Mol Mutagen 2010 Jan 29.
Van Osch FS, Piliguian M, Hill KA, Spontaneous mutation frequency is elevated in skin of harlequin (hq)/Big Blue Ò mice. Mutagenesis 2010 Jan 20.
Butler JL, Osborne Locke ME, Hill KA, Daley M. HD-CNV: hotspot detector for copy number variants.  Bioinformatics. 2013 Jan 15;29(2):262-3.
Wen, J.W.H., Hwang, J.T.K., and G.M. Kelly. Reactive oxygen species and Wnt signalling crosstalk patterns mouse extraembryonic endoderm. 2012 Cell. Signal. 24(12):2337-2348. 
Hwang, J.T.K. and G.M. Kelly. GATA6 and FOXA2 regulate Wnt6 expression during extraembryonic endoderm formation. 2012 Stem Cells Dev. 21(17):3220-3232.
Sun, Q. and G.M. Kelly. Post-translational modification of CASK leads to its proteasome-dependent degradation. 2010 Int. J. Biochem. Cell Biol. 42(1):90-97.
Tian, G ., Lu, Q., Zhang, L., Kohalmi, S.E., Cui, Y. 2011. Detection of protein interactions in plant using a gateway compatible bimolecular fluorescence complementation (BiFC) system. Journal of Visualized Experiments doi: 10.3791/3473.
Bross, C.D., Corea, O.R.A., Kaldis, A., Menassa, R., Bernards, M.A., Kohalmi, S.E. 2011. Complementation of the pha2 yeast mutant suggests functional differences for arogenate dehydratases from Arabidopsis thaliana. Plant Physiology and Biochemistry, 49, 882-890.
T. Fatima, C. Snyder, WR. Schroeder, D. Wishart, RJ Weselake and P Krishna. 2012. Transcriptome and metabolite analysis of polyunsaturated fatty acid-enriched sea buckthorn (Hippophae rhamnoides L.) seed. PLoS ONE. 7(4):e34099 (1-18 pages)
Isidro J, Knox R, Singh AK, Clarke F, Krishna P, DePauw R, Clarke J, Somers D. 2012. Brassinosteroid leaf unrolling QTL mapping in durum wheat. Planta Feb 18.
Udaka H, Percival-Smith A, Sinclair BJ.  Increased abundance of Frost mRNA during recovery from cold stress is not essential for cold tolerance in adult Drosophila melanogaster.  Insect Mol Biol. 2013 Jul 31. doi: 10.1111/imb.12044.
Moazzen H, Rosenfeld R, Percival-Smith A. Non-requirement of a regulatory subunit of Protein Phosphatase 2A, PP2A-B', for activation of Sex comb reduced activity in Drosophila melanogaster. Mech Dev. 2009 Aug-Sep;126(8-9):605-10.
Kleiber ML, Mantha K, Stringer RL, Singh SM. Neurodevelopmental alcohol exposure elicits long-term changes to gene expression that alter distinct molecular pathways dependent on timing of exposure. J Neurodev Disord. 2013 Mar 13;5(1):6.
Laufer BI, Mantha K, Kleiber ML, Diehl EJ, Addison SM, Singh SM. Long-lasting alterations to DNA methylation and ncRNAs could underlie the effects of fetal alcohol exposure in mice. Dis Model Mech. 2013 Jul-Aug;6(4):977-92.
Wu T, Dhami GK, Thompson GJ. Soldier-biased gene expression in a subterranean termite implies functional specialization of the defensive caste.  Evol Dev. 2018 Jan;20(1):3-16.
Uddin R, Singh SM. Gene Network Construction from Microarray Data Identifies a Key Network Module and Several Candidate Hub Genes in Age-Associated Spatial Learning Impairment. Front Syst Neurosci. 2017 Oct 10;11:75.
Prtenjaca A, Tarnowski HE, Marr AM, Heney MA, Creamer L, Sathiamoorthy S, Hill KA.  Relatively high rates of G:C → A:T transitions at CpG sites were observed in certain epithelial tissues including pancreas and submaxillary gland of adult big blue® mice.  Environ Mol Mutagen. 2014 Jan;55(1):51-63.
Willson JA, Muir CA, Evered CL, Cepeda MA, Damjanovski S.  Stable expression of α1-antitrypsin Portland in MDA-MB-231 cells increased MT1-MMP and MMP-9 levels, but reduced tumour progression. J Cell Commun Signal. 2017 Aug 29.
Cepeda MA, Evered CL, Pelling JJH, Damjanovski S.  Inhibition of MT1-MMP proteolytic function and ERK1/2 signalling influences cell migration and invasion through changes in MMP-2 and MMP-9 levels.  J Cell Commun Signal. 2017 Jun;11(2):167-179.
Suzuki T, España MU, Nunes MA, Zhurov V, Dermauw W, Osakabe M, Van Leeuwen T, Grbic M, Grbic V.  Correction: Protocols for the delivery of small molecules to the two-spotted spider mite, Tetranychus urticae.  PLoS One. 2017 Dec 15;12(12).
Deol GSJ, Cuthbert TN, Gatie MI, Spice DM, Hilton LR, Kelly GM.  Wnt and Hedgehog Signaling Regulate the Differentiation of F9 Cells into Extraembryonic Endoderm.  Front Cell Dev Biol. 2017 Oct 25;5:93.
Kelly GM, Gatie MI.  Mechanisms Regulating Stemness and Differentiation in Embryonal Carcinoma Cells.  Stem Cells Int. 2017;2017:3684178.
The MGU core facility is managed by Dr. Gurpreet Dhami (gdhami2@uwo.ca), WSC 343, x 86406.