Writing 2520A: Write Now! - Writers on Writing
Writing 2520A: Write Now! - Writers on Writing
Learn about writing from writers
Interested in creative writing, in learning about different genres and styles of writing, and in getting insights into the business and craft of writing from working writers? Consider taking Writing 2520A: Write Now! Writers on Writing.
Write Now! is organized around a series of lectures by writers. Every week, a new writer visits the class to read from their work, talk about their writing and their career, and answer questions. The writers booked for this year include novelists, poets, playwrights, podcasters, graphic novelists, comic book writers, young adult authors, etc. Lectures cover topics such as inspiration, overcoming creative blocks, revision, publishing and literary citizenship.

This course offers students a unique opportunity to learn from a wide variety of writers about the craft of writing and the creative life while improving their own writing.
---
2022 Creative Writers Speaker Series
Wednesdays | 4:00 pm | Conron Hall (3110)
Guest lectures are open to all students, staff and faculty.
Presented by Writing 2520A, the Department of English and Writing Studies & the Creative Writers Speaker Series at Western, everyone is invited to hear some of Canada's best established and emerging writers read from their work and talk about their craft.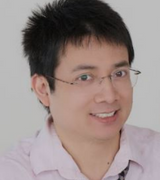 September 14: Dan K. Woo
Dan teaches creative writing at the University of Toronto School of Continuing Studies and works full time for cybersecurity firm GoSecure. His most recent book, Taobao: Stories, was selected by the Chicago Review of Books as one of the most anticipated books of 2022.
---
September 21: N Shannacappo
N Shannacappo is a Nakawe graphic novelist and poet from Rolling River First Nation in Manitoba. He's Eagle clan and currently living, working and playing in Ottawa. You can find his stories in the Indigenous anthologies called Sovereign Traces - Not (Just) (An)other, Vol 1 and Sovereign Traces – Relational Constellation, Vol 2. The graphic novel Mashkawide'e (Has a strong heart) was published by Senator Kim Pate and copies can be found by contacting her office. Neal published his own creation, The Krillian Key in November 2020, and is working on If I Go Missing which is being published by James Lorimer & Company Ltd., and Niikaniganaw (All My Relations) commissioned by a group of healthcare researchers.
---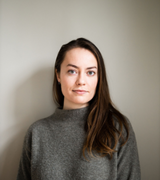 September 28: Erica McKeen
Erica is a Canadian fiction writer. Her work has been nominated for the Pushcart Prize, longlisted for the Guernica Prize, and shortlisted for The Malahat Review Open Season Awards. Her stories have been published in PRISM international, filling Station, and The Dalhousie Review, among other literary journals. She is the author of a novel, Tear (Invisible Publishing, 2022), and lives on the land of the Musqueam, Tsleil-Waututh, and Squamish peoples in Vancouver, British Columbia.
---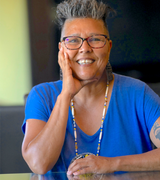 October 5: January Rogers, Writer-in-Residence and Matthew Dawkins, Student Writer-in-Residence
January Rogers, Writer-in-Residence
January is a Mohawk/Tuscarora writer from Six Nations of the Grand River. She was born in Vancouver, British Columbia in 1963 and raised in southern Ontario. January traveled throughout 2017-2019 doing back-to-back residencies in Vancouver, Santa Fe and Edmonton. January lives on Six Nations territory of the Grand River where she owns and operates Ojistoh Publishing and Productions. January works in page poetry, spoken word performance poetry, video poetry and recorded poetry with music. She is a radio broadcaster, documentary producer and media and sound artist.
Her literary titles include: Splitting the Heart, Ekstasis Editions 2007; Red Erotic, Ojistah Publishing 2010; Unearthed, Leaf Press, 2011; Peace in Duress, Talonbooks 2014; Totem Poles and Railroads, ARP Books, 2016, As Long As the Sun Shines (English edition), Bookland Press, 2018, with a Mohawk language edition released in 2019 and French translation released in 2021. Ego of a Nation is January's 7th poetry title which she independently produced on the Ojistoh Publishing label in 2020.
January has produced and written gallery and broadcast media with 2Ro Media since 2015. She won the American Indian Film Festival BEST MUSIC VIDEO 2020 for "Ego of a Nation" and the imagineNATIVE Media BEST EXPERIMENTAL SOUND PRIZE 2021 for her sound piece, "The Struggle Within." She wrote and produced a comedy audio pilot titled NDNS on the Airwaves and, in May 2022, she released a 10-episode webseries she wrote of the same name.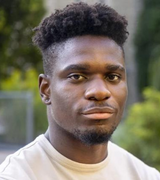 Matthew Dawkins, Student Writer-in-Residence
Matthew is a Jamaican award-winning author and poet whose works on Wattpad have amassed nearly half a million reads. His work focuses on subjects from his personal experience such as adolescence, love, loss, culture, and mental health. Matthew is currently a student in the Department of English and Writing Studies and The School for Advanced Studies in Arts and Humanities. When he's not writing, Matthew can often be found re-watching the Harry Potter series on Netflix for the millionth time and procrastinating on his assignments. Until We Break is his debut novel set for release in Fall 2022. Matthew's work has been published in Symposium and Semi-colon.
---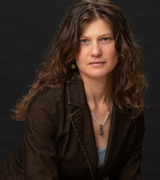 October 12: Marianne Apostolides
Marianne is the author of seven books, four of which have been translated. She's a two-time recipient of the Chalmers Arts Fellowship, and winner of the K.M. Hunter Award for Literature. She'll be reading from her latest novel, I Can't Get You Out of My Mind: A book of lies, sex, love, and artificial intelligence.
---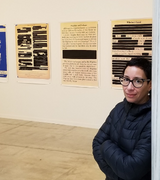 October 19: Chantal Gibson
Chantal (chantalgibson.com) is an award-winning artist-educator living on the ancestral lands of the Coast Salish Peoples. Working in the overlap between literary and visual art, her work confronts colonialism head on, imagining the BIPOC voices silenced in the spaces and omissions left by cultural and institutional erasure. Her visual art has been exhibited across Canada and the US, including Open Space Victoria, the Art Gallery of Nova Scotia, Montreal Museum of Fine Art, ROM Toronto, MacKenzie Gallery, Vancouver Art Gallery, Museum of Anthropology and the Senate of Canada.
Her debut poetry collection, How She Read (Caitlin Press, 2019) explores the representation of Black women in Canadian history, art, literature. It won the 2020 Pat Lowther Memorial Award and the 2020 Dorothy Livesay Poetry Prize and was shortlisted for the 2020 Griffin Poetry Prize. Her follow-up collection, with/holding (Caitlin Press, 2021), a 2021 CBC Best Poetry selection, brings a critical lens to the representation and reproduction of Blackness across digital media. Recipient of the 2021 3M National Teaching Fellowship, she teaches in the School of Interactive Arts & Technology at Simon Fraser University.
---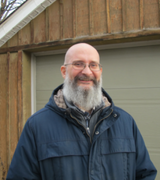 November 9: AG Pasquella
A.G.'s writing has appeared in various spots including McSweeney's, Wholphin, The Believer, Black Book, Broken Pencil and Utne Reader. A.G.'s story "I Was a Teenage Minotaur," originally published by Joyland, was included in Imaginarium 2013: The Best Canadian Speculative Writing. Pasquella has published three novellas: Why Not a Spider Monkey Jesus? (which also appeared as a thirty-page excerpt in McSweeney's #11), NewTown and The This & The That. These novellas were collected into an omnibus entitled Welcome to The Weird America, forthcoming in the fall of 2022 by Wolsak & Wynn. He is the co-editor (along with Terri Favro) of PAC'N HEAT: A Noir Homage to Ms. Pac-Man. A.G.'s three crime novels in the Jack Palace series – Yard Dog, Carve The Heart and Season of Smoke – were published by Dundurn Press. When he's not writing, A.G. makes music with the bands Miracle Beard and Lasergnu. A.G. was born and raised in Dallas, Texas, and now lives in Toronto, Ontario.
---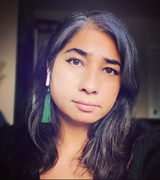 November 16: Angela Misri
Angela is an award-winning journalist, author and educator. Her detective series, called The Portia Adams Adventures, is set in the 1930s, and her first middle-grade series is called Tails from the Apocalypse. Pickles vs the Zombies, the first book in that series, won the 2021 Hackmatack award for fiction and the second is up for the 2022-23 Red Cedar Book Award.

Misri has an MA in journalism from the University of Western Ontario and has worked as a digital journalist for 20 years, including at the CBC and The Walrus. She is currently an assistant professor in the School of  Journalism at Toronto Metropolitan University.
---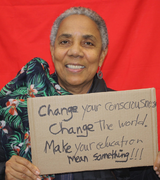 November 23: Lillian Allen
Lillian is a professor of creative writing at Ontario College of Art and Design University (OCAD). Two time JUNO Award winner and trailblazer in the field of spoken word and dub poetry, Allen artistically explores the aesthetics of old and new sounds in music to create her distinctive leading edge brand of Canadian reggae with new world sounds in her poetry recordings, with her powerful reggae dub poetry/spoken word recordings including her latest single Woken & Unbroken (2018), album ANXIETY (2012), her groundbreaking first solo Juno awardwinning album Revolutionary Tea Party, a Ms. Magazine Landmark Album, followed by another Juno winner, Conditions Critical. Her third album, Freedom & Dance and her recording for children and young people, Nothing But a Hero, were released to critical acclaim.
Allen's debut book of poetry, Rhythm An' Hardtimes became a Canadian best seller, blazing new trails for poetic expression and opened up the form. Lillian Allen's latest collection Make the World New: The Poetry of Lillian Allen, edited by Ronald Cummings was published in Spring 2021 and is part of the Laurier Poetry Series. Her other collections, Women Do This Everyday and Psychic Unrest are studied across the educational spectrum. Her literary work for young people includes three books: Why Me, If You See Truth, and Nothing But a Hero. Multi-disciplinary and experimental, Allen's creativity crosses many genres including radio, theatre, music and film; as writer, featured artist and producer/director and national radio show host. She co-produced/co-directed Blak Wi Blak, a film documentary on Jamaican dub poet Mutabaruka which premiered at the Toronto International Film Festival.
---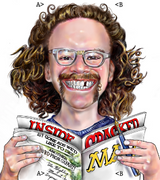 November 30: Daniel Scott Tysdal
Daniel is a writer, filmmaker, and teacher. An Associate Professor, Teaching Stream, at the University of Toronto Scarborough, Tysdal's works include the ReLit Award-winning poetry collection Predicting the Next Big Advertising Breakthrough Using a Potentially Dangerous Method, the critically acclaimed Fauxccasional Poems, the short story collection Wave Forms and Doom Scrolls, the poetry textbook The Writing Moment: A Practical Guide to Creating Poems, and the viral TEDx talk, "Everything You Need to Write a Poem (and How It Can Save a Life)." Tysdal's short films have screened internationally, earning him several honours, including Best Experimental Short Film at the Arizona Underground Film Festival and a nomination for Best Experimental Short Film at the Yorkton Film Festival. The End Is in the Middle is his fourth collection of poetry.
---
Contact
Dr. Aaron Schneider
achnei4@uwo.ca