Writing Studies Courses
featured courses
2520A - Write Now! Writers on Writing
This course offers you the unique opportunity to learn directly from writers about the craft and profession of writing while working on your own writing.
3901F - You're a Strange Animal: Writing Nature, Writing the Self
Campus will be our classroom. In this course, we will use poetry, fiction and non-fiction to capture (and release) some of the fundamentals of nature writing. We will write about nature, in nature.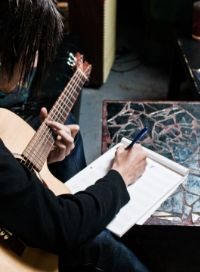 3901G - Lyric Writing
Do you want to write lyrics in your favourite musical genre - perhaps blues, rock, R&B, folk, pop, spoken word, or hip hop? This course will introduce you to the essentials of effective song lyric writing. No previous experience in music is necessary!
4880G - Seminar in Creative Writing
Character wants a good job, plenty of excitement, quest, possible assistance from mentors and companions. Working through language creation, motifs, and structure, this course will help you create and plan a full-length project of fantastic literature.
Web Registration for Fall/Winter 2019-20: If you have a question or concern about registration (Writing course selection, Writing module/program requirements, and related matters), please first read the course descriptions and module/program descriptions (and linked 'Worksheets') as applicable. To view calendar descriptions and recent course outlines for 2019-20 courses follow the links below. If your questions are not answered by the information in those documents, please feel free to contact the Undergraduate Program Director/Writing Studies, Prof. Brock Eayrs, directly by email at beayrs@uwo.ca. You will receive a response within 36 hours.

*Students registered in FIMS please note: If you have at least 65% in each of MIT 1020E (or both of MIT 1021F/G and MIT 1022F/G) and MIT 1025F/G (total 1.5) you now have the prerequisite for most senior Writing courses.
FALL/WINTER 2019-20 COURSES