Research Canada Leadership in Advocacy Award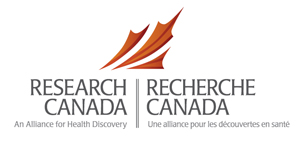 Research Canada is a national, broad-based alliance dedicated to advancing health research through collaborative advocacy.
Research Canada's Leadership Award is presented to either an individual or organization who/which has made outstanding efforts in advocating for Canadian health research at the local, provincial and/or national level. Nominations are accepted from Research Canada's Members, Supporters, and Partners.
Eligibility
All nominees must be Canadian.
Nominees may be an individual or organization/company/institution who or which represents or is drawn from a stakeholder group across the health innovation continuum: government, academe, industry, non-governmental.
Awardees will be selected based on the description and/or evidence provided in the nomination package that shows how they are contributing to health research in Canada.
Nomination Process
A complete nomination package will consist of:
Online nomination form
Two Letters of Nomination from two nominators
Brief description of why the nominee is deserving of the award (max. 250 words)
CV of the nominee
Any other material that supports the nomination
Submission
Final nominations may be submitted via the online portal.
Deadline(s)
The final submission deadline is Friday, April 30, 2021.
Contact
Julaine Hall
Research Development Consultant, Awards & Distinctions
Telephone: 519-661-2111 (ext. 87970)