Engaging the Future
Draft Report of the Task Force on Strategic Planning
June 22, 2006
10. Our Campus, Neighbourhood, and Community
Western takes great pride in the beauty of its campus and is determined to maintain it as a magnificent academic environment. Our setting in North London has evolved since the 1920s into a wonderful asset for the University community and for the City of London. It is a significant factor in our ability to recruit faculty, staff and students, and is cherished by our alumni, who have made major investments in its buildings and its natural environment. At Western, academic life can flourish in a setting that ensures space for work and contemplation, safety, and personal security.
Our last Campus Master Plan was completed in 1993 and the University will soon begin to prepare a new one, with a draft envisaged in December 2006. The plan will set out the principles that will guide us in the location of buildings and maintenance of green space and will address issues of traffic and parking. Our architecture should continue to be focused on the Collegiate Gothic style, in order to maintain the uniform feel to the campus generally judged to be one of its great attractions. A key opportunity lies with the land in the South Valley site, south and east of the Arthur and Sonia Labatt Health Sciences Building. The development of that site, likely to occur over the next two decades, should emphasize the Thames River as a defining component of our campus, and include a signature building with a feature like the attractive tower on Middlesex College.
To ensure its future expansion, the University will vigorously defend the City of London's Regional Facilities designation, which protects the zoning of lands reserved for public facilities such as the University, hospitals, and educational institutions, for lands in our precinct lying west of Richmond Street. The University will use all means at its disposal, including its power of expropriation, if necessary, to ensure that this limited bank of Regional Facility land is not depleted. Our demand for land will continue to grow, as data for the last half century illustrates. The gross square meters (GSM) in University buildings grew from 34,000 in 1950 to 372,000 in 1970, to 633,000 in 2005. The average growth per decade was 109,000 GSM from 1950 to 2005, and 74,000 from 1970 to 2005. Our rule of thumb for coverage is 30%, so that on a hectare of land (10,000 square meters, or 2.471 acres), we would have a combined footprint for buildings of about 3,000 square meters. With our standard four-storey buildings, this allows for 12,000 GSM of space per hectare. Using the average growth per decade of 74,000 GSM from 1970 to 2005, we need about 6.1 hectares (15 acres) per decade to permit our growth. It should be noted that the buildings currently scheduled for completion from 2005 to 2013, as set out in our 2006-07 Budget, involve some 73,109 GSM.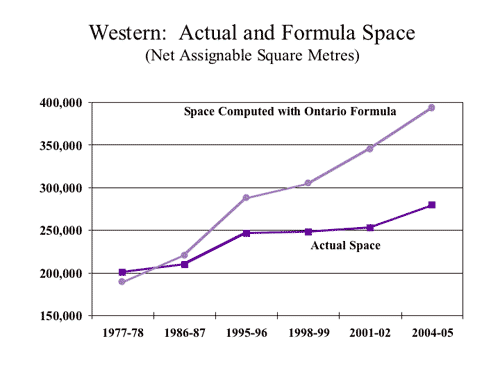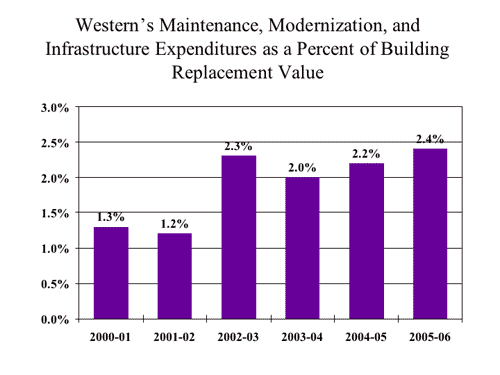 When universities run out of land, the options are generally not attractive: build high-rise buildings (abandoning our 4-floor Western model); dig space underground (expensive); eliminate central green space (part of Western's identity and to be preserved); purchase nearby residential or commercial properties and tear them down so the land can be used for University purposes (creating hostility within the surrounding community); or carve out pieces of the University to be implanted elsewhere (thus reducing the school spirit, the feel of a residential campus, and the ease of interdisciplinary study and research). For all these reasons, Western will continue to seek to protect the Regional Facilities zoning around us and to acquire land near our campus when it comes up for sale.
"At Western, academic life can flourish in a setting that ensures space for work and contemplation, safety, and personal security."
It is likely that the University will not construct additional student housing facilities in the foreseeable future. With the completion of the London Hall residence on Western Road in 2006, we will have the capacity to guarantee a space to all first-year undergraduate students and to offer a significant proportion of spaces in our undergraduate residences to upper-year students. We anticipate that the significant demand for graduate student housing implicit in our graduate expansion plans over the coming decade can be met best by the private sector. Western is working with the City of London and others to ensure awareness of this impending demand and opportunity.
Western is the largest neighbour in North London and has a special role to play in the neighbourhoods surrounding our campus. We have a vital interest in promoting the appropriate balance of student and resident housing in areas adjoining the campus. These neighbourhoods have told us of their concerns - that they feel under threat from substandard and potentially unsafe student housing, owned by landlords who often do not live in the neighbourhood or even in London. We must actively ensure that the areas surrounding the campus preserve their residential character, streetscape and amenities while continuing to provide affordable, well-maintained accommodations for our students within a balanced neighbourhood setting.
In committing ourselves to further reciprocal neighbourhood engagement, Western will respond to all rezoning and variance applications within 300 metres of the campus (the distance used by the City of London to notify neighbours of such applications) and will act in the best interest of the University and the neighbourhood involved. This will entail our advocacy of adherence to the City's Official Plan, which we will support in all cases, unless a Board resolution directs otherwise. As we are expanding, we must understand the reciprocal needs of our neighbours and community partners and work to ensure effective two-way communication and co-operation.
One part of our campus which may be unique in Canada is the 45 acres of land around Gibbons Lodge, including 20 acres which border Richmond Street and surround the President's residence, and 25 acres of bush and marshy land to the east. The latter area has trails cut through it and is now available to students and faculty for field work. Students have been placing tags identifying the species of some of the trees in the area. In 1993, the University sought to sell these 25 acres for development, but the land was too marshy and subject to environmental protection. Western should keep this land as a nature reserve for students and faculty, and not seek again in the future to sell it for development, even if a change in the condition of the soil were to make that possible.
Western will seek to be visible as a community leader. We will set an example wherever possible of responsible citizenship, including the area of environmental sensitivity and sustainability. The University is engaged in energy conservation activities on several fronts, including Energy Awareness programs across the campus, recycling, efficiency in building design, and a developing Sustainability initiative, which will have both academic and service components.
"Western is the largest neighbour in North London and has a special role to play in the neighbourhoods surrounding our campus."
In addition to an academic, social and cultural life that engages all members of the Western community with organizations, social services, and the commercial sector of London and the Southwestern Ontario region, the University has defined relationships with certain specific partners. Our environment as a university that stresses the quality of student experience is immeasurably enriched by the presence of our three Affiliated University Colleges, which combine the personal interaction which characterizes liberal arts colleges with a high value on scholarship and community involvement. Our educational partnerships also embrace Fanshawe College, with which we share a number of joint programs, including diploma/degree studies in the Faculty of Science, Media Studies, and Nursing. The establishment of the Sarnia Research Park has pointed to possibilities of increased interaction with Lambton College. We also have close links with local and regional school boards, through both our recruitment initiatives and the involvement of faculty and students from Western's Faculty of Education. Expanded partnerships such as the Schulich School's collaboration with the University of Windsor to broaden opportunities for medical education have a significant regional impact for Southwestern Ontario.
The City of London has taken an active interest in Western for more than a century, supporting the University financially and providing vital infrastructure for our growth and development. Many of our faculty, staff, students, and alumni live in this community. We share in many events and occasions, including the Canada Summer Games in 2001, the Congress of the Humanities and Social Sciences in 2005, the University's 125th Anniversary and the City's 150th, the outreach provided by Continuing Studies in Galleria London, the University Research Park, and the Southwest Economic Assembly to be held in May 2006.
Western is an integral factor in London's realizing the aspirations articulated in the 2005 report of the Creative City Task Force. The report recognized the University as a tremendous cultural resource for London and this region, a magnet for educated, creative and innovative people, and a significant influence in promoting community diversity. As a medium-sized city with a major international university, London is ideally positioned to fulfill its dream to be a "creative city."
Our Commitments:
Western will maintain the beauty of its campus, protect the Regional Facilities designation of adjoining land, and be a good neighbour and strong partner in economic development in London.

The University will:
10.1 - Draft a new Campus Master Plan by the end of 2006, which protects the beauty of the campus and continues the emphasis on Collegiate Gothic architecture. The South Valley site should include a signature building and a configuration that emphasizes the Thames River as a defining aspect of the University.

10.2 - Protect the "Regional Facilities" designation of properties in the areas adjoining the campus to ensure the availability of land for academic and Regional Facilities purposes long into the future.

10.3 - Retain the current Gibbons property under University ownership, keeping the 25 acres on the east side of the property as a nature reserve, accessible to students and faculty for teaching and research.

10.4 - Articulate strong University positions in support of the City of London Official Plan on applications for zoning changes in adjoining neighbourhoods.

10.5 - Increase our commitment to conservation and the environment, in areas such as land use, power consumption, recycling, and sustainability in general.

10.6 - Work collaboratively with the Affiliated University Colleges, Fanshawe and other Community Colleges, Robarts Research Institute, Lawson Research Institute, and other academic partners. We shall seek to capitalize on the unique opportunities that these partnerships provide in our joint pursuit of excellence in education and research.

10.7 - Work with local and regional organizations and companies to promote economic development in London and Southwestern Ontario.

10.8 - Capitalize on Western's ability to serve as a resource in the cultural, artistic, and social life of London and the region.
[previous section | back to top | next section]