Engaging the Future
Draft Report of the Task Force on Strategic Planning
June 22, 2006
2. Enhancing the Undergraduate Student Experience
Surveys of student and alumni satisfaction, whether conducted by the media or by the University, consistently indicate a very high level of satisfaction with the student experience at Western. This is a tribute to the commitment of our faculty and staff and reflects the broad-based approach to intellectual, social, and personal development that characterizes student life at Western. We seek to provide our students with a preparation for their future lives, which involves education, training, and sensitivity to issues of ethics, social justice and the individual's responsibilities to a larger society.
A significant component of the high level of student and alumni satisfaction is the strong interaction among students, faculty, and staff and the feeling of students that faculty and staff take a personal interest in them. Maintaining that interaction will set limits on the future growth of the University at the undergraduate level. As our previous Strategic Plan, Making Choices, noted, we are already a very large undergraduate institution, currently with some 29,000 full-time equivalent undergraduate students, including some 5,500 at the Affiliated University Colleges, all of whom receive Western degrees. We follow the spirit of Making Choices by setting a target of 4,350 for first-year undergraduate admissions over the next decade, as part of preserving the special nature of a Western undergraduate degree. The University will, however, continue to grow, through research, graduate students, and post-doctoral fellows.
Our campus contributes directly to the best student experience, with its excellent residences, beautiful academic buildings and landscape, and outstanding fitness, sport, and recreational facilities. Its relatively compact nature makes possible easy interaction among students from different Faculties and promotes a strong sense of community. To keep our recruiting strong, we will also maintain our Western guarantees of a first-year residence room, course choices in first year, and financial support.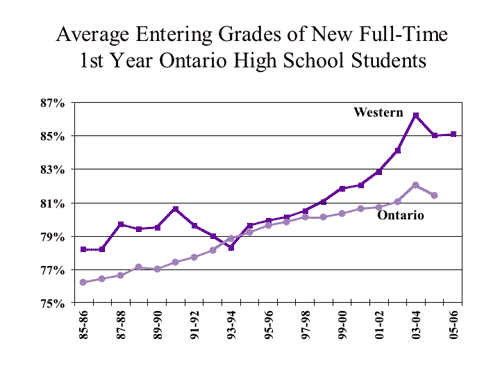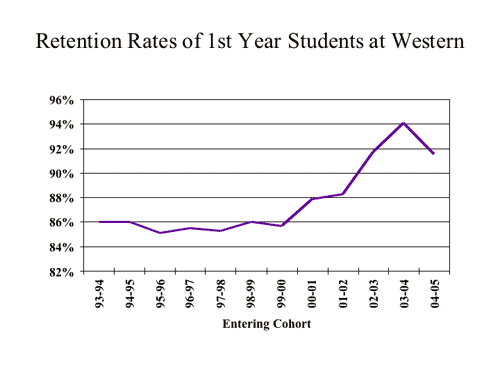 Western graduates are engaged citizens. That engagement is fostered through a University environment that provides opportunities for each student's active participation in all dimensions of the learning process. These include involvement in student government, over 150 student organizations and clubs, course-based and extracurricular activities with community organizations and social service agencies, residence learning programs fostering a supportive out-of-class environment, programs in the Centre for New Students, and opportunities for activities involving health, recreation and sports, and voluntarism. Western students develop a sense of personal and public purpose that is both satisfying to themselves and beneficial to their communities. We believe this level of engagement is a key to their satisfaction with their experience as students at Western.
In the spring of 2004, Western, along with seven other Canadian universities, participated for the first time in the National Survey of Student Engagement (NSSE). This survey permitted comparison of our student experiences with over 500 participating universities in Canada and the United States. NSSE is not a survey of student satisfaction. Rather it asks students to describe what it is they are doing inside and outside of the classroom: involvement in community-based practica; frequency of asking questions in class and meeting one-on-one with professors; working on group projects with fellow students; research project and study-abroad opportunities; and involvement in campus activities unrelated to a specific program of study.
These first NSSE results indicated a significant gap between Canadian universities and their U.S. counterparts. In particular, Canadian universities, including Western, fared poorly in the benchmark areas of "student-faculty interaction" and "enriching educational experiences." These differences are largely resources based: US public universities have more resources per student and a lower student-faculty ratio. If, as planned, increases in Provincial funding allow Ontario's universities to reduce the student-faculty ratio, we at Western should be able to provide increased student-faculty contact and interaction by expanding coursework and other academic activities that encourage vigorous engagement of our students in their educational experience.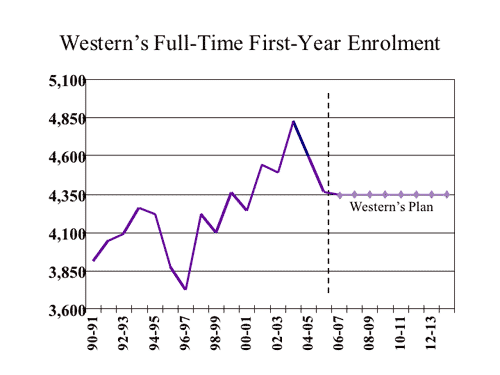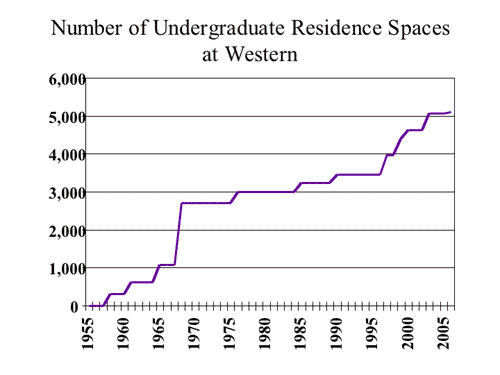 While much is already being done to implement programs that increase direct student engagement in learning, even more is required both inside and outside of the classroom. We must monitor our progress towards this goal closely, rigorously reviewing our undergraduate programs on a regular basis to ensure that they are achieving the desired outcomes. The University should also capitalize on all venues to enhance the total student experience, including opportunities to participate in research activity across the disciplines and to become engaged in service learning projects which take them into the community and provide valuable experience and perspective on social issues. It is also important to consider the health and activity of our students. In addition to recreational facilities and opportunities, Western's Intercollegiate Athletics program produces over 100 Canadian Interuniversity Sport Academic All-Canadians each year, one of the highest number in Canada of these outstanding student-athletes. The University is committed to supporting both our campus recreational and intercollegiate athletics programs as a resource for our students and a catalyst for alumni, who have made Western's annual Homecoming the largest in Canada and find this as one means of remaining engaged with the University.
"In order to provide the best student experience, we must offer the best environment for student learning."
Western should take better advantage of the modular character of our 'New Academic Choices' undergraduate program design to offer a greater range and variety of interdisciplinary study. We must recognize the complexities superimposed upon such efforts by our current Faculty administrative structures, and seek meaningful ways to ameliorate these unintended consequences. We will encourage, support, recognize and reward the efforts of faculty and staff who take a pan-University view of undergraduate education. We will assist them in their efforts to create well-integrated programs, with both depth and breadth, which draw upon intellectual and capital resources from many different parts of the academy. Such programs are not only wonderful educational experiences for our students, but they can also bear the seeds for successful research collaborations amongst participating faculty. Greatly expanded initiatives are needed in career and employment counseling and services, areas of responsibility that involve the central University, individual Faculties and Schools, and our alumni. We must also reaffirm our commitment to the provision of professional undergraduate programs, ensuring their ongoing success within an increasingly competitive marketplace.
In order to provide the best student experience, we must offer the best environment for student learning. This calls for innovative approaches to the integration of classroom and laboratory work with the larger scholarly and social communities through engagement in research, service learning and field projects away from the campus, and by the creative use of opportunities presented by technology. Increasingly, traditional face-to-face instruction is augmented with a broad spectrum of on-line instruction, field projects, and service learning experiences. It is imperative that we provide support for faculty and staff to integrate the new technologies and learning methods into the curriculum and that we be aware that successful integration of technology and off-campus experience requires the educator to reconceptualize where, when, and how learning occurs most effectively.
Another aspect of student engagement can be seen in the degree to which Western reflects our broader social landscape. We derive cultural richness and strength from the diversity of our recruitment of students from traditionally under-represented groups, at both the undergraduate and graduate levels. We should pay particular attention to the recruitment and support of Aboriginal students from within our geographical area and beyond. The First Nations Studies program in the Faculty of Social Science is a strong academic step in this direction. The newly-initiated program for support of Aboriginal students in the Faculty of Health Sciences is another project with attributes that could be emulated in other disciplines.
Our Commitments:
Western will build on its strong record of student satisfaction by increasing student engagement in courses and learning outside of the classroom.

The University will:
2.1 - Maintain its current target of 4,350 first-year undergraduates per year for the next decade.

2.2 - Develop special initiatives for the recruitment and support of Aboriginal students.

2.3 - Maintain the Western guarantees with regard to a first-year residence room, choices for first-year courses, and our financial commitment that no undergraduate student will be denied access or the ability to complete a degree because of financial need.

2.6 - Support and facilitate development of programs that integrate classroom study with community engagement and service. This will include a special role for the Teaching Support Centre in identifying best practices at Western and promoting their wider use.

2.7 - Emphasize the importance of broad experience outside the classroom for all our students, recognizing that these activities build the leadership capacity which characterizes Western graduates.

2.8 - Expand student opportunities for cross-disciplinary study by increasing the numbers of interdisciplinary programs, niche programs for high-achievers, and concurrent degree and degree/diploma programs.

2.9 - Expand study-abroad opportunities for our students in conjunction with our aspirations for Internationalization.

2.10 - Establish an improved framework for student career counseling, involving central University resources, expertise and professional contacts within the Faculties and Schools, and Western's extensive network of alumni.

2.11 - Bolster our undergraduate program review process as a means of ensuring the best possible learning outcomes for our students.

2.12 - Use ongoing involvement in NSSE to establish additional benchmarks for performance in student-related activities and services and measures of Western's success.
[previous section | back to top | next section]