Engaging the Future
Draft Report of the Task Force on Strategic Planning
June 22, 2006
9. Institutional Advancement
"Advancement" is a term used by universities to describe a range of related activities. In addition to alumni relations it includes fundraising, community relations, institutional communications and brand identity. While Western has integrated these functions under the Vice-President (External) portfolio, all in the Western community - faculty, staff, students and alumni - have a role in building the University's engagement with our external constituencies on a local, provincial, national and international level.
Western's institutional advancement efforts are set out in a context of increasingly complex issues, including:
Globalization - the move of corporate philanthropic decision-making that was once the purview of a Canadian operation to new parent companies that seldom have an appreciation for the importance of supporting post-secondary education. Further, our alumni are more mobile and receptive to career opportunities outside Canada resulting in increased effort and cost to reach them.
Competition - the continued proliferation of charitable and not-for-profit organizations (some 161,000 in Canada) and the demand for funds that these organizations are placing on prospective donors. There is a growing sophistication in fundraising by charities and not-for-profit organizations. Competition also exists in terms of Western's ability to attract media support and public recognition. Major Canadian universities now allocate significant resources to develop and promote their "brands" through advertising and media outreach.
Government - New privacy legislation has required added scrutiny to the collection and maintenance of alumni and donor records. Heightened government and public accountability require new demands in terms of financial reporting and transparency. The continued growth of matching donation programs (e.g. Canada Foundation for Innovation, Ontario Trust for Student Support, Ontario Graduate Scholarship Program) has a significant impact on institutional fundraising priorities.
Alumni/Donor Characteristics - Increased cultural diversity among students/ alumni will require more awareness around the importance of volunteering, alumni engagement and philanthropy, particularly from those cultural groups where philanthropy traditions are not the norm. Growing donor sophistication, particularly among corporations, foundations and major individual donors, requires increased work in negotiating gift agreements and demonstrating accountability for those agreements. Donors want increased involvement in their gifts and control over how they are used and alumni want more value-added program and service offerings from their alma mater. Increased levels of student debt have the effect of delaying alumni donations until later in life.
Technology - More of our alumni and other donors are using technology to facilitate their charitable giving and institutional relationships. Our business processes and technology infrastructure must be adapted to reflect this fact.
Community Engagement - The Western community has clearly embraced the requirement for institutional advancement and there is a need to continue to foster our involvement. Western has a long tradition of involvement and support from the City and residents of London and we will continue to build on the mutual benefit that comes from a strong City-University relationship.
Volunteer Recruitment and Retention - Similar to the competition for donors is the competition for skilled volunteers willing to participate in governance, alumni and fundraising roles. The total number of volunteers in Canada is decreasing as is the number of hours they contribute. There is a need to be more strategic in the use and deployment of our volunteers and a need to identify a new generation of volunteers to steadily replace those who have given of their time and skills.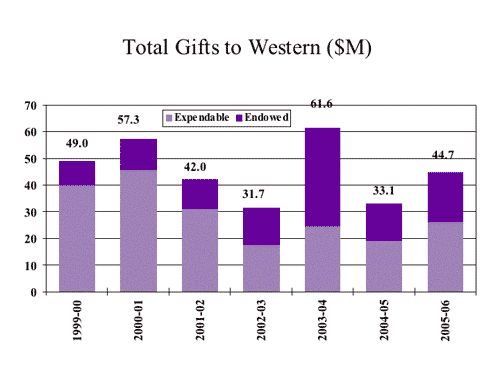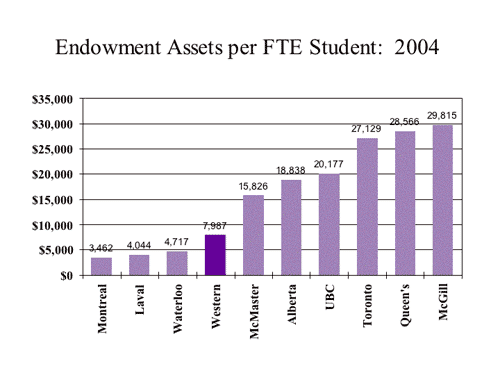 "...all in the Western community - faculty, staff, students and alumni - have a role in building the University's engagement with our external constituencies..."
Private donations are vitally important to Western and will continue to play a major role in the University's financial future. During the past 10 years, the University has generated in excess of $500 million from private sources. Campaign Western generated $326 million during 1999-2004 against a target of $270 million. The Campaign also helped attract government matching funds in excess of $150 million. Following the Campaign, the Board of Governors, in accordance with Making Choices, set an annual fundraising objective of a minimum $40 million. That effort is on track.
Despite these encouraging results, Western remains at a comparative disadvantage to other universities when it comes to the level of its endowment. Together, the University and Foundation Western's combined endowments amount to more than $200 million as of 2005, tenth among Canadian universities.
Western's next major institution-wide Campaign is to commence in May 2007. It is expected that the public phase of the Campaign will be launched in fall 2009 and conclude by 2013.
Our Commitments:
Western is committed to pursuing excellence in all its external relations activities: alumni relations, fundraising, community relations, and communications and public affairs.

To achieve these objectives, the University will:
9.1 - Implement the next major institutional fundraising campaign for 2007-2013 based on approved academic and research priorities.

9.2 - Increase the level of endowed funds, in partnership with Foundation Western, to provide for long-term financial stability and independence for Western.

9.3 - Enhance the use of technology to solicit, receipt and recognize donations through progressive e-commerce strategies.

9.4 - Be a leader in the provision of donor stewardship and recognition.

9.5 - Maintain a unified approach to University institutional advancement, while encouraging participation at the Faculty level and among various support units.

9.6 - Increase opportunities for Western's faculty, staff and students to become engaged in institutional advancement activities and to equip them with the knowledge and skills to do so.
[previous section | back to top | next section]