Engaging the Future
Draft Report of the Task Force on Strategic Planning
June 22, 2006
8. Alumni Engagement
Western's more than 210,000 alumni are highly respected and valued members of the University's broader community and are key partners with the faculty, students and staff in helping fulfill the University's mission. Western's alumni consistently demonstrate strong loyalty and outstanding support for the University. This support is reflected in personal financial donations, expressed satisfaction with their educational experience as evidenced by recent polls, and by significant participation in University events and activities such as the annual fall Homecoming weekend. Alumni serve in and are recognized for their contribution to important governance roles with the Board of Governors, Senate, Foundation Western and the Alumni Association. Hundreds of alumni are active volunteers with our branches and chapters, various Faculties, in fund raising efforts, as student career mentors and as highly credible ambassadors of Western across Canada and around the world.
"Western's alumni consistently demonstrate strong loyalty and outstanding support for the University."
This degree of alumni engagement with their alma mater is unusual, creating a host of mutually beneficial relationships. A large number of graduates are attracted to life-long learning opportunities made available through the Alumni Association. Many return to campus as mature students, their children and grandchildren are encouraged to attend as students and more than 1,000 alumni are staff and faculty employees of the University. Given the close engagement by many alumni, it is not surprising that they regularly influence outstanding students outside their families to choose Western for post-secondary education. In short, Western's alumni make up one of the single most powerful contributors to its positive and growing reputation.
Western's alumni are represented by the University of Western Ontario Alumni Association, recognized as the official voice of all Western graduates. Led by a volunteer board of directors elected by alumni, the Association acts as a catalyst for building a vigorous alumni network across Canada and in the many other countries where graduates live and work. The Alumni Association encourages and supports establishment of a growing number of alumni branches and chapters, which offer contacts among alumni in widespread geographical locations, within Faculties and through special interest groups.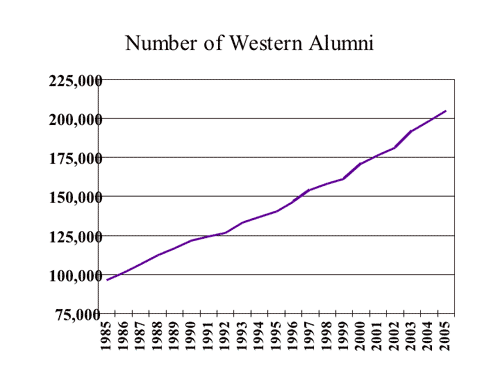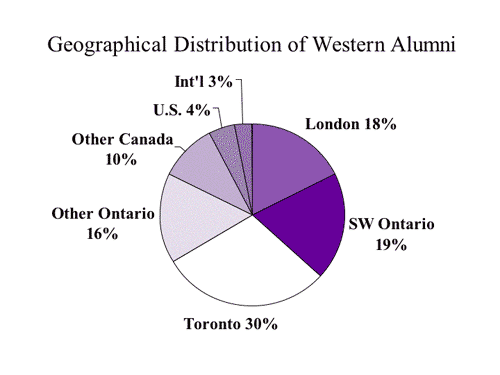 The Alumni Association has a long history of close collaboration with the University and will continue to encourage and support roles by alumni in key areas, including:
Advocating increased priorities for support of post-secondary education, particularly for improved public funding.
Providing feedback and expertise on University policy issues and program matters.
Supporting student recruitment and transition through and from student life, and employment placement activities.
Promoting understanding between the University and the broader community on issues of common concern.
Providing critical financial investment in the University's future.
Over the coming decade, it is anticipated that the number of Western alumni will grow by 60,000 to a total of approximately 275,000 alumni. These steadily increasing numbers will create a larger and more potent base for support of the University. This larger number will also require an increased investment in Alumni Relations, particularly to ensure effective communications with more graduates through the use of state-of-the-art technology.
Our Commitments:
Western is committed to maintaining a degree of alumni attachment to the University second to none in Canada.

To achieve this objective, the University will:
8.1 - Support the efforts of Alumni Relations to facilitate improved and ongoing communications with the alumni population (e.g. through increased use of electronic technology, the potential for introduction of a life-long University e-mail address).

8.2 - Assist in expanding programs to build life-long learning opportunities for Alumni through the use of electronic technology (e.g. webcasts of the popular Senior Alumni Lecture series; access to electronic library resources).

8.3 - Encourage and support a significant role by the Alumni Association in the provision of career development and mentoring services for students and young alumni as they make the transition from school to employment.
[previous section | back to top | next section]