Engaging the Future
Draft Report of the Task Force on Strategic Planning
June 22, 2006
3. Graduate Expansion and the Graduate Student Experience
All Ontario universities are now competing for highly qualified graduate students. In order to attract the best students, we must offer programs and services for graduate students that are second to none in Canada. We shall consider all aspects of graduate student life that can be enhanced through a work, study, and research environment that is supportive academically, financially, professionally and personally.
"Students choose a university for graduate study based on the quality and breadth of its programs, the opportunity to study with distinguished faculty, and the availability of competitive levels of financial support."
Making Choices called for a significant increase in Western's graduate student population, particularly at the PhD level; in fact, our doctoral enrollment grew by over 60% in the five years from 2000-01 to 2005-06. This growth was realized during a period when Provincial operating grants for graduate growth were highly constrained by the government's higher priority for undergraduate growth to accommodate the double cohort. The Reaching Higher plan, announced in the May 2005 Ontario Budget, has now shifted the priority toward graduate enrollment. This change in policy was the response to the report of a Council of Ontario Universities task force chaired by Western's President and a series of reports from the Institute for Prosperity and Competitiveness. They pointed out that Ontario lags far behind other jurisdictions in the number of Masters and PhD graduates produced each year, and that this deficit has a significant effect on the province's intellectual productivity. In the 2005 Budget, the Province made a very significant commitment to graduate expansion: $220 million in annual operating grants in support of 14,000 new spaces by 2009-10, an increase of 50% over 2002-03 levels.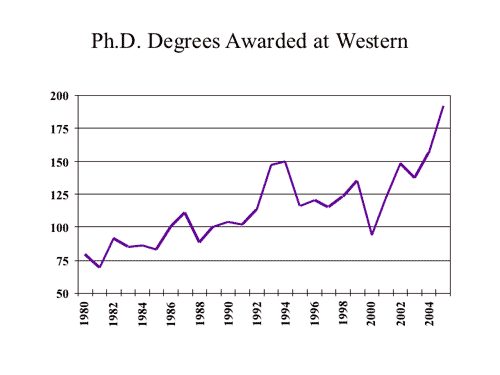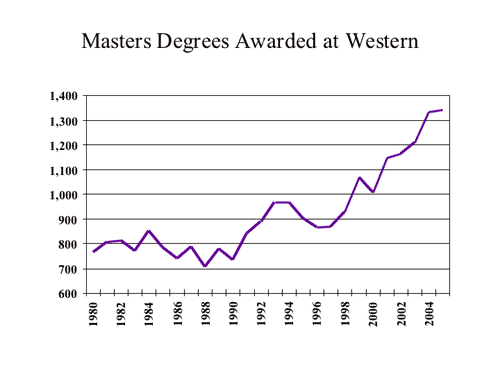 Students choose a university for graduate study based on the quality and breadth of its programs, the opportunity to study with distinguished faculty, and the availability of competitive levels of financial support. Western shall attract the numbers of outstanding PhD and Masters students needed to meet its graduate enrollment objectives by ensuring that all three of these criteria are met. By meeting these criteria, we shall also increase the percentage of Western graduate students who complete their programs successfully and in a timely manner. Western will assess enrollment goals and capacities of established programs, and continue to develop, where appropriate, the five-year direct-entry PhD option, which will attract the best baccalaureate-prepared students directly into the doctoral stream. Programs will also ensure that the graduate courses required to fulfill program requirements are of the highest quality, providing both depth and breadth. The regular offering and assessment of these courses, and recognition of those who teach them, is also an essential part of ensuring graduate education of the highest calibre. In an institution of international stature, particular attention is necessary to the recruitment, retention and support of an increasing number of international graduate students. These students enrich the life of the University through the diversity of their backgrounds and perspectives. We also acknowledge the vital contribution of our professional graduate programs to the spectrum of academic life at Western and will ensure that these students are supported in every way needed to be successful.
Over the past five years, the majority of growth in graduate enrollment has occurred in new programs. Three-quarters of the enrollment increases at the doctoral level occurred in newly developed areas where no previous PhD programs were offered. We shall continue to develop new programs that capitalize on existing and emerging academic strengths and contemporary scholarship. Many of these will be truly interdisciplinary, offering significantly expanded opportunities for collaborative research and teaching for both faculty and students.
We recognize the very important role played by Graduate Chairs or their equivalent in shaping and administering our graduate programs. They must be provided with the technical knowledge and administrative support required to be successful in this arena. A cornerstone of the successful graduate student experience is the interactive quality and immediacy of faculty supervision. The supervisory model necessarily varies by discipline. Within that framework, Western's goal is to provide mentoring strategies and "best practice" workshops that assist faculty in developing their supervisory expertise. Faculty must also find the intellectual investment in graduate supervision to be personally and professionally rewarding, and receive appropriate acknowledgement for this activity as part of their overall responsibilities.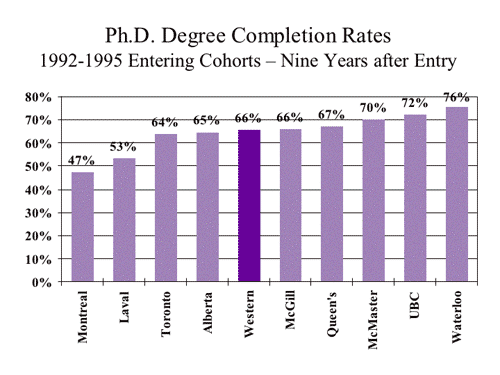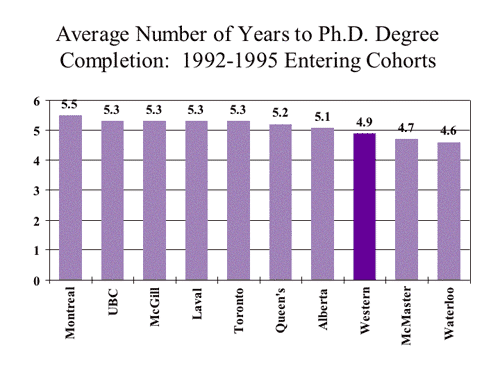 Western's program of financial support for graduate students is very competitive across Canada but we must take steps to ensure that its features are widely known and well understood, and that the funding levels continue to remain attractive. A minimum guarantee of $12,000 plus tuition costs for doctoral students is currently in place. In fiscal year 2005, average support per doctoral student recipient from all sources exceeded the minimum level in all discipline areas, on average totalling more than $25,000. For students at the Masters level, average funding of students in thesis-based programs was over $19,500.
Preparation for professional life following graduation is a vital component of the graduate student experience. We must ensure that the breadth of graduate student life includes career counseling and mentoring in areas such as CV preparation, integration into professional associations or societies, networking, and project management skills. Many of our graduate students pursue careers outside of the academy, seeking engaging and satisfying employment in a full range of professions and other areas. Western's objective is to provide all of our students with valuable competencies and perspectives necessary to capitalize on a wide array of career choices.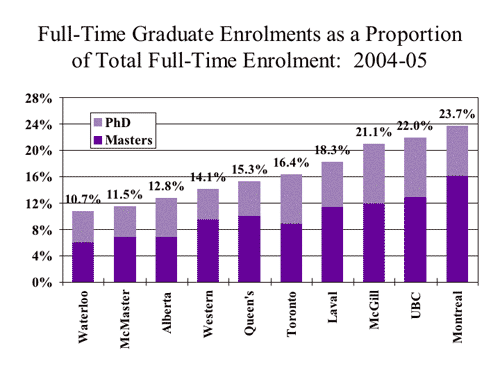 Our Commitments:
Western is committed to providing Canada's best graduate student experience.

The University will:
3.1 - Double the number of PhD students and significantly increase Masters-level students at Western from the base-line of 2000-01 by 2010-11, and continue a strong rate of graduate expansion thereafter.

3.2 - Stimulate recruitment through ensuring and promoting the quality and value of Western's graduate programs. We will make special efforts to attract award-winning students by engaging and supporting faculty members to be the leaders of this process.

3.3 - Ensure competitive levels of graduate student financial support from internal and external sources.

3.4 - Evaluate and reform the contents, structures, outcomes and milestones of Western's graduate programs through enhanced program self-study as part of the Ontario Council on Graduate Studies (OCGS) review cycle.

3.5 - Ensure effective communication and coordination across the University in all aspects of graduate education and encourage Deans to build the graduate student community within all their Faculties.

3.6 - Improve access to, and consistency of, application, financial, and program information, with special emphasis on web-based delivery.

3.7 - Provide enhanced mentorship opportunities for graduate supervisors and graduate program chairs, and ensure familiarity with the application processes for external awards among students of all disciplines.

3.8 - Facilitate and support interdisciplinary and cross-University engagement in the development of new graduate programs.

3.9 - Ensure that space and facilities are appropriate for increased numbers of students in both new and established graduate programs.

3.10 - Enhance professional development and career services for all graduate students.

3.11 - Monitor our progress through the continued benchmarking of graduate student aid, completion rates and time-to-completion, and graduate student satisfaction.
[previous section | back to top | next section]