Engaging the Future
Draft Report of the Task Force on Strategic Planning
June 22, 2006
5. Internationalization
A part of the competitive environment facing Western is the growth of internationalization in research and in undergraduate and graduate studies, which reflects the growing importance of the international economic and social condition. Our students seek and benefit from international experiences, a curriculum with a strong international component, and a campus with international students in the classrooms and residences. Our faculty often require international collaboration to achieve their goals in research. Western must respond to this environment by actively encouraging internationalization in education, student mobility, and research.
Any university aspiring to international recognition and stature must demonstrate an international perspective and a global commitment.Western has identified areas (France, India, Mexico, China, the Caribbean Basin and Africa) of specific focus for: initiatives in the areas of collaborative research projects; student recruitment at both the undergraduate and graduate levels; development of exchange and study-abroad programs; and opportunities to engage in international development activities.
The international community of scholarship makes interaction among researchers within nearly all disciplines an academic imperative. In many areas, this interaction is achieved by sharing ideas through publication, communications technology, and international conferences. It also flourishes in research collaborations with institutions having similar research interests and capacity. Western has established an International Research Fund, to which application may be made for support of both discipline-focussed and interdisciplinary research.
Western is also enriched by the cultural and personal diversity provided by an international faculty, student, and staff community. Members from abroad bring to the University a rich variety of heritage, tradition, culture, knowledge and perspective. They also bring a commitment to scholarship, academic expertise, and an ability to extend Western's influence and prestige into other areas of the world. A comparatively small number of Western students are presently involved in a variety of student exchanges and study-abroad programs.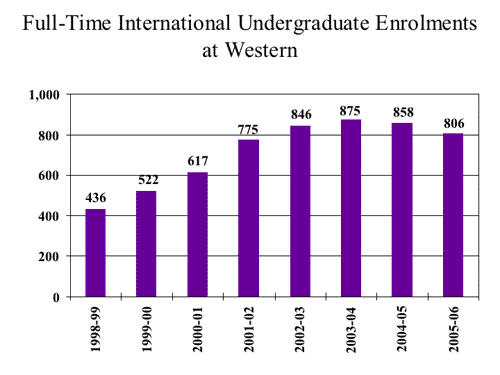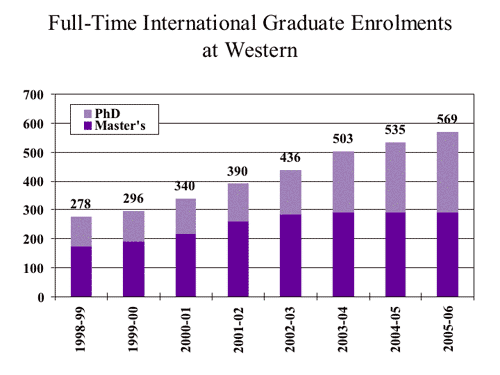 We also need to make progress in creating an international curriculum. Currently, Western has few undergraduate degree programs focussing specifically on international topics. A broader international perspective in the curriculum would enhance student awareness of cultural, social, economic and environmental issues in a global context and stimulate their interest in opportunities to study abroad. The University must be seen as an academically attractive and socially welcoming destination for international students considering study outside their home countries. Recruitment of outstanding students should be a proactive process, with a focus on key regions in which Western will be competitive and the cultivation of links with the schools in those regions most likely to produce potential students. In order to realize our aspirations as an international research university, we must attract students who, even as undergraduates, will become interested in pursuing graduate study at Western. The University's principal international recruitment efforts will be focused on students at the graduate level. As efforts to recruit international students become more successful, it is also important that appropriate social, personal and economic support systems are in place to ensure their success at Western. International graduate students deserve special attention in this regard.
"Any university aspiring to international recognition and stature must demonstrate an international perspective and a global commitment."
Western occupies a position of privilege in the international academic community, and should be active in pursuing International Development Opportunities. Western students, staff and faculty have become involved in humanitarian activities, such as the Western Heads East project, in association with the Lawson Health Research Institute, focussing on developing community-based AIDS management strategies in East Africa. Other ongoing projects include Engineers Without Borders; the Canadian International Development Agency (CIDA)-funded Violence Project in collaboration with the University of Costa Rica; the Schulich School and Faculty of Health Sciences project for education and training of health care professionals in Rwanda. International development activities provide ways in which Western can contribute its scholarship and commitment to social justice in the broader global community.
Our Commitments:
Western seeks to give its students an education that will prepare them to live, work and actively contribute within the international economy and society. We will also support our faculty in conducting international research.

Our community will:
5.1 - Recognize and reward faculty members' investment in international research projects and enable them to fulfill their aspirations and objectives through access to programs such as the International Research Fund.

5.2 - Establish a Visiting Faculty Program, with travel and accommodation provided to visitors whose scholarship and distinction will contribute to and enliven the Western academic community. This program should include reciprocal Visiting Faculty positions at selected partner universities abroad.

5.3 - Significantly increase the number of Western students involved in exchange and study-abroad programs, international co-op and work placements, and other international experiences.

5.4 - Develop graduate programs that include short-term study-abroad and research opportunities for both Western students and those from abroad spending time here; and through double-degree programs established with a select number of institutions abroad.

5.5 - Increase the international content of undergraduate and graduate programs through the incentive of the Course Internationalization Fund.

5.6 - Establish an International Centre on campus, to serve as a central location for international student services, counseling and referrals, and to be the focal point for cross-cultural activities.
[previous section | back to top | next section]