Engaging the Future
Draft Report of the Task Force on Strategic Planning
June 22, 2006
6. Faculty Recruitment and Retention
Faculty members create the research and teaching environment that defines the University and embody its values through their scholarship and their interaction with colleagues, students, and the community. As Western seeks to replenish and increase its faculty base over the next decade, we will be guided by the Academic Plans of the Faculties, Departments and Schools in determining the numbers and areas of appointments to be awarded. In addition to investing in established areas of excellence and priority, the University will also pay attention to the development of interdisciplinary capabilities. We will seek faculty whose talents, abilities and interests will lead them to cross Faculty and departmental boundaries in the pursuit of their teaching and research.
We want Western to be the University of choice for outstanding faculty. Western should be a place where all new faculty members can build satisfying and rewarding careers and current faculty can see their careers flourish. Levels of compensation must be competitive across the faculty ranks. Likewise, Western's commitment to the student experience must engage the enthusiasm and innovation for which our faculty members are known. Facilities and funding should also support the research aspirations of faculty members. The $230 million space plan announced by the Provost in February 2006, and now approved in principle by the Board, is one step towards enhancing Western as an attractive place for faculty, staff and students to work, study and interact, in both formal and informal settings.
"We want Western to be the University of choice for outstanding faculty."
The demographic pattern of current faculty across North America and the growth in undergraduate and graduate enrollments have created a highly competitive environment for attracting the best colleagues to Western. In response to this trend, Western has established an Office of Recruitment and Retention. Its staff focus on: providing a best-practices guide for appointment committees; giving assistance to spouses and partners of prospectivefaculty in securing employment in London and the surrounding region (including, for academic couples, at the University); providing assistance and advice to prospective faculty on non-academic issues such as access to health care, elder care, child-care, legal services, schooling, housing, and other matters relating to the transition to the London area; and advising prospective faculty from outside Canada on the process for obtaining immigration and work authorization approval.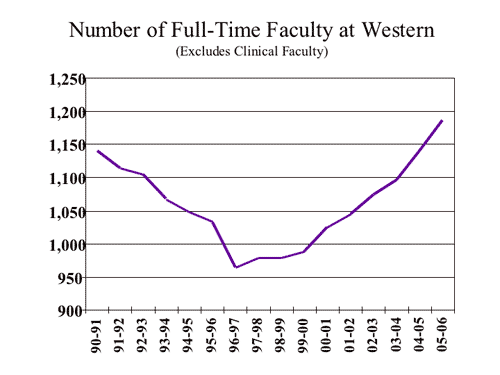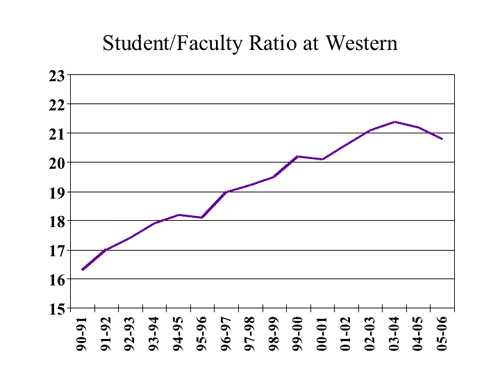 Western has also taken other specific initiatives in support of faculty recruitment: the expansion and redevelopment of an on-campus child care facility with spaces reserved for the children of faculty members; and an on-campus family medical practice that allows new faculty and their families access to a family physician. In keeping with this family orientation, the University and the Faculty Association have also developed a system of employer-paid benefits that provides paid parental leaves for faculty members. In May 2006, the Board also approved a "cost-sharing" arrangement to support the hiring within the academy of highly qualified spouses and partners of prospective faculty members.
Historically, women have been under-represented in Western's faculty ranks, both in their overall number and in senior faculty and academic administrative positions. The University has instituted initiatives to recruit and retain women faculty, particularly with a program that provides 50% of the first year's salary of a new female faculty member from the central operating budget. We have also recently completed a process of correcting gender-based faculty salary anomalies; vigilance is needed to ensure that new anomalies are not created in future.
Particularly in the case of female faculty, it is important to support career development with active mentorship programs. This becomes particularly significant in the promotion process to Professor, where comparatively few mentors may be available within a particular Department or Faculty. Guidance and counsel will often clarify the ambiguities of the academic career path, and we should capitalize on the willingness of experienced senior faculty to share their knowledge in this area.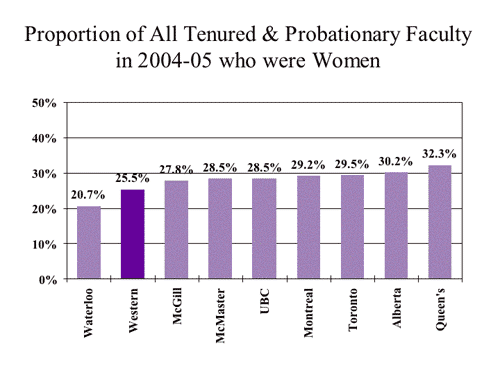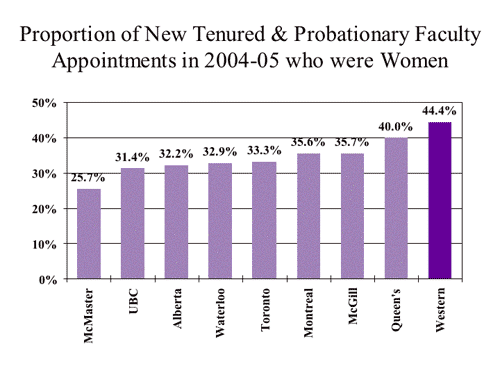 Western must also strive to foster the ambition and develop the skills of our faculty to become the academic leaders of the future. While "succession planning" in an academic environment is not always easy or appropriate, it is important to nurture leadership abilities amongst those colleagues who are both able and willing to provide such service, and to respect those who make such contributions.
Our Commitments:
Western's faculty members have built the reputation of Western as an institution providing an outstanding student experience within a scholarly environment of internationally renowned research.

To support their efforts, the University will:
6.1 - Invest in the resources that faculty need to do their work, so that Western is able to recruit and retain outstanding colleagues. Those resources include competitive compensation, space and laboratories, an excellent library, effective and available information technology, and a safe, attractive, family-friendly campus.

6.2 - Increase the number of women among newly-recruited Probationary/Tenured faculty; increase the retention of the women faculty we do recruit; and promote a career balance that ensures that service responsibilities carried by women to maintain gender equity are not greater than for men.

6.3 - Ensure an appointment process that is sensitive to all under-represented groups, so that all who apply for faculty positions feel welcomed and supported. All appointments committees shall be made fully aware of their obligations to seek out candidates across as broad a spectrum of potential applicants as possible.

6.4 - Provide academic leaders (Chairs, Graduate Chairs, Directors, Associate Deans and Deans) with clear outlines of their administrative roles and responsibilities, and the training to perform these roles successfully; and ensure support for colleagues with the potential and willingness to consider such roles in the future.

6.5 - Maintain the enthusiasm and commitment of mid-career faculty members by recognizing their teaching and research activities; rewarding the experience and knowledge they bring to collaboration, counsel and mentorship of younger colleagues; and better supporting their overall contribution to the life of the University.
[previous section | back to top | next section]