Sport Management News at Western
IMPORTANT
Western University updates on COVID-19

The health and safety of our campus is a shared responsibility. We must take thoughtful and persistent steps to take care of ourselves, each other, and our community. If we all do our part and take precautionary measures, we work together to create a safer and healthier Western community. For ongoing updates from Western, please visit https://www.uwo.ca/coronavirus/.
July 2022
Interview Series: Talk with Western alumna Dr. Nancy Quinn

Dr. Nancy Quinn graduated from the Western Kinesiology doctoral program in 2020. She is currently working as a Postdoctoral Fellow at Western University and teaching a course on medical issues in sport. Nancy is a passionate advocate of sport and recreation opportunities for people of all abilities. She is a licensed physiotherapist and has served as the Chief Therapist for Team Canada at the 2002 Paralympic Games in Salt Lake City, the 2006 Paralympics in Torino, the 2008 Paralympics in Beijing, and the 2012 Paralympic Games in London.
Western Sport Management had a chance to catch up with Nancy and learn about her experience in the doctoral program as a mature student, how she has navigated her Postdoctoral research work and teaching during the pandemic, and her advice for current and prospective graduate students, and particularly mature students who may be interested in graduate work. Click here to watch the interview.
Prof. Doherty and colleagues pen a SIRC blog on sport environments
Prof. Alison Doherty and Western Sport Management alumni, Prof. Eric MacIntosh (PhD, 2007) and Dr. Shannon Kerwin (PhD, 2010) have published an article for the Sport Information Resource Centre (SIRC) titled, "'I feel (un)safe when…': What athletes have to say about high performance culture." In their article, the research team presents its findings about Canadian high performance athletes' perspectives on safe and unsafe sport environments, as well as recommendations for change. Athletes identified coach behaviour, teammate or fellow athlete behaviour, lack of resources, and an inattentive sport system as key factors contributing to unsafe sporting environments. Implementing initiatives to target these issues can support the shift to a safer sport environment (e.g., requiring coaches to undertake self-awareness and self-regulation training that promote safe coach behaviour).
Congratulations to the research team on this publication! To read the article, click here.
Western Sport Management scholars attend QRSE Conference
The eighth edition of the International Conference on Qualitative Research in Sport and Exercise (QRSE) was hosted by Durham University's Department of Sport and Exercise Sciences in County Durham, England. Several current and former Western Sport Management scholars attended the conference.
Erin Pearson (PhD Student, 2024) presented a poster titled, "Using Photo-elicitation to Explore Paralympic Athletes Perspectives of Paralympic Media Coverage." Dr. Nancy Quinn (Postdoctoral Research Fellow; PhD, 2020) gave an oral presentation titled, "Better together? Examining the experience of the para sport community in an integrated sport event environment." Denise Kamyuka (PhD Candidate, 2023) presented a poster titled, "From co-production to co-cultivation of indigenous knowledge: the story of an African researcher in sport management." Prof. Laura Misener gave an oral presentation titled, "Practical Considerations for Utilizing Social Media in Qualitative Parasport Research." Western Sport Management alum, Dr. Kyle Rich (PhD, 2017) gave an oral presentation titled, "Using Narrative Inquiry in Politically Heightened Sport Research."
For more details on the conference, please click here.
Dr. Jim Weese delivers a talk in Windsor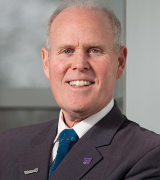 Dr. Jim Weese was invited to the University of Windsor to deliver a talk on his new project titled, "The leadership cycle: How to prepare, excel, and depart leadership roles." The audience was comprised of educators, politicians, business leaders, artists, and several of Dr. Weese's former students from the University of Windsor.
This latest project was inspired by the feedback Dr. Weese has received at speaking events and signings for his book, "The 5C Leader: Exceptional leadership practices for extraordinary times." There is limited research on when and how leaders can exit their roles. Dr. Weese aims to conduct research to fill this gap and publish a book on this topic by 2023.
June 2022
Interview Series: Talk with Western visiting scholar Iva Glibo

Iva Glibo is a third-year doctoral student in the Department of Sport and Health Sciences at the Technical University of Munich. Her research focuses on the sustainability in international sport, and specifically on how sustainability is perceived by various stakeholders in international sport and physical activity and reflected in their policies. This April, Iva joined Western Sport Management as a visiting scholar for three months on the EventRights Grant. During her time at Western, Iva worked with Prof. Laura Misener on developing a research project, attended her first in-person conference as a doctoral student, and traveled and enjoyed the sights in and around London, Ontario.
Western Sport Management had the opportunity to chat with Iva and learn more about her personally, her research interests, why she chose Western Sport Management, and her upcoming plans. Click here to watch the interview.
Western Sport Management back at NASSM!

After two years of virtual conferences, Western Sport Management faculty and students attended the annual North American Society for Sport Management (NASSM) conference in-person in Atlanta from June 1 to 4, 2022.
Prof. Jim Weese was presented with the Distinguished Sport Management Educator Award. Prof. Alison Doherty was part of two research teams that presented on (1) the socio-political context for community sport club programming for newly arrived migrants in Australia and Canada and (2) building a safe sport culture in high performance sport. Prof. Laura Misener was part of a panel that spoke about transitioning into higher education administration.
Corey Crossan (PhD Candidate, 2022) and her advisor, Prof. Karen Danylchuk held a 60-minute symposium on embedding leader character. Swarali Patil (PhD Candidate, 2022) and her research team presented on student memberships of professional associations. She was also part of the NASSM Student Board team that held a 60-minute symposium on mental health. Justin Robar (PhD Candidate, 2024) presented on building an entrepreneurial mindset in the sport for development and peace sector and on organizational capacity for newcomer integration in community sport in Canada. Erin Pearson (PhD Student, 2024) presented on knowledge management and transfer for sport event impacts. Denise Kamyuka (PhD Student, 2023) presented on social entrepreneurship in sport and the use of decolonizing methodologies in sport management. Megan Kalbfleisch (MA, 2022) presented on developing inclusive and accessible training for parasport event volunteers.
Recent doctoral graduate, Darda Sales (PhD, 2022) presented on the systematic gaps in the para swimmer development experience. Recent MA graduate, Taylor Sutherland (MA, 2021) presented on the Canadian multisport service organizations' response to healthy living mandates. In addition, Western Sport Management was also represented well by its alumni who shared the results of different research projects they are involved with.
Congratulations to all the presenters! For more information on the conference and these presentations, please see the 2022 NASSM Book of Abstracts here.
Prof. Laura Misener joins symposium on developing a rights-based agenda for sport events

Hosted by the Centre for Culture, Sport & Events at the University of West Scotland, 'Foregrounding a Rights-Based Agenda for Sport Events: Insights from Research and Practice,' was held virtually on June 20th. Scholars from several leading institutions gathered to discuss a number of questions arising from the rights agenda in mega sport events from a variety of research, governance, organisational, and policy perspectives. The symposium was organized as part of the EU-funded EventRights project, which includes a number of academic institutions from Europe, and further afield.
Prof. Laura Misener spoke on the 'Sports Events and Athlete Rights' panel along with other scholars and industry experts. The panel discussed the progress that has been made in having athlete voices heard in the planning and delivery of mega sport events. Click here to watch the panel discussion. Prof. Misener also chaired a panel on 'Sport Events and Disability Rights.'
May 2022
Doctoral student's artwork featured in Western Student Experience Showcase

'Uplifting Blackness: A Showcase of Art by Western's Black Student Community' is an initiative organized by Health and Wellness in Western Student Experience aimed to help build and strengthen connections between the Health and Wellness Team and Black students at Western. The gallery is focused on celebrating Black culture, history, and experiences and uplifting the voices of Western's Black Student Community.
Denise Kamyuka's (PhD Student, 2023) artwork titled, 'Through Southern Eyes' was featured in the showcase. Learn more about Denise's artwork and see it here.
Doctoral alumnus honoured with research award

The Canadian Association of Leisure Studies (CALS) is an organization of Canadian and international scholars and practitioners who share an academic interest in leisure studies.
Dr. Kyle Rich (PhD, 2017) was honoured with the CALS 2022 Emerging Leisure Scholar Award. This award recognizes significant contributions to the field of leisure studies by an early career researcher. Congratulations, Dr. Rich!
April 2022
PhD Candidate Darda Sales successfully defends her doctoral research

Sport Management doctoral candidate, Darda Sales successfully defended her dissertation entitled, "Understanding Para Athlete Development: An Examination of Para Swimming."
Congratulations Dr. Sales and supervisor, Prof. Laura Misener!
Alumnus featured in University of Waterloo's Health Hub
Chad Van Dyk (MA, 2018) completed his bachelor's degree in Recreation and Sport Business at the University of Waterloo in 2014. That bachelor's degree included a co-op option, which helped foster Chad's interest in event management and administration of recreational programs. He continued to develop that interest at Western during his master's degree, by being involved in athletics and recreation. Post-graduation, Chad worked as a Recreation Sports Supervisor at Mount Royal University in Calgary.
Now, Chad is back at Western, working as the Director of Recreation and Wellbeing. He was recently featured in University of Waterloo's Spring 2022 edition of the Health Hub. Click here to read that feature. Western Sport Management interviewed Chad in October 2021 to learn how he has navigated his career post his MA degree. Click here to watch that interview.
Prof. Misener calls for a cultural shift in gymnastics

Recently, 70 former gymnasts penned a letter to Sport Canada calling for an end to the toxic culture in that sport. Prof. Laura Misener has authored a poignant piece on the need for a cultural shift in sport. In the article, Prof. Misener discusses her experience in gymnastics as an elite athlete, coach, and national level judge. Her piece argues for an athlete centred approach to sport, to get people moving and being active, and to make the sport culturally safe for all. Click here to read the article.
Originally written for and published in The Conversation Canada, the article has been republished by The Globe and Mail and Western News. Prof. Misener was also invited to discuss the article on 630|CHED Radio with Shaye Ganam and on CBC Radio's Afternoon Drive with Chris dela Torre.
March 2022
Interview Series: Talk with Dr. Jim Weese and Kevin Gruber
Dr. Jim Weese is a professor of Sport Management in Western's School of Kinesiology. Kevin Gruber is a third-year undergraduate student in Sport Management. In this interview, Western Sport Management spoke with Dr. Weese and Kevin to learn about their experience with the Undergraduate Summer Research Internship (USRI). Click here to watch the interview.
The USRI program provides undergraduate students with engaged research experiences and opportunities to learn new research methods and techniques alongside faculty mentors. It also helps develop skills in preparation for future careers. To learn more about the program, click here.
Prof. Danylchuk delivers keynote address at the ICSS
Prof. Karen Danylchuk delivered a keynote address at the 13th International Congress of Sport Sciences hosted by the Research Institute of Iran (ICSSRI 2022) from March 7 to 9, in Tehran, Iran. The topic of her presentation was "Women in Sport: Insights, Assumptions, and Opportunities."
This virtual conference drew an audience of more than 20,000 from around the globe, including 20 collaborative universities, institutes, and academic entities, and 18 national sport federations, associations, and entities.

Western Sport Management alumna interviews hockey great

Western Sport Management alumna, Marian Agyei-Gyamera (MA, 2016) is a Management Development Associate with the Toronto Maple Leafs. Marian recently had the opportunity to have an open conversation with hockey great and Hall of Fame player, Angela James. Titled 'Celebrating Black Women in Hockey: A Conversation,' the discussion focused on Black women in hockey, their journey, and what's next. To learn more and watch, please click here.
Western Sport Management had the opportunity to speak with Marian on her journey in the sport industry. To watch that interview, please visit our interviews page.
Dr. Mac Ross comments on the political nature of sport

The International Paralympic Committee (IPC) announced that all athletes from Russia and Belarus would be barred from competing at the 2022 Paralympics. The International Olympic Committee (IOC) condemned the actions of Russian President, Vladimir Putin, and urged international sports federations to take action, but did not take any meaningful action themselves. Commenting on the inherently political nature of sport, Dr. Mac Ross discusses various examples from the sporting world against Putin and Russia in his latest article in The Conversation Canada. Click here to read the article.
February 2022
Western scholars on Beijing 2022 related coverage
Dr. Mac Ross spoke on CBC Kids News with anchor Abigail Dove on how to make the Olympic and Paralympic Games greener going forward. He also authored four articles for The Conversation Canada, where he discussed Olympic athletes and their freedom of speech, the need for Prime Minister Trudeau's withdrawal from the Beijing Games, the International Olympic Committee and China's use of politics to obscure human rights abuses, and athlete mental wellbeing during the Beijing Games. To read the articles, visit Dr. Ross's Conversation Canada profile page.
Articles penned by Western scholars

Erika Gray (MA 2020) and Dr. Jim Weese collaborated on an article for the North American Society for Sport Management (NASSM) blog titled, 'The impacts of role models, mentors, and sponsors – A chance to throw the ladder down.' The article discusses the need for role models, mentors, and sponsors, and the impact of such actions on individuals hoping to achieve leadership roles in the future. The article also provides helpful tips to students who are seeking mentors and sponsors, and to mentors who can use these opportunities to give back and "throw the ladder down." To read the article, click here.
Swarali Patil (PhD Candidate, 2022) was invited by Sport & Development to write an article on the events preceeding the 2022 Australian Open, that led to visa cancellation and deportation of then men's world number one player, Novak Djokovic. Swarali's article, titled 'A collective failure: Events preceeding the 2022 Australian Open,' provides a comprehensive summary and a breakdown of institutional, political, legal, and social factors that intersected in this scenario. To read the article, click here.
January 2022
Interview Series: Talk with Western alumna Dr. Kristen Morrison

Dr. Kristen Morrison graduated from the Western Sport Management Master of Arts program in 2013. She completed her doctoral degree at the University of Waterloo and has secured a new role as a Postdoctoral Fellow at the University of Toronto. Kristen's research focuses on strategy and management in the non-profit community sport sector. Her passion stems from her personal interest and experiences in community sport.
Western Sport Management had a chance to catch up with Kristen and learn how she navigated the completion of her doctoral degree during the pandemic, what she's working on as a Postdoctoral fellow, and her advice for graduate students currently working on completing their degree programs. Click here to watch the interview.
Graduate students participate in Ivey case competition

Two teams of Western Sport Management students participated in the Ivey Sports Leadership Case Competition. Carla Colomba and Christal Fernando served as captains of the two teams that also included Kennedy Magee, Julia Incitti, Oriol Ramirez Almer, Erin Alizadeh, Claudia Zeppetelli, Nicole Radin, and Alexandra Rakin.
Students had the opportunity to participate in a preliminary session with their mentor, Dr. Jim Weese. They also met with industry experts in advance, including Sport Management alumna Amanda Cosentino (MA 2017). Post competition, students engaged in an exercise to reflect on their experience. Congratulations to all the participants!
Dr. Weese invited delivers a lecture at Humber College

Dr. Jim Weese was invited to give a guest lecture at Humber College's. Dr. Weese spoke to students in the Ethics and Legal Issues class about 'Credibility and Leadership. He also discussed some lessons from his book 'The 5C Leader.'