Liliana Alvarez, PhD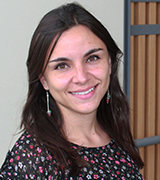 Assistant Professor
School of Occupational Therapy
Room 2581, Elborn College
519-661-2111 x88957
lalvare2@uwo.ca
Education
Postdoctoral Fellowship (Western)
PhD (Alberta)
MSc (Universidad de Los Andes, Colombia)
BScOT (Universidad del Rosario, Colombia)
Supervising Graduate Students
Research Interests
Driving performance and fitness to drive of at-risk drivers
Road Safety
Driving Simulation and vehicle automation
Additional Information
Classen, S., Krasniuk, S., Knott, M., Alvarez, L., Monahan, M., Morrow, S., Danter, T. (2016). Inter-Rater Reliability of Western University's On-Road Assessment. Canadian Journal of Occupational Therapy. In Press.
Classen, S., Alvarez, L., Chen, C., Ferreira, P., Meyer C., Nywening, A. (2016). Developing a Canadian-specific version of the Fitness-to-Drive Screening Measure©. OTJR: Occupation, Participation and Health. In Press.
Ravenek, M., & Alvarez, L. (2016). Use of Mobile 'Apps' in Occupational Therapy: Therapist, Client and App Considerations to Guide Decision Making. World Federation of Occupational Therapists Bulletin. In Press.
Classen, S., Medhizadah, S., Alvarez, L., & Krasniuk, S. (2016). The Fitness-to-drive Screening Measure©: Patterns and Trends for Canadian Users. In Press. The Open Journal of Occupational Therapy. In Press.
Classen, S., Alvarez, L. (2015). Editorial: Evidence-Informed Reviews—Moving Occupational Therapy Practice and Science Forward. OTJR: Occupation, Participation and Health, 35 (4), 199-203.
Alvarez, L., Wiebe, S.A., Adams, K., Hope, A., Cook, A. (2014) The Neurophyiology of augmentative manipulation: A method for technical implementation. Technology and Disability.
Encarnação, P., Alvarez, L., Rios, A., Maya, C., Adams, K., & Cook, A. M. (2013). Using virtual robot mediated play activities to assess cognitive skills. Disability and Rehabilitation: Assistive Technology. Early Online, pp. 1-11.
Alvarez L., Rios A.M., Adams K., Encarnação P., Cook A. (2013) From Infancy to Early Childhood: The Role of Augmentative Manipulation Robotic Tools in Cognitive and Social Development for Children with Motor Disabilities. In J.L. Pons et al. (Eds.): Converging Clinical & Engineering. Research on NeuroRehabilitation. Springer-Verlag Berlin Heidelbergpp, 905–909. Proceedings of the International Conference on Neurorehabilitation, Toledo, Spain, November 14-16, 2012.
Cook, A., Adams, K., Encarnaçao, P., Alvarez, L. (2012) The Role of Assisted Manipulation in Cognitive Development. Developmental Neurorehabilitation, 15(2): 136-148
i-Mobile Research Lab
School of Medicine and Health Sciences, Universidad del Rosario, Bogota, Colombia
Neurological and musculoskeletal disorders and their impact on occupational performance and participation
Assistive Technology
2015 Keynote Speaker, International Breakfast, American Occupational Therapy Association (AOTA) 95th Annual Conference, Nashville, Tennessee
2013 Highly Commended Distinction, in the Young Researcher Award Competition. 12th European "Association for the Advancement of Assistive Technology in Europe (AAATE)" Conference
2009 Scholarship Francisco José de Caldas for Young Researchers. National Administrative Department of Science, Technology and Innovation,  Bogotá, Colombia.
2007 Merit Degree distinction for academic excellence in Occupational Therapy, Universidad del Rosario, Colombia.
2006 The Night of the Best: Highest national score in the National Occupational Therapy Undergraduate Exam ECAES. Education Ministry, Presidential Office, Colombia.
Interim Program Coordinator - Research, World Federation of Occupational Therapists (WFOT)
Principal Delegate - Colombia, World Federation of Occupational Therapists (WFOT)
Assistant Editor, OTJR: Occupation, Participation and Health
Member, Canadian Association of Occupational Therapists
Member, American Occupational Therapy Association
Member, Association for Driver Rehabilitation Specialists