Upcoming Events
Women's Studies and Feminist Research Speaker Series
Trans Rights are Human Rights: The Importance of Recognition
Tuesday, March 21th
SSC 2036 7:00-900 pm 
This event is needed more than ever. The LFP is reporting that just because there were no protesters, Western "warmly embraced" Peterson. He's also reported as saying women are excessively emotional and more violent than men, but too weak for that to matter. He's about two steps away from full-on embracing Rushton's legacy.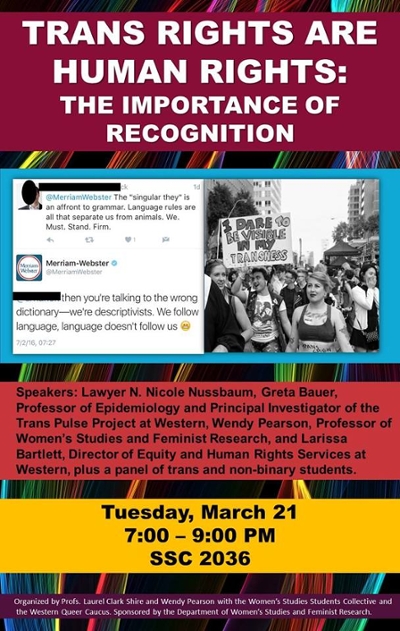 ---
Pulse
Friday, March 24th 2017
7:00-10:00 PM
Location: TBA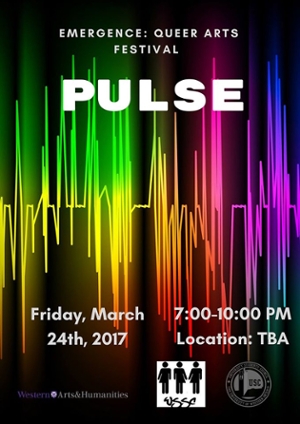 Marta and Emma Croll-Baehre are once again hosting the annual Emergence: Queer Arts Festival. This year's theme is PULSE, in honour of the 2016 Orlando nightclub shooting. The festival will showcase cross-disciplinary art forms including drag, musical performance, performance art, and poetry. This event is free and open to all. A variety of food and non-alcoholic beverages will be provided.
---
Queer Research Day
April 19,2017
9:30-5:00
Stevenson 3101
---
Feminist Activism: Organizing for change
April 25,2017
9:30am-4:30pm
Atrium, International and Graduate Affairs Building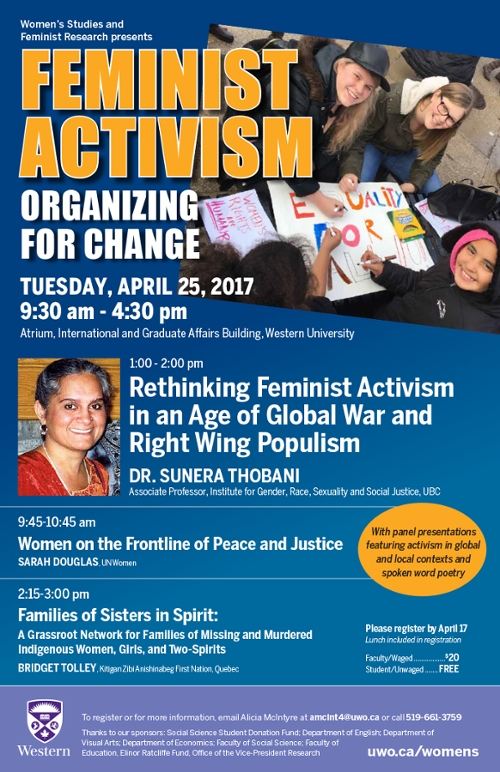 ---
Calling for Submission: 
Pride London Art Show 2017

Seeking artists for the 2017 Pride London Festival Art Show & Sale

Many great artists have submitted & displayed their works over the years. 
We invite you to join their echelon & to take part in the Pride London Festival Art Show!
We encourage all forms of visual arts and mediums for submission: 
painting, photography, sculpture, digital, collage, printmaking, pottery, etc.
Show Dates
:  Thursday, July 20th - Sunday, July 30th
Host Gallery
:  The ARTS Project, 203 Dundas Street
Categories
:  Student/Hobbyist, Emerging & Professional (see below for descriptions)
Deadline
:  Wednesday, May 31st, 2017 - up to 3 entries (see submission form for details)