Earth Biome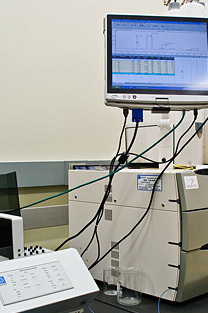 The Earth Biome contains a custom-designed, environmentally controlled Biome in which soil monoliths (i.e., 10 tonne natural soil cross sections of 1m diameter x 3m high) can be studied from regions as diverse as the Arctic tundra to modern agricultural fields. This module enables the investigation of such critical environmental issues as the impact of carbon cycles upon natural greenhouse gas production, the development of controlled carbon sinks, the transfer of agriculture-related pathogens through the ecosystem, and the transfer of antibiotic resistance among soil microbes. Overall, the Earth Sciences Biome is suitable for the investigation of climate change on soil structure, soil hydrology, soil microbiology, as well as plant-soil-microbe interactions. This custom-designed Biome exhibits dual isolated temperature zones over two stories, individually programmable in the range of -30ºC to +40ºC. Irradiance levels range from complete darkness to 80% full sunlight, and humidity and precipitation control is possible.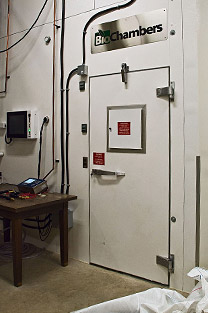 Ancillary facilities include a fully equipped, central analytical laboratory with state-of-the-art instrumentation including inductively coupled plasma, ion chromatography, gas chromatography-mass spectrometry, and X-ray fluorescence for soil and hydrological analyses, along with a soils laboratory and soil sample preparation area.
The Electron Microscopy Facility will enable researchers to gain structural and chemical analyses of fine grained biological and inorganic materials such as the dissimilatory sulfate reducing bacteria and the biogenic pyrite (FeS2) they have formed, presented in the above transmission electron micrograph. For scale, the pyrite cubes are approximately 0.5 micrometres in size.