Languages and Cultures offers a variety of undergraduate courses and program options in Comparative Literature and Culture, Digital Humanities, Intercultural Communications, German Language and Culture, Italian Language and Culture, and Spanish Language and Linguistics and Hispanic Cultures. Courses in Japanese, Arabic, Portuguese, and Persian language and culture are also offered.
Explore Our Programs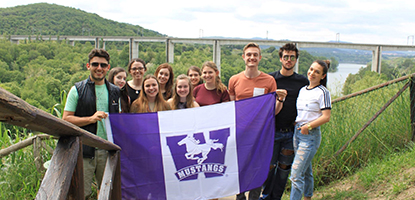 Our Publications
The Scattered Pelican is a double-blind, peer-reviewed journal run by graduate students of Comparative Literature.

Entrehojas: Revista de Estudios Hisánicos is a virtual, heterogeneous, and open access journal edited by our students. Published annually, it includes articles, interviews, and book reviews in the fields of literature and linguistics written by graduate students.
Read about important department updates and announcements - included in our newest issue of ModNews.
In the News 

Arts and Humanities COVID-19 Updates
---
The Department of Languages and Cultures will be operating virtually
with inconsistant physical staff in the office.

Emails are answered
Monday to Friday
8:30am – 4:00pm

More News
---
What we offer
Undergraduate