Languages and Cultures offers a variety of undergraduate courses and program options in Comparative Literature and Culture, Digital Humanities, Intercultural Communications, German Language and Culture, Italian Language and Culture, and Spanish Language and Linguistics and Hispanic Cultures. Courses in Hindi, Japanese, Arabic, Portuguese, and Persian language and culture are also offered.
Explore Our Programs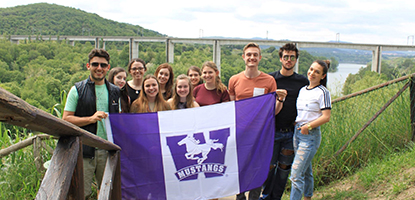 Our Publications
The Scattered Pelican is a double-blind, peer-reviewed journal run by graduate students of Comparative Literature.

Entrehojas: Revista de Estudios Hisánicos is a virtual, heterogeneous, and open access journal edited by our students. Published annually, it includes articles, interviews, and book reviews in the fields of literature and linguistics written by graduate students.
Read about important department updates and announcements - included in our newest issue of ModNews.
In the News 

Arts and Humanities COVID-19 Updates
---
The Department of Languages and Cultures will be operating virtually
with no physical staff in the office.

Emails are answered
Monday to Friday
8:30am – 4:00pm

---
All study abroad and international opportunities are postponed. Are you looking for an exciting summer opportunity to earn 0.5 credit towards your Western degree? Consider the new Seville, Spain study abroad course. Bursaries and grants available. Contact Dr. Olga Tararova to reserve your spot!
---


It's International Week at Western: an event held annually in November as a campus-wide celebration of all things international. Be sure to experience everything it has to offer! View schedule.
---


International Week 2019 - from November 11th - 15th. Come explore your #globalwesternu! International Week is for everyone - students, faculty, staff, and the public. Click here to plan your week.

More News
---
What we offer
Undergraduate