Dr. Jisuo Jin
Paleontology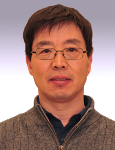 Professor
Ph.D. University of Saskatchewan, 1988
Office: BGS 0180
Lab: BGS 1005
Phone: (519) 661-2111 x.84061
Fax: (519) 661-3198
Email: jjin@uwo.ca
Research Interests
Ordovician-Silurian brachiopod taxonomy and diversity patterns through time;
Origin, radiation, mass extinction, and recovery of brachiopod faunas in the epicontinental seas of North America during the Ordovician and Silurian periods;
Paleoecolgy and environmental control on the evolution of brachiopod communities and fauna;
Comparative study of Ordovician-Silurian brachiopod faunas of North America and South China - applications to global biodiversity patterns and paleobiogeography.
Career Summary:
Books/Monographs (peer-reviewed): 11
Books and special volumes edited: 4
Papers in peer-reviewed scientific journals and conference proceedings: 87
Papers in non-peer-reviewed periodicals and conference proceedings: 6
Technical Reports (non-peer-reviewed): 7
Conference field guides: 5
Selected Publications
Sohrabi, A. and Jin, J. 2013. Global palaeobiogeography of brachiopod faunas during the early Katian (Late Ordovician) greenhouse episode. Palaeogeography, Palaeoclimatology, Palaeoecology. doi 10.1016/j.palaeo.2013.02.027.
Jin, J., Harper, D.A.T., Cocks, L.R.M., McCausland, P.J.A., Rasmussen, C.M.Ø. and Sheehan, P.M. 2013. Precisely locating the Ordovician equator in Laurentia. Geology, 41, 107–110. [Highlighted in Editors' Choice, Science, 2012, 338, p. 1397]
Chen, P., Jin, J. and Lenz, A.C. 2012. Palaeoecology of transported brachiopod assemblages embedded in black shale, Cape Phillips Formation (Silurian), Arctic Canada. Palaeogeography, Palaeoclimatology, Palaeoecology, 367/368, 104–120.
Jin J. and Zhan R. 2008. Late Ordovician orthide and billingsellide brachiopods from Anticosti Island, eastern Canada: Diversity change through mass extinctions. National Research Council of Canada, NRC Research Press, Ottawa. 151 pp. (book)
Jin, J. 2008. Environmental control on temporal and spatial differentiation of Early Silurian pentameride brachiopod communities, Anticosti Island, eastern Canada. Canadian Journal of Earth Sciences, 45(2), 159-187.
Courses Taught
Current:
Earth Sciences 2265A: Paleobiology and Paleoecology
Earth Sciences 2266B: Dinosaur & Vertebrate Evolution
Earth Sciences 4461B: Advanced Paleontology
Earth Sciences 9532B: Ancient Ecosystems
Past:

Earth Sciences 2250Y: Field Mapping
Earth Sciences 3314B: Sedimentary Petrology
Earth Sciences 361: Invertebrate Paleontology
Earth Sciences 4450Y: Field school (4th year)


Students
Doctoral Students:
Pengfei Chen, Completed (2005.8-2009.10).
Ordovician brachiopod diversity fluctuations: comparison between North America and South China

Akbar Sohrabi Hashjin, Completed (2009.5-2013.4).
The Trentonian (Late Ordovician) brachiopod fauna of Ontario: evolution through a global warming event  
Nikole Bingham-Koslowski, In progress (2010.9-).
High-resolution stratigraphy and sedimentology of the Upper Devonian Kettle Point Formation, southwestern Ontario, Canada  
Colin Sproat, In progress (2012.9-)
Systematics and paleobiogeography of early Katian brachiopods in North America
Shuo Sun, In progress (2013.9-)
Architecture and Stratigraphy of the Upper Silurian to Middle Devonian strata, Southwestern Ontario
Recent MSc Students
Colin Sproat, Completed (2010.9-2012.10)
Late Ordovician brachiopod evolution in epicontinental seas
Candace Brintnell, Completed (2010.9-2012.8)
Architecture and stratigraphy of the lower Silurian Guelph Formation, Lockport Group, southern Ontario and Michigan
Kathryn Lapenskie, In progress (2012.9-)
Latitudinal gradient of Early Silurian virgianid brachiopods in Laurentia
Cale Gushulak, In progress (2014.9-)