Dr. Patricia Corcoran
Cathodoluminescence Spectroscopy and Imaging Facility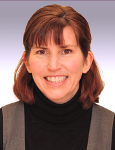 Research Interests
Dr. Corcoran investigates Earth's surface and atmospheric processes using the sedimentary rock record. A primary objective of her long term research program is to better understand the effects of climate, transport and recycling on sedimentary textures and composition from the granular level upward. Examining the evolutionary system controlling the nature of sedimentary deposits requires a combination of field observations, microscopic and high resolution sub-microscopic laboratory analysis of collected samples.

Dr. Corcoran has applied this approach to a range of geological problems from ancient to modern depositional sequences. Examples include studies yielding information on i) Precambrian atmospheric conditions as inferred from Canadian and South African sedimentary successions, ii) high rates of chemical weathering and recycling in tectonically active Paleozoic successions of New Zealand, and iii) the distribution and degradation  of plastic debris on marine and fresh water beaches.

In order to extract the evolution of Earth surface processes from sedimentary deposits, Dr. Corcoran integrates several techniques, which include: 1) field work, 2) major, trace and REE geochemistry of bulk sediment samples, 3) compositional analysis of amorphous grains and polymers using FTIR and SIMS, 4) textural analysis of grains using SEM and CL spectroscopy.
Selected Publications
Corcoran, P.L., Bumby, A.J. and Davis, D.W., 2013. Provenance of the Paleoproterozoic Waterberg Group, South Africa: evidence from detrital zircon U-Pb geochronology, geochemistry and petrography. Precambrian Research, 230: 45-60.
Corcoran, P.L., 2012. Archaean sedimentary sequences of the Slave craton. Marine and Petroleum Geology, 33: 80-91.
Pilote, C., Corcoran, P.L., and Mueller, W.U., 2011. A Neoproterozoic continental rift succession: the volcano-sedimentary Koivib Mountains deposits of Namibia. Precambrian Research, 214-215: 172-184.
Zbyszewski, M. and Corcoran, P.L., 2011. Distribution and degradation of fresh water plastic particles along the beaches of Lake Huron, Canada. Water, Air, & Soil Pollution, 220: 365-372.
Corcoran, P.L., 2009. Magnifying ancient microstructures. Nature Geoscience, 2: 606-607.
Courses Taught
Earth Sciences 2250Y: Introductory Field Mapping Techniques
Earth Sciences 3314B: Sedimentary Petrology
Earth Sciences 4452Z/ES9600Y-International Field Experience
Geology 9523: Physical Volcanology
EnvSci 4949F-Selected Topics: Plastics Pollution in the Environment
Students
Current Graduate Students:
Rohan Aranha, 09/2013 - present, M.Sc. candidate
Bethany Dean, 09/2013 - present, M.Sc. candidate
Carolyn Hill, 01/2014 - present, M.Sc. candidate
Tim Howe 01/2013 – present, M.Sc. candidate
Mansour Al-Hashim 09/2011 – present, Ph.D. candidate